Tesla has reportedly received overwhelming invitations from Mexican officials to bring the anticipated new assembly location to their State.
Just last week, it seemed like Tesla had finally narrowed down the location where it would be building its newest facility in Mexico. The Northern State of Nuevo Leon is close to the U.S. border, has historically hosted numerous industrial giants such as Siemens and Caterpillar, and seemed to even be in talks with the American automaker on where to place its new production facility specifically. That consideration may have changed as the Mexican president discouraged the automaker, arguing the State may not have the necessary water resources.
According to ABC, that is when the invitations and requests started to roll in. Governors from Veracruz, Michoacan, and Guanajuato each put forward bids, and even slogans, to attract Tesla. Veracruz noted that it had an abundant supply of water and cheap electricity, thanks to Mexico's only nuclear power plant. Michoacan, a state that its Governor states also has plenty of water, even went as far as creating an ad with a Tesla vehicle sitting next to a giant avocado.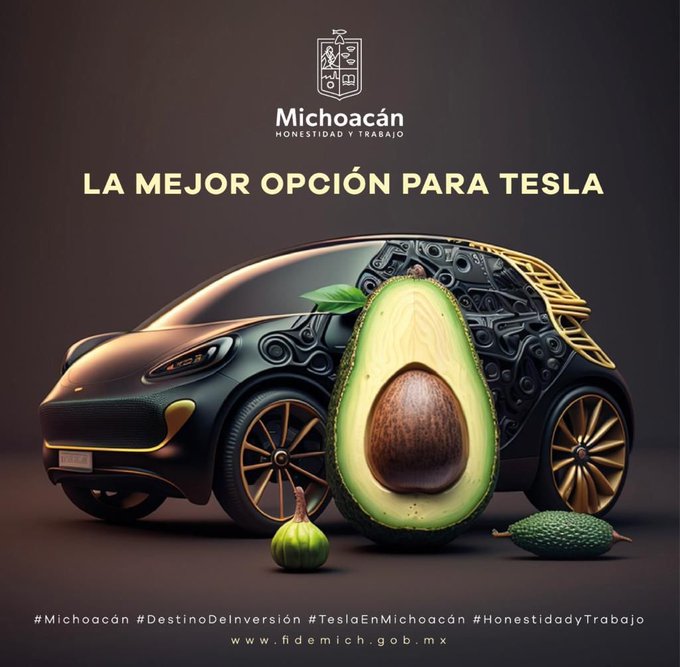 With Tesla anticipated to make several major announcements at next week's Investor Day, many have wondered if the Tesla Mexico location will be part of that. However, without a state selected, it may be hard for Tesla to make any announcement about the facility.
A few other challenges also remain, no matter which of the states Tesla chooses. If Tesla decides to move South towards Veracruz and Michoacan, not only will it be substantially further from the U.S. border, where it will likely be shipping many of its vehicles, but it also enters some of the more dangerous parts of the country. Furthermore, without presidential support for the project, Tesla may face a continuing uphill battle as it looks to make a new facility anywhere in America's Southern neighbor.
What do you think of the article? Do you have any comments, questions, or concerns? Shoot me an email at william@teslarati.com. You can also reach me on Twitter @WilliamWritin. If you have news tips, email us at tips@teslarati.com!