Roughly a month after we reported that Tesla has signed a lease agreement to occupy a massive 131,000 square-feet facility near the seaside town of Marina Del Rey in Southern California, the company has officially opened the doors to its newest customer delivery center in Los Angeles.
A large banner adorned by the company name is seen affixed to a fence just outside of the main entry gate on 4755 Alla Road. Also present is an illuminated "TESLA" wall sign attached to the southeast corner of the building. Documents filed on September 19, 2017 with the Los Angeles Department of City Planning identified Tesla as the company seeking a permit for the 24-feet long sign.
By comparison to one month ago when the facility was completely empty, the building's expansive parking lot that can support upwards of 400 parked vehicles was holding a fleet of Model 3 on Thursday. Few people were seen at the facility, with only a handful of Tesla service staff spotted cleaning and prepping Model S and Model X vehicles awaiting customer deliveries.
A private gate located at the north end of the building leads to several loading docks, as well as a holding lot where approximately a dozen Model 3, several Model S and a handful of Model X were parked outside.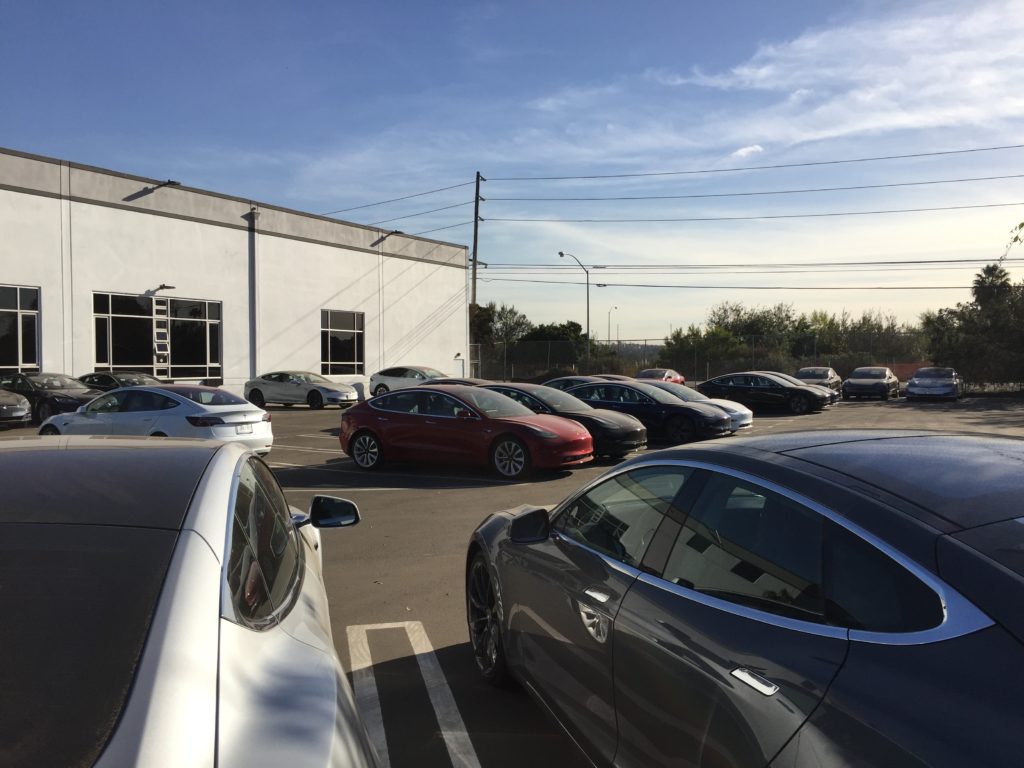 Metal ramps painted in the company's ubiquitous red color were seen leading to a relatively empty interior space with no walls. A few vehicles were seen stationed on oversized mats that were presumably awaiting customer pickup. We expect the center to eventually have partitioned interior spaces aimed at delivering a more personalized customer experience.
As the company pushes to meet quarterly delivery numbers down the road, with a large portion of its customer base and deliveries in Southern California, Tesla's Marina Del Rey facility will bring much needed relief to an already overcrowded Centinela location.
The new facility near Silicon Beach will serve mainly as a vehicle delivery and customer pickup center, while the company's nearby Centinela location, that once served double-duty as a delivery and service center, will mainly operate as a service facility and parts warehouse.
Tesla has begun delivering Model 3 vehicles to customers earlier this month. The company expects to reach volume production of 5,000 Model 3 vehicles per week by the end of the first quarter in 2018.