A new in-depth analysis that draws on responses from over 14,000 vehicle owners projects that Tesla's Model 3 will have a low rate of depreciation and retain 71% of its value after 50k miles, beating the competition for 'best-in-class' title.
According to survey data from Autolist, 57% of vehicle owners would purchase an electric vehicle that has range capabilities of over 300 miles. 34% of respondents cited battery range concerns as the primary reason why they would not buy an EV, while only 24% of vehicle owners said cost was a limiting factor. Compiling this data and one could easily see why Tesla's Model 3 with a range capacity of 310 miles would be reason for it to top the charts as lowest depreciating vehicle in its class.
Among other notable factors that may limit a buyer from choosing an electric vehicle is the availability of charging stations. With plans to double its existing Supercharger network by the end of 2017 and vastly expand its urban charger network, Tesla has tackled these concerns head on and continues to reduce friction for would-be buyers of their electric cars.
Using survey data obtained for the Model S, which found Tesla's flagship sedan to have the highest retained value, leading to quickest selling used car – Autolist found the Model S to sell 5% faster than competitors like the Audi A7, Porsche Panamera, BMW 6 Series, Mercedes CLS, and Lexus 460 – the organization was able to come up with a Model 3 depreciation forecast that tells a similar story.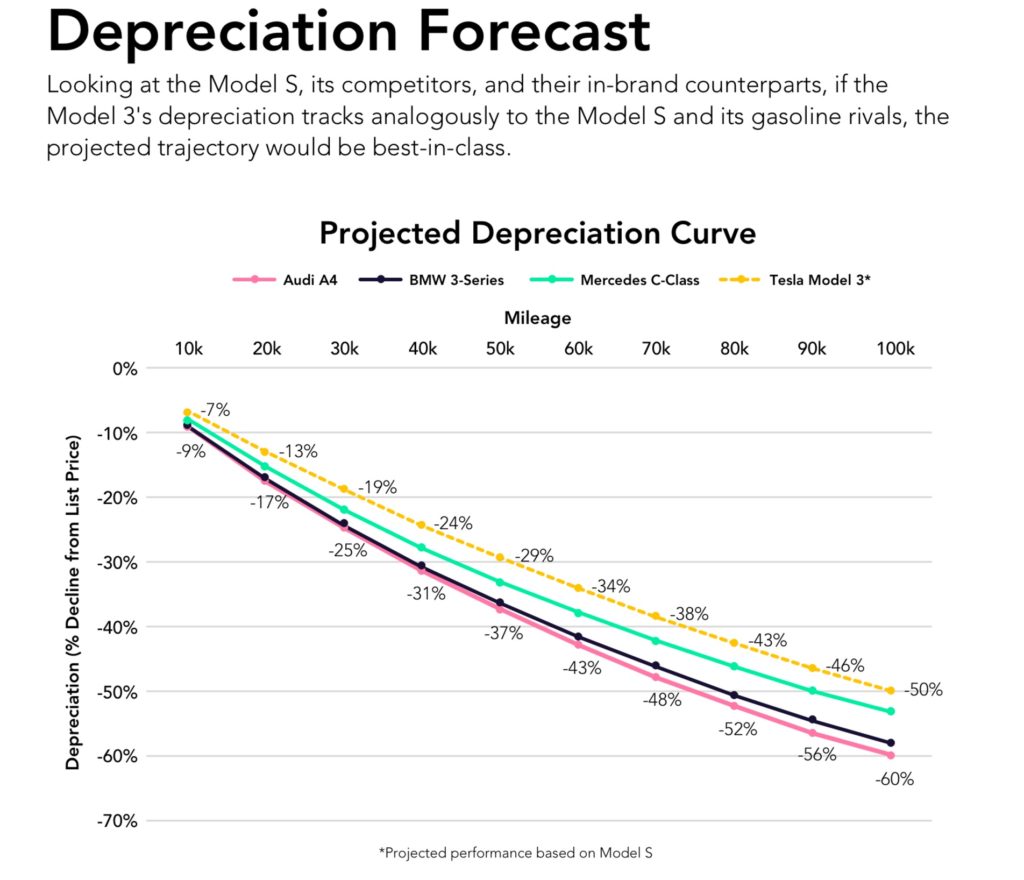 Autolist projects a best-in-class depreciation curve for the Model 3, revealing that the mass market electric sedan will retain 71% of its value after 50k miles and 50% after 100k miles.
By comparison, and assuming the average household drives between 12k – 15k miles annually, other vehicles in its price range will retain roughly 50% of its original purchase price by the fourth year of ownership, according to a general depreciation curve by Edmunds.
As Tesla continues to ramp up production of the Model 3 and conquer its growing pains associated with "production hell", it wouldn't be too far fetched to expect an automotive market dominated by the Silicon Valley-based electric car maker and energy company.
After all, why would you not buy a Model 3? Leave us your comments.