The first images of Tesla's "something special" gift for early Model 3 reservation holders have emerged online, seemingly confirming rumors that Tesla is giving away a diecast replica of the electric car to customers who lined up on the morning of March 31, 2016, to place an order on the vehicle.
Rumors that Tesla would be releasing a scale model of the Model 3 to line-waiters emerged after You You Xue, a Model 3 owner currently taking his Tesla on a long road trip, shared a post on his Facebook page about the special giveaway. According to Xue, the gift would be a Hot Wheels-sized Model 3 painted in the customers' configuration.
Frank Leone of the Tesla Model 3 Facebook group, an online community of more than 30,000 members, posted an image of a 'gift' from Tesla that he was reportedly given when he took delivery of his Model 3 at the company's Devon, PA store. Leone's post featured a diecast red Model 3 with Sport Wheels mounted on a plastic display case. Unlike the 1/18 diecast Model S that is on sale on Tesla's official store, however, the Model 3 owner's gift appears to be more of a model that doesn't have operational doors, hood, and trunk.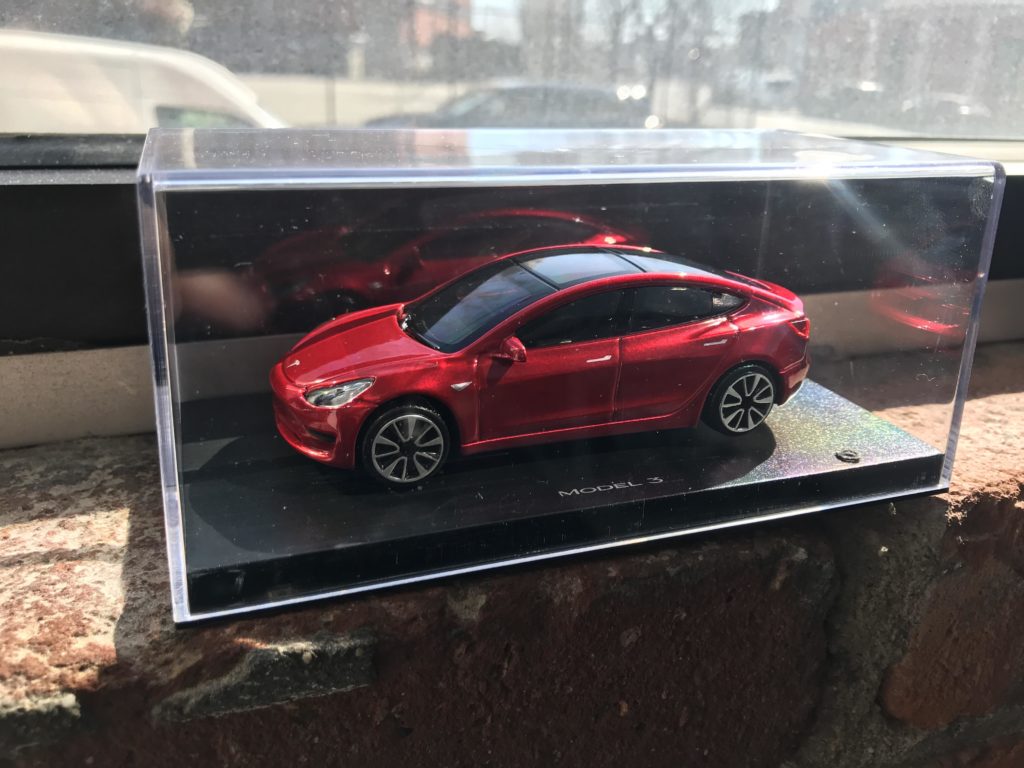 Quite interestingly, Leone stated that the diecast Model 3 he was given was a 1/43 scale model, which means that it is far smaller than the 1/18 diecast Model S in Tesla's online store, and slightly larger than the 1/64 Hot Wheels-sized Roadster that was mounted on Starman's Tesla during the Falcon Heavy's maiden voyage. Leone did not provide measurements of his giveaway, though considering the dimensions of the Model 3, the 1/43 diecast model would be roughly 4.3 inches long.
Contrary to previous rumors, Tesla's "something special" gift was not painted in the same color as Leone's Model 3, as he was given a red diecast Model 3, while his vehicle was painted gray.
The Tesla Model 3 became a pleasant surprise for Tesla, with CEO Elon Musk admitting that he did not expect to see the volume of orders it received and hundreds of people lining up outside Tesla's showrooms across the world on the day of Model 3 Mania.
Not long after Model 3's unveiling event, Musk posted a tweet thanking those who lined up to order the vehicle even before it was unveiled, stating that gifts would be in order. As we noted in a previous report, Tesla began sending a signed sketch of the Model 3 as a token of appreciation for early Model 3 reservation holders later in mid-2016. While the sketch was a pretty cool gift, the Tesla CEO eventually mentioned "something special" for line waiters near the end of the year, alluding that another unique item would be gifted to those who went the extra mile to support the Model 3 during its initial launch. 
there will be something special

— Elon Musk (@elonmusk) November 5, 2016