Tesla has begun sending gifts to early Model 3 reservation holders that waited in line to place their orders at Tesla stores the day of the March 31 unveiling.
Tesla would ultimately see 180,000 Model 3 reservations in 24 hours of Model 3 Mania. CEO Elon Musk quickly took to Twitter to thank all that lined up in stores by offering them a token of appreciation gift.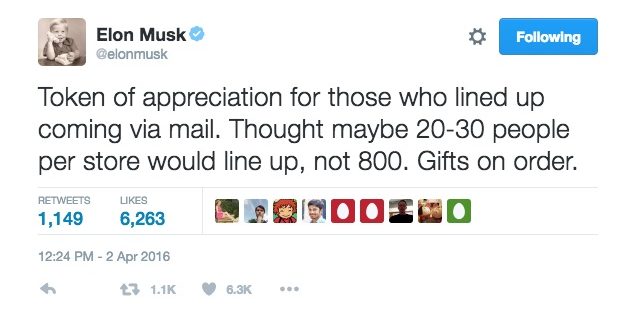 Seth Barrial sent us the following photos of the "token of appreciation" he received in the mail this past weekend. The gift is a copy of early hand sketches of the Tesla Model 3 along with a note from Elon Musk.
Incidentally, this is the same sketch that Tesla's Chief Designer Franz von Holzhausen was seen passing out to attendees at the official Model 3 unveiling event.
Regarded as quite possibly the most important car to Tesla's future and part of the company's Secret Master Plan, Model 3 fans across the world lined up in droves hours before the official store opening hours, some even going as far as camping out overnight with the hopes of becoming the first to place a $1,000 reservation deposit.
Reservations numbers for the Model 3 continue to increase with the latest figure pegged at close to 400,000 units. Musk has advised interested parties to order their Tesla Model 3 soon if they want 2018 delivery.