What appears to be a Tesla Model 3 long-wheelbase (LWB) prototype has been photographed while it was road-testing in China. The vehicle, which appears to be longer than the usual Model 3, was covered in camouflage and equipped with the electric car maker's Power Sports Aero Wheels.
Based on an image shared online, Tesla appears to have at least two camouflaged Model 3 LWB test units. The vehicles, which were photographed in front of a Tesla location, features what appears to be a lengthened rear door, hinting at more spacious rear seats inside.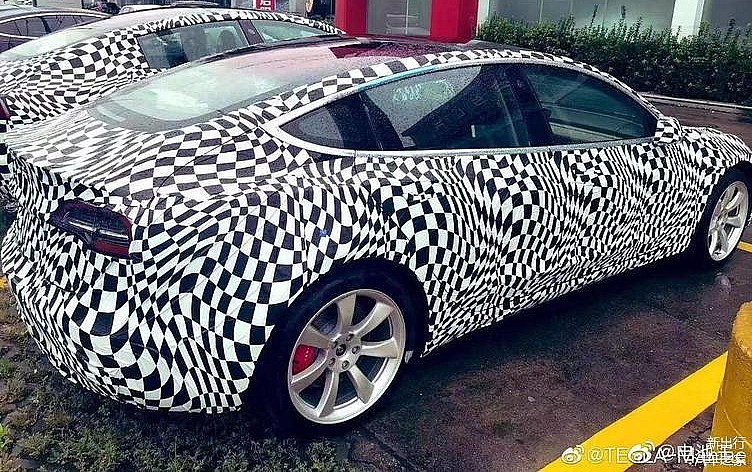 Long wheelbase vehicles usually provide passengers at the rear with more legroom. The Model 3 is not a cramped car by any means, but a long-wheelbase version of the vehicle should provide occupants with a much more comfortable, spacious ride — something that would most definitely be appreciated by customers who are fond of taking friends and family out on long trips. 
Tesla has not provided any details about a potential long-wheelbase version of the Model 3 for the Chinese market, and company executives such as Elon Musk have been equally tight-lipped about such a vehicle. Nevertheless, releasing a LWB variant for China will be a strategic move for Tesla from a business perspective, especially since LWB sedans are quite popular in the local market. 
Long-wheelbase versions of premium sedans are very popular in China; so much so that the Model 3's rivals such as the BMW 3 Series and the Mercedes-Benz C-Class have LWB versions that are made specifically for the local market. BMW and Mercedes still sell regular-sized versions of the 3 Series and C-Class in China, but they also offer a long-wheelbase variant as an option.
Tesla actually holds a strategic advantage over its Western rivals in the country when it comes to the production of a long-wheelbase version of the Model 3, thanks to Gigafactory 3. The Shanghai-based facility is specifically designed to manufacture Model 3 and Model Y units for China. Thus, it would make sense if the electric car maker produces a variant of the vehicle that extremely popular in the local market at its solely-owned China-based site.  
It should be noted that even if Tesla produces a long-wheelbase version of the Model 3 in Gigafactory 3, the Shanghai-based facility will most likely still produce affordable variants of the all-electric sedan primarily. The long-wheelbase Model 3, if it does get produced in Gigafactory 3, will most likely be an option for the vehicle, but not much more.