Tesla is now offering a Powered Liftgate Retrofit to Model 3 owners. The upgrade is now available on the Tesla shop.
The Model 3 Powered Liftgate Retrofit costs $800, including shipment to the customer's preferred Tesla Service Center and installation. The upgrade is available for Model 3 vehicles with a manual lift gate and produced before 2021. 
Tesla rolled out the powered liftgate feature during the 2020 Model 3 refresh. So, this retrofit would target older Model 3 units in the United States. Tesla China started offering Model 3 powered liftgate retrofits in 2022 for RMB 3, 980 ($546.85).
The Model 3 retrofit enables owners to control their liftgate through the Tesla app, the vehicle's touchscreen, or a button on the liftgate.
"You can stop a powered trunk (if equipped) while it is moving by single-clicking the rear trunk button on the key fob accessory. Then, when you double-click the rear trunk button, it moves again, but in the opposite direction (provided it was not almost entirely open or closed when you stopped it). For example, if you single-click to stop the powered trunk while it is opening, when you double-click, it closes," states Tesla in the manual.
Model 3 owners can adjust the opening height of the powered lift gate. The steps to adjust the height are listed below.
Open the trunk, then manually lower or raise it to the desired opening height.

Press and hold the button on the underside of the trunk for three seconds until you hear a confirmation chime.

Confirm that you have set it to the desired height by closing the powered trunk, then reopening it.
"Depending on configuration (such as wheel selection), your vehicle's rear trunk can open up to approximately 6.5 feet (2 meters). Adjust the rear trunk height to prevent it from coming into contact with low ceilings or other objects," cautions Tesla.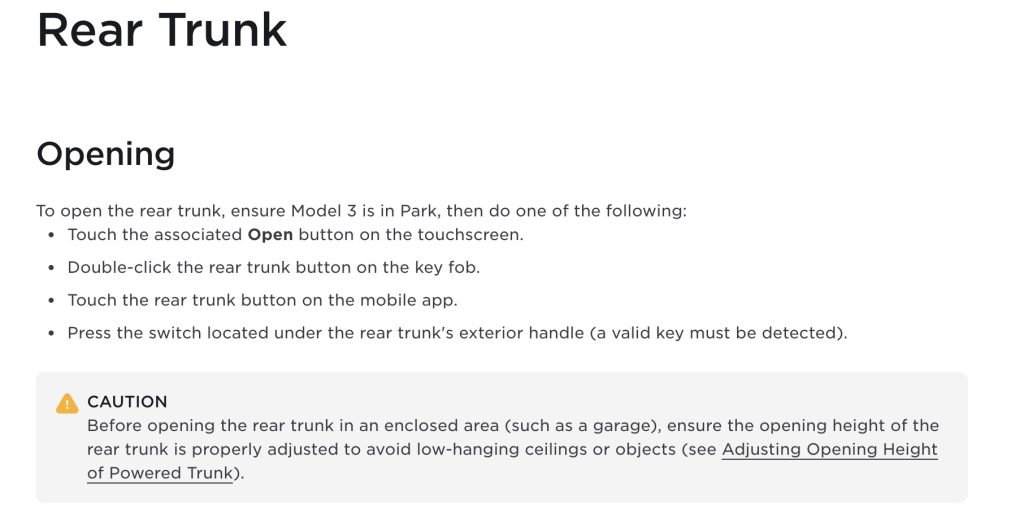 The Teslarati team would appreciate hearing from you. If you have any tips, contact me at maria@teslarati.com or via X @Writer_01001101.