Silicon Valley-based electric car manufacturer Tesla recently added an additional 10 miles of range to the Model 3 Standard Range Plus, allowing one of the company's most affordable vehicles to travel 250 miles on a single charge. The update comes amid Tesla's revised delivery window for its vehicles.
While an additional 10 more miles of range may not sound like much, it is a significant increase in the grand scheme of things. It is enough to make Supercharger stops a bit shorter during road trips, for example, which could make long drives more convenient. The additional range also has the potential to be of great help to electric car owners during emergencies.
The Model 3 Standard Range Plus' range boost comes at a price, with Tesla increasing the cost of the vehicle by $500. Yet, despite this, the Model 3 remains a super reasonable buy at $39,490 before tax incentives and potential gas savings. That's a pretty good deal for a vehicle that improves over time for free through over-the-air updates, and one that has Autopilot as standard.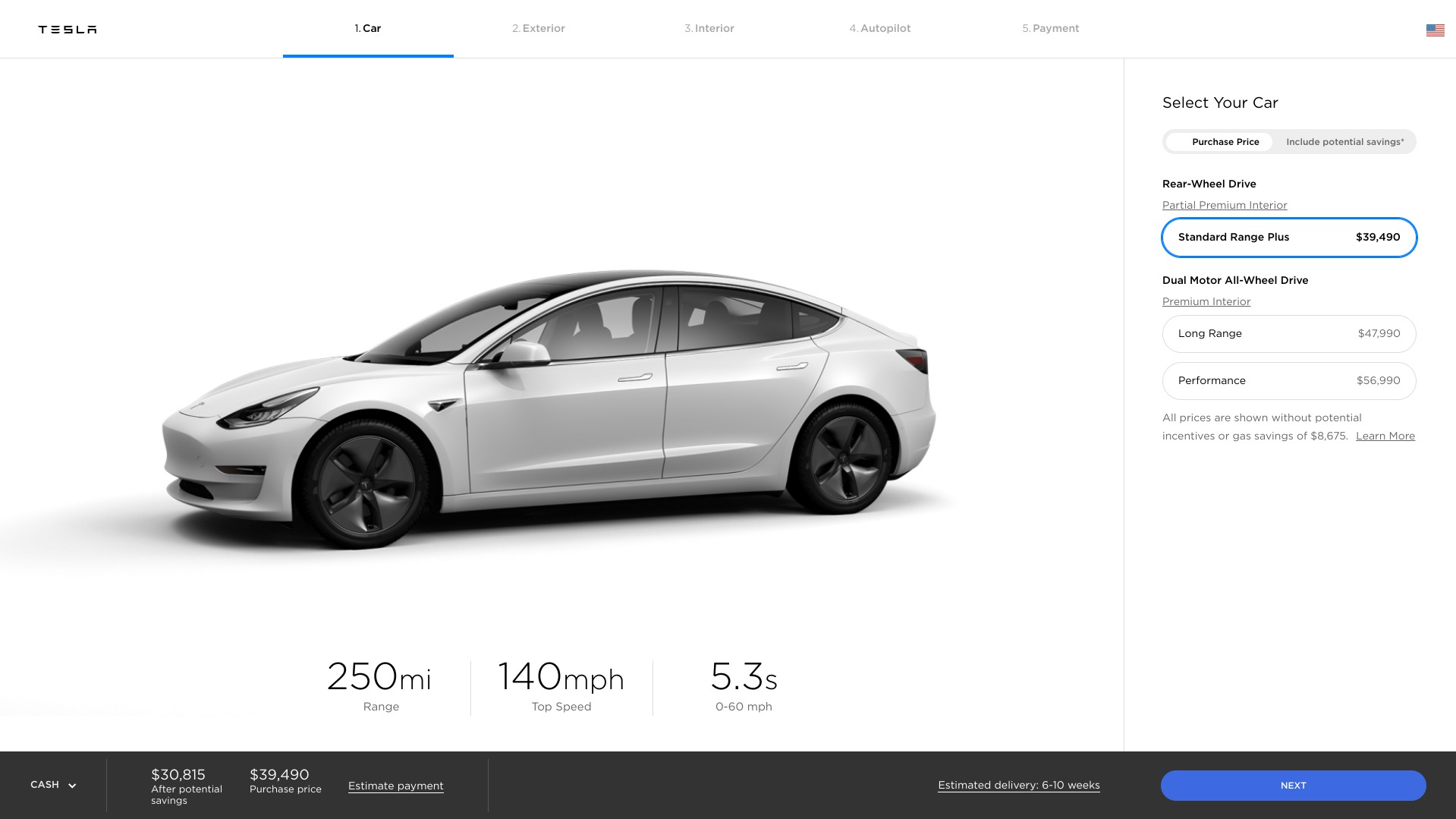 In addition to the additional range and increase in pricing for the Model 3 Standard Range Plus, Tesla has revised its estimated delivery timelines for its vehicles. The Standard Range Plus and Long Range Model 3, for example, now have an estimated 6-10 weeks for delivery, while the Performance variant now requires 8-10 weeks before the vehicle is ready to be handed over.
Tesla has also rolled out additional updates to its vehicle ordering process, such as a significantly reduced deposit price, as well as an upcharge for ordering a vehicle in the "Solid Black" exterior color. As could be seen in Tesla's order pages, vehicles now require an extremely affordable $100 as a non-refundable deposit for its entire electric vehicle lineup. Tesla's Solid Black paint, which used to cost $750, has also been adjusted to $1,000.
There are several potential reasons behind Tesla's extended delivery timelines for its vehicles. On one hand, the longer wait times could suggest that demand for the company's electric cars are increasing, and that Tesla is becoming supply-constrained. On the other hand, the long wait times could also be related to the upcoming production of the Model Y crossover, a vehicle that is being sighted in several areas across the United States recently.
The Tesla Model 3 is one of the most successful electric vehicles in the world, establishing itself as a key competitor in the US and European markets. Tesla's decision to increase the range of its affordable Model 3 variant will likely give consumers who were interested in purchasing the Model 3 an additional incentive to buy what is quickly becoming one of the most popular electric cars in the world.