American electric car manufacturer Tesla has lowered the required deposit for its lineup of vehicles. A look at Tesla's order page for the Model 3, Model S, and Model X, reveals that the company is only requiring a $100 non-refundable deposit from customers who wish to place an order for its electric cars.
This makes the company's entire electric vehicle lineup more attainable for buyers due to its smaller deposit. However, it comes with a catch. Unlike its previous setup, which required a fully-refundable deposit of $2,500, the recently updated $100 deposit is non-refundable. This means the buyer will only have to pay the $100 deposit, along with taxes and fees at the time of ordering, but they would have to waive their $100 if they choose to cancel their order.
Orders can be accomplished through a credit card, or through Apple Pay, an option CEO Elon Musk rolled out in order to make it more convenient for Apple users to purchase Tesla's products.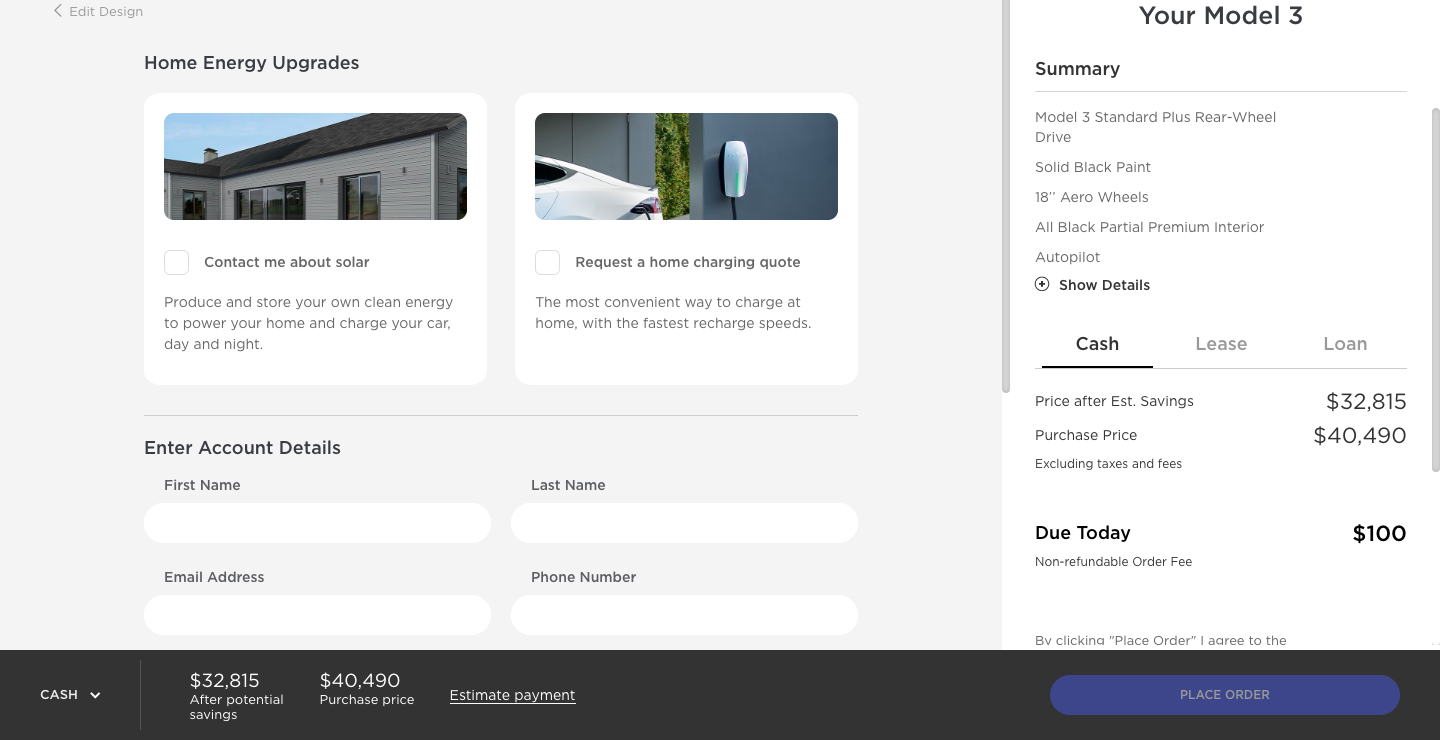 Apart from the reduced deposit, Tesla has also adopted some changes to its vehicle pricing. The Tesla Model 3 Standard Range Plus has increased in price by $500, from $38,990 to $39,490. Tesla has also raised the price of its Solid Black paint option from $750 to $1,000.
Solid Black was initially the standard color option until Elon Musk announced in July that the Silicon Valley-based car manufacturer would be changing its default color to white. Musk noted then that Solid Black would cost $1,000 after the change, but after the default color was shifted to white, Solid Black was priced at $750 instead.
Tesla's updated Model 3 order page. (Credit: Tesla)
Currently, the included color option is still the "Pearl White Multi-Coat," an option the Tesla community seems to enjoy, as it is visibly more attractive than the planned "Simple White" due to its shine. White-colored cars have the reputation of hiding scratches in a more discrete fashion than darker colored cars. However, black cars have advantages as well, as they hide normal, everyday imperfections and residue accumulated from the weather. Pollen and dirt are a great example.
The modifications to pricing will make prospective Tesla owners excited about the decrease in deposit cost, but the upcharge for the Solid Black paint may eventually begin to make the popularity of White Pearl Multi-Coat vehicles even more popular. While the $250 increase is minimal, it may be enough to sway some buyers into purchasing their new all-electric vehicle in its default color.