The Tesla Model S might be the veteran among the electric car maker's current lineup of vehicles, but it appears that the sleek, large sedan is still able to capture the imagination of auto enthusiasts. This is especially true in the United States, where the Tesla Model S was recently dubbed as the country's top overall "Dream Car."
Motoring website Autowise conducted a study to determine which cars are considered by American social media users as their respective dream vehicles. To acquire its data, the motoring website aggregated over 100,000 Twitter posts with relevant keywords and hashtags (such as #dreamcar, for example). The social media posts used in the study were gathered between July and September 2019. 
Autowise's findings according to the United States' different states could be seen in the map below.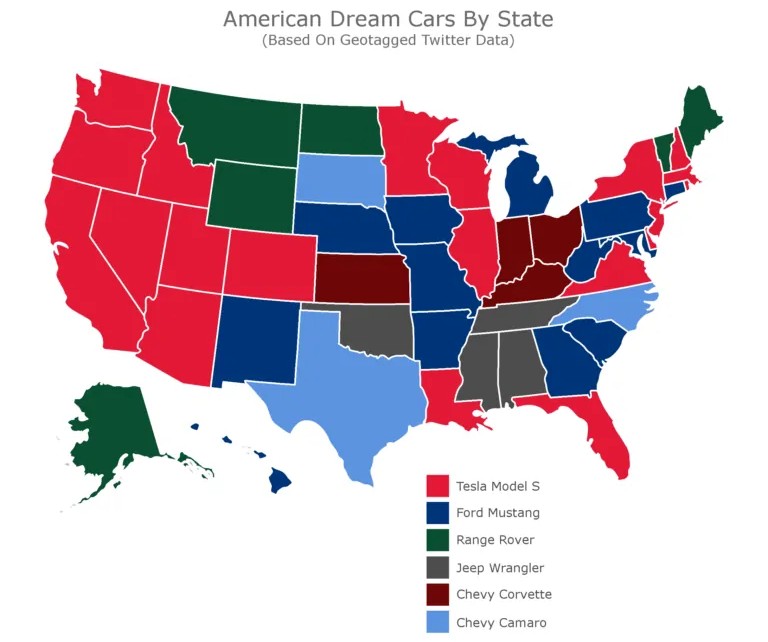 A look at the results of the study shows that the Tesla Model S was considered by the vast majority of Americans as their respective dream vehicle. The all-electric sedan dominated the list, gaining top rankings in 20 states. Following the Model S is a classic American icon, the Ford Mustang, which won in 13 states across the country. 
Autowise noted that while the results of its brief study only provide a glimpse at the preferences of car enthusiasts today, they do hint at the changing tide in how Americans view cars. When the Model S was introduced in 2012, after all, the idea of an all-electric sedan being the United States' overall dream car would have been nothing short of farfetched. 
Ultimately, the results of the recent study show a notable rise in interest among all-electric cars, which is most likely due to the ongoing efforts of Tesla to transition as a mass market carmaker. That being said, the results of Autowise's study are very interesting, especially considering the age of the Model S compared to its stablemates like the Model X crossover and the Model 3 sedan, or the excitement attached to future vehicles like the next-generation Tesla Roadster. 
Perhaps this is due to the Model S' flagship status, as well as its trademark straight-line performance that has made it a fearsome force on the drag strip. Or perhaps it is due to a rekindling of interest in the vehicle due to its recent exploits at the Nurburgring and the impending arrival of the track-capable 'Plaid Powertrain' Model S variant next year. Either way, with the Model S being dubbed as America's dream car, it appears that Tesla's image in the auto industry is only getting stronger with time.