Update: The Tesla Model Y Long Range is also available in Australia now, starting at $81,900 (US$55,497.90).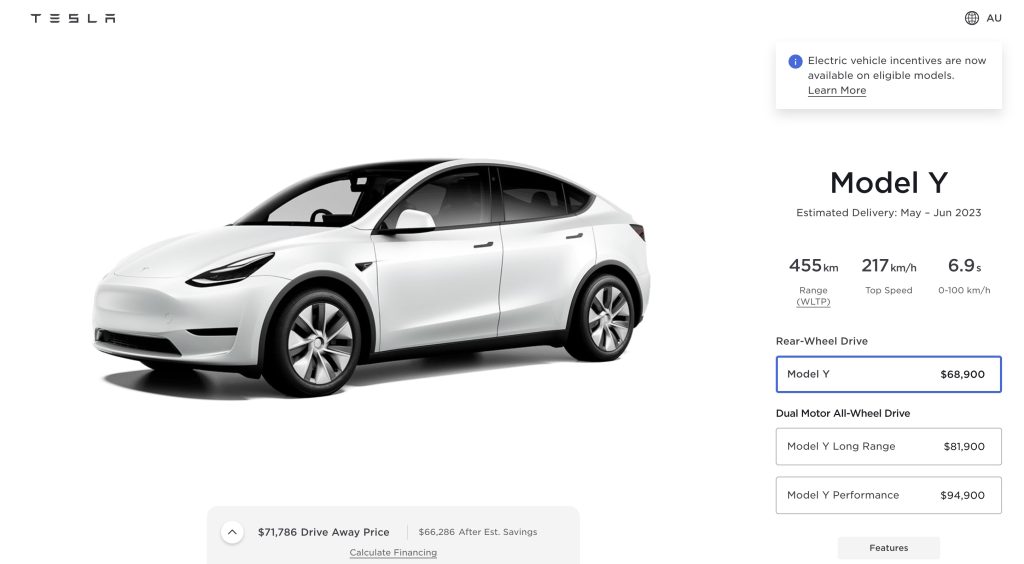 The Tesla Model Y Long Range is available to order in Japan. New Model Y and Model 3 purchases may be eligible for Japan's Clean Energy Vehicle Introduction Promotion Subsidy (CEV Subsidy). 
Tesla Japan recently announced that the Model Y Long Range from Giga Shanghai is available for purchase. Based on the configurator, the first Model Y LR purchases are expected to arrive in Japan between May and June—just in time for new owners to cruise through the summer.
First-time Model Y and Model 3 purchases are eligible for Japan's CEV subsidy if the cars are bought for private use. New Model Y LR owners must submit a subsidy application form to the Next Generation Vehicle Promotion Center within one month after registration to qualify for CEV subsidies.
The Japanese government vowed that the country would become carbon neutral by 2050, and supporting the transition to battery electric vehicles (BEVs) is a critical step towards its goal. Statistics from 2012 to 2021 revealed that BEV sales lagged behind internal combustion engine sales. However, Japanese customers appear to be acclimating to battery electric vehicles with the government's support.
Tesla kicked off Model Y deliveries in Japan back in September 2022. At the time, the company offered the Model Y RWD and Model Y Dual Motor AWD Performance variants, starting at ¥6,190,000 ($46,156.97) and ¥8,090,000 ($60,324.70), respectively.
As of this writing, The base Model Y RWD starts at ¥5,834,600 ($43,985.01) before options. Meanwhile, the Model Y Dual Motor AWD Long Range has a starting price of ¥6,760,600 ($50,965.80), and the Performance variant costs ¥7,544,600 ($56,876.10) before options.
The Teslarati team would appreciate hearing from you. If you have any tips, contact me at maria@teslarati.com or via Twitter @Writer_01001101.