Tesla has implemented its latest round of vehicle price increases, and they are quite significant. With the latest adjustments, a fully-optioned Tesla Model Y now costs over $87,000. That's more than the old price of the company's flagship Model S sedan.
The Tesla Model Y, arguably the EV maker's fastest-rising vehicle, saw some notable price increases. The Model Y Long Range received a $3,000 price adjustment to start at $65,990, while the Model Y Performance received a $2,000 price increase to start at $69,990.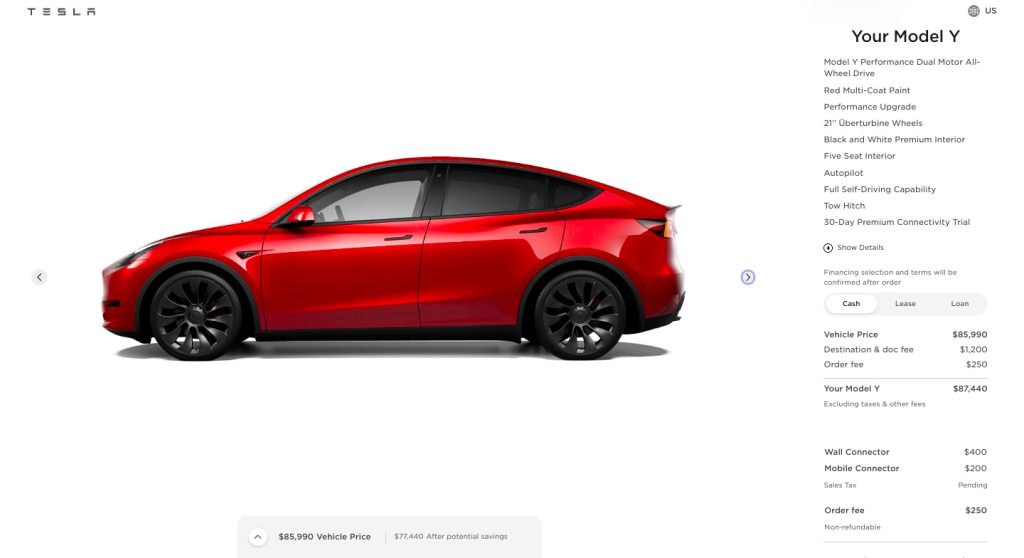 This effectively meant that a fully-loaded Tesla Model Y Performance with red multicoat paint, white interior, Full Self-Driving Beta, and a complete set of optional accessories now costs a total of $87,440 including destination & doc fees. Interestingly enough, the base Model S, the company's flagship sedan, was briefly offered for $69,420 back in 2020.
It was not just the Tesla Model Y that received some price increases. The Model S, Model 3, and Model X also received some adjustments. The Model X Long Range now starts at $120,990, $6,000 more than its previous price; the Model S Long Range now starts at $104,990, $5,000 more than its previous cost; and the Model 3 Long Range now starts at $57,990, $2,000 more than its previous price.
Tesla has not provided the specifics behind its recent round of price increases, though speculations suggest that it is likely due to the ongoing supply chain issues, which have also adversely affected other automakers in the market. Leaked emails also indicated that Elon Musk has told Tesla employees that he has a "super bad feeling" about the economy.
Tesla faced a number of headwinds this second quarter. The most notable of these arguably concerns Giga Shanghai, the company's primary vehicle export hub. Gigafactory Shanghai was forced to halt its vehicle production for over three weeks due to the country's strict Covid lockdowns, and it was only able to resume its normal operations recently, with just a few weeks left in Q2 2022.
Don't hesitate to contact us with news tips. Just send a message to simon@teslarati.com to give us a heads up.