A growing partnership between Tesla and Panasonic on solar cell production and storage batteries may one day eliminate residential reliance on the power grid and provide the capacity to recharge electric cars each night. However, to secure this collaboration on solar cell and module production, Tesla's proposed SolarCity acquisition must first be approved by shareholders on November 17, 2016.  
In the meantime, Tesla and Panasonic have entered into a non-binding letter of intent under which they will begin collaborating on the manufacturing and production of photovoltaic (PV) cells and modules in Buffalo, New York. The Buffalo facility will become the largest solar panel factory in North America, with expectations to employ 1,460 workers and produce up to 10,000 panels per day.
A blog post on Tesla's website acknowledged that the continued partnership with Panasonic is an important step in creating fully-integrated energy products for businesses, homeowners, and utilities and furthers Tesla's mission toward a sustainable energy future.
The Relationship between Tesla and Panasonic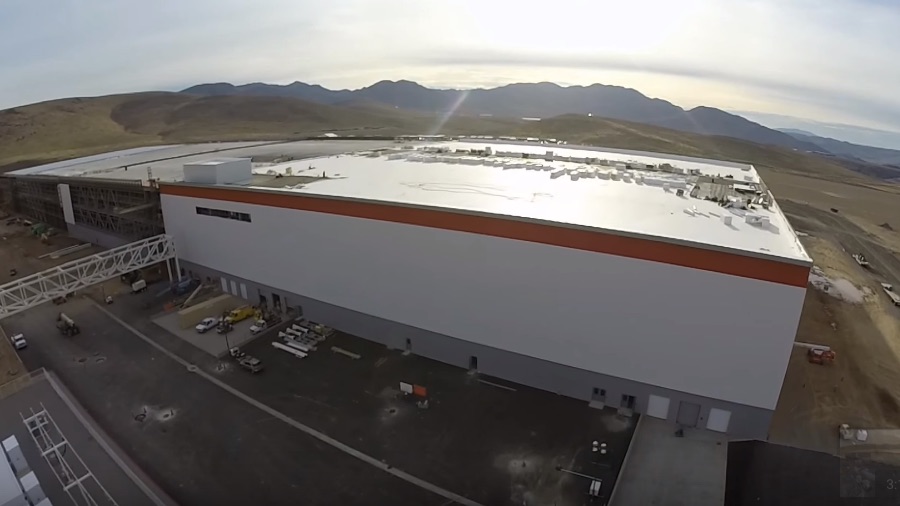 The October 16, 2016 announcement confirmed that this newest collaboration extends the established relationship between Tesla and Panasonic, which includes the production of electric vehicle and grid storage battery cells at Tesla's Gigafactory outside Sparks, Nevada. The $5 billion Gigafactory will produce batteries for the Model 3 electric car and energy storage products for home and utilities.
"We expect that the collaboration talks will lead to growth of the Tesla and Panasonic relationship," said Shuuji Okayama, vice president of Panasonic's Eco Solutions unit.
Battery cell production will begin by late 2016 and is expected to reach full capacity by 2018, producing more lithium ion batteries annually than were produced worldwide in 2013. In cooperation with Panasonic and other strategic partners, the Gigafactory will produce batteries that have the capacity to drive down the per kilowatt hour (kWh) cost of a battery pack by more than 30 percent. That anticipated cost drop is crucial, as current battery costs are untenable.
Panasonic plans to begin PV cell and module production at the Buffalo facility in 2017, and Tesla intends to provide a long-term purchase commitment for those cells from Panasonic. The Tesla/ Panasonic collaboration could mean that energy from solar panels will be pumped into home storage batteries. No longer would residential home solar systems follow the traditional model of selling back to utilities.
Panasonic's Future Home
The proposed Tesla/ Panasonic collaboration would shift Panasonic's historic focus from consumer electronics products and onto housing, automotive information systems, and vehicle batteries, which "would be a win" for Panasonic, according to Bloomberg. Panasonic's transition to the home electric market began in 2009 with its Tokyo Future Home, which features the latest environmental technologies and a few prototypes. The house is designed to aid natural ventilation and cut down on air conditioning. The walls of the house are lined with a thin and efficient insulator that cuts down on heating and cooling costs. LED lights, which use much less power than incandescent bulbs and last longer than current fluorescent models, are sensor-controlled. Extra generated electricity is stored in a prototype accumulator battery of lithium ion cells for later use. The lights, power, heating, and other apps are controlled in a high-tech in-house network with living room TV at the center.  
The aim of Panasonic's energy-saving house is to be carbon neutral in energy usage.
Tesla's Smart House Could Utilize Panasonic's Technology
Tesla is currently developing advanced systems that adapt to the needs of the environment with the goal is to bring top quality affordable systems that provide energy efficiency, quality of life, and home security.
Already, smart home system are able to cut electric energy spending by 50%, or in some cases go off-grid using Tesla batteries combined with solar. Lights, air conditioning, and all other appliances are automatically managed, turning on and off, depending on the time of day, temperature, motion sensors, door and window detectors, and electricity rates. Fingerprint scanner and pin lock, video surveillance, night vision camera, motion sensors, SMS alarms, fire and flood sensors are accessed through a phone.
In 2014, Panasonic opened a smart city near Tokyo that is designed to drastically cut CO2 emissions by 70%, reaching to 1990 levels. It will attempt to reduce water usage by 30 percent and achieve 30 percent renewable energy usage. Called the Fujisawa Sustainable Smart Town (SST), the subdivision southwest of Tokyo focuses on solar power and other environmentally friendly technologies.
Together, Tesla and Panasonic may be able to ground ambitious plans for solar-powered systems that charge smart homes and electric cars and make decentralized renewable energy systems that power homes and car a practical reality. "We are excited to expand our partnership with Panasonic as we move towards a combined Tesla and SolarCity," JB Straubel, Tesla's chief technical officer and co-founder, said in a statement. "By working together on solar, we will be able to accelerate production of high-efficiency, extremely reliable solar cells and modules at the best cost."
The Role of the Projected SolarCity Acquisition
The Tesla/ Panasonic collaboration moving forward is contingent on Tesla's acquisition of SolarCity, but shareholders must approve the move. Tesla's bid to acquire SolarCity has been fraught with corporate governance issues because the boards of both companies are deeply intertwined.
Tesla co-founder Elon Musk's effort to unite Tesla and SolarCity has been under close scrutiny, given six of the seven directors on Tesla's board have SolarCity ties and SolarCity's CEO, Lyndon Rive, is Musk's first cousin.
SolarCity, among the top installers of residential rooftop solar panels in the U.S., acquired solar manufacturer Silevo in 2014. The transaction gave SolarCity the factory in Buffalo where Panasonic will begin photovoltaic cell and module production. If the SolarCity acquisition is successful, Tesla will use the cells and modules in a solar energy system that will work seamlessly with Powerwall and Powerpack, Tesla's energy storage products. With the aid of installation, sales, and financing capabilities from SolarCity, Tesla will bring an integrated sustainable energy solution to residential, commercial, and grid-scale customers.