It turns out that Tesla can indeed defy previous statements from its CEO, Elon Musk. Amidst the initial release of the Model S Plaid way back in 2021, Musk declared on Twitter that the new flagship sedan and its SUV sibling, the Model X, will not have a "normal" steering wheel option. Customers could either get used to the steering yoke or get a third-party retrofit if or when one is available. 
Considering a recent update to the Tesla Shop, Musk's statements from 2021 could now be seen as words that were spoken too soon. This was because as the new Model S and Model X was announced with their official prices in China, Tesla also announced that it would now be offering the flagship all-electric sedan and SUV with a conventional round steering wheel. 
A look at Tesla's configurator for the Model S and Model X shows that there is no incentive for customers to select the steering yoke either, as the round steering wheel does not involve any extra charges to the premium electric cars. Now, Tesla has sold a substantial number of the new Model S and Model X already, and all of those vehicles so far have been equipped with a yoke. Thus, if owners of the flagship cars wish to switch out their yoke with a conventional steering wheel, what can they do?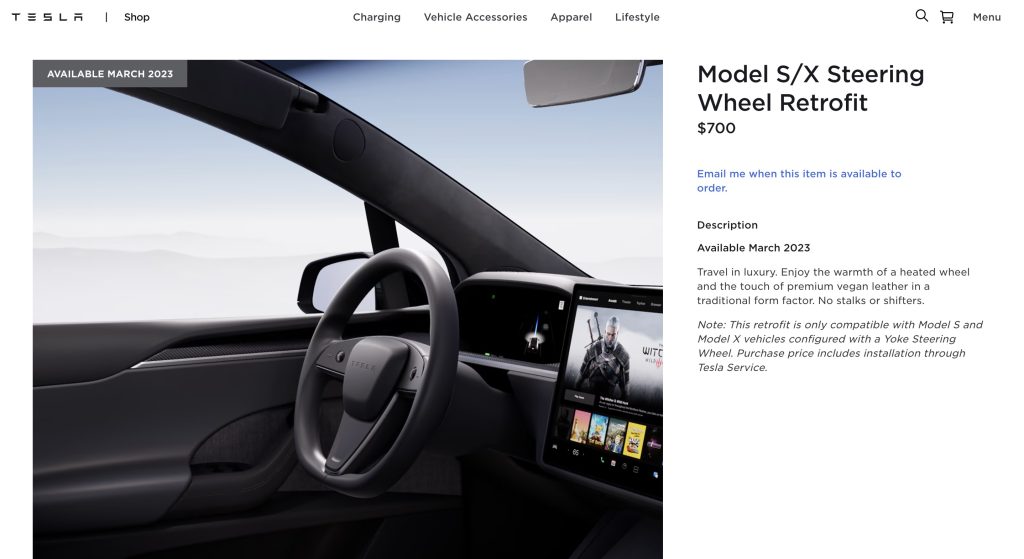 They'd have to wait until March 2023, at least according to a new listing on Tesla's official shop. As noted in the listing, Tesla is now offering a round steering wheel retrofit for the new Model S and Model X. The retrofit is not that expensive as well, as it's only listed for $700 including installation through Tesla Service. Seemingly as a way to highlight that the new Model S and Model X are still a new breed of EVs, however, Tesla made it a point to note that the round steering wheel retrofit does not include any stalks or shifters.
"Travel in luxury. Enjoy the warmth of a heated wheel and the touch of premium vegan leather in a traditional form factor. No stalks or shifters. (Note: This retrofit is only compatible with Model S and Model X vehicles configured with a Yoke Steering Wheel. Purchase price includes installation through Tesla Service.)" Tesla wrote.
The Tesla Model S and Model X are worthy of their flagship status, and this is especially true for the vehicles' Plaid variants. With this in mind, perhaps the addition of a round steering wheel option would be welcomed by some Model S and Model X buyers. It should be noted, after all, that legendary racer Randy Pobst used a retrofitted conventional steering wheel when he drove an Unplugged Performance Tesla Model S Plaid racecar up Pikes Peak in 2021 to dominate the event's Exhibition Class by a wide margin. 
Don't hesitate to contact us with news tips. Just send a message to simon@teslarati.com to give us a heads up.