According to MarketWatch ,"Tesla Motors Inc. has filed to sell about $2 billion of common stock to grease its way to the Model 3, the $35,000 mass-market electric car it hopes to sell by late next year. The Silicon Valley electric-car maker said it will offer about $1.4 billion of shares, with the remaining shares to be sold by Chief Executive Elon Musk to cover tax obligations associated with his exercising of more than 5.5 million stock options, the company said in a press release. Net proceeds from the offering will "accelerate the ramp of Model 3," the company said."
Tesla shares fell more than 3% right after news of the secondary offering was announced after the close, but the stock was nearly flat as extended-hours trading wore on. The stock ended the regular trading day up 3.2%. See the chart below showing the end of the regular session and the extended-hours session.
Notice that Morgan Stanley and Goldman Sachs are the offer's joint leaders on the $2 billion Tesla share sale. As I reported earlier, Goldman Sachs upgraded Tesla stock to buy, after a 3-year hiatus, the main reason behind today's 3.2% regular session run up. Goldman has also served as an underwriter on previous other Tesla share sales, including its 2010 initial public offering.
Deutsche Bank, Citibank and Bank of America Merrill Lynch, are also acting as additional book-running managers, showing that there seem to be pretty large interest in participating in the offering. It will be interesting to find out at what price the offering will land. If the offering is oversubscribed, you may see a pop in the stock, even with the additional dilution.
According to Bloomberg, "The company also said in the filing that it had about 373,000 pre-orders for the Model 3 as of the beginning of this week. […] Tesla said in the filing that about 8,000 customers canceled orders and that it scrapped about 4,200 reservations because they appeared to be duplicates from speculators."
Updated Wed at 10:00pm PT
Later today we finally were able to get hold of the Prospectus providing the offering details.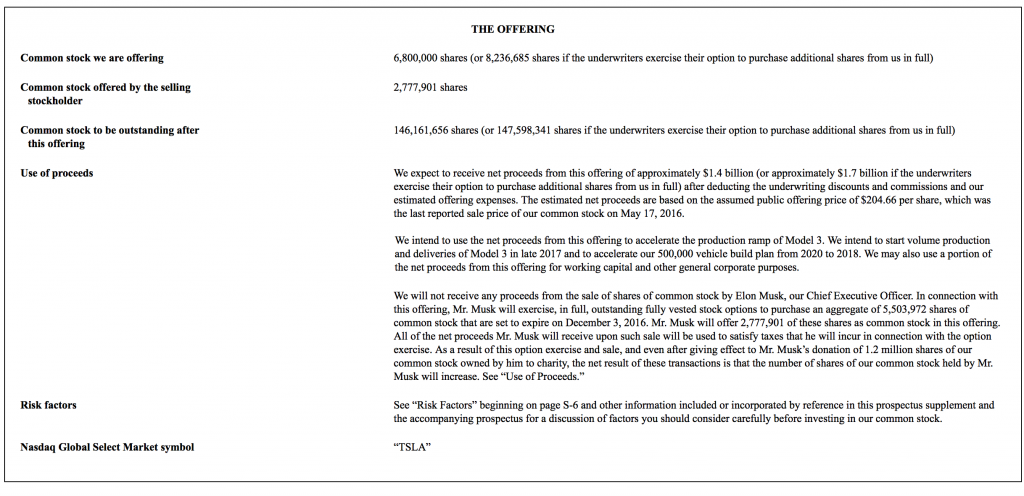 The underwriters will offer 6,800,000 shares (or 8,236,685 shares if the underwriters exercise their option to purchase additional shares). Elon Musk will offer 2,777,901 shares.

So the offering is between $2.016B and $2.31B at today's close price.