Tesla CEO Elon Musk unveiled the company's highly anticipated semi-truck Thursday night on an airport hangar adjoining the company's  Design Center in Hawthorne, CA. It's the California-based electric car maker's first foray into the commercial trucking industry.
Before a packed crowd of thousands, Musk revealed industry-disrupting details of the Tesla Semi.
The Tesla Semi can accelerate from 0-60 in 5 seconds, without cargo, and 20 seconds with a full 80,000 lb. load, more than twice as quick as a traditional diesel truck. The Semi can also traverse a 5% gradient at 65mph, compared to 45mph for diesel trucks. This is all powered by the truck's four independent electric motors says Musk. "You can lose two of the four motors, and the truck will still keep going. In fact, even if you have only two of the four motors active it will still beat a diesel truck."
In addition, the Tesla Semi has a .36 drag coefficient, compared to the standard of .65-.70. Musk compared it to a Bugatti, noting that the semi-truck beats the supercar's .38 drag coefficient. "Overall, the Semi is more responsive, covers more miles than a diesel truck in the same amount of time, and more safely integrates with passenger car traffic," says Tesla in its official announcement. The company also highlighted the fact that the Semi benefits tremendously from the regenerative braking that can recapture 98% of braking energy into the battery.

The Tesla Semi's development has been led by Jerome Guillen, VP of Trucks and Programs. He has led the development of the truck since January 2016, and prior to his current role was VP of Worldwide Sales and Service and was the Model S's Program Director & VP of Vehicle Engineering. While it may seem odd that Guillen jumped from Sales and Service to leading the development of an all-electric semi-truck, it's worth noting that before joining Tesla, he was Director of Business Innovation at Daimler and General Manager of Freightliner (Large manufacturer of class 8 diesel semi-trucks, owned by Daimler).
Musk also pointed out that it takes 15 minutes for traditional diesel-powered semi-trucks to fuel up, where as a Tesla Semi can charge 400 miles in 30 minutes, which is provided by "Megachargers". The Megachargers run on solar power and Tesla has guaranteed electricity rates of $0.07 per kWh with Semi owners.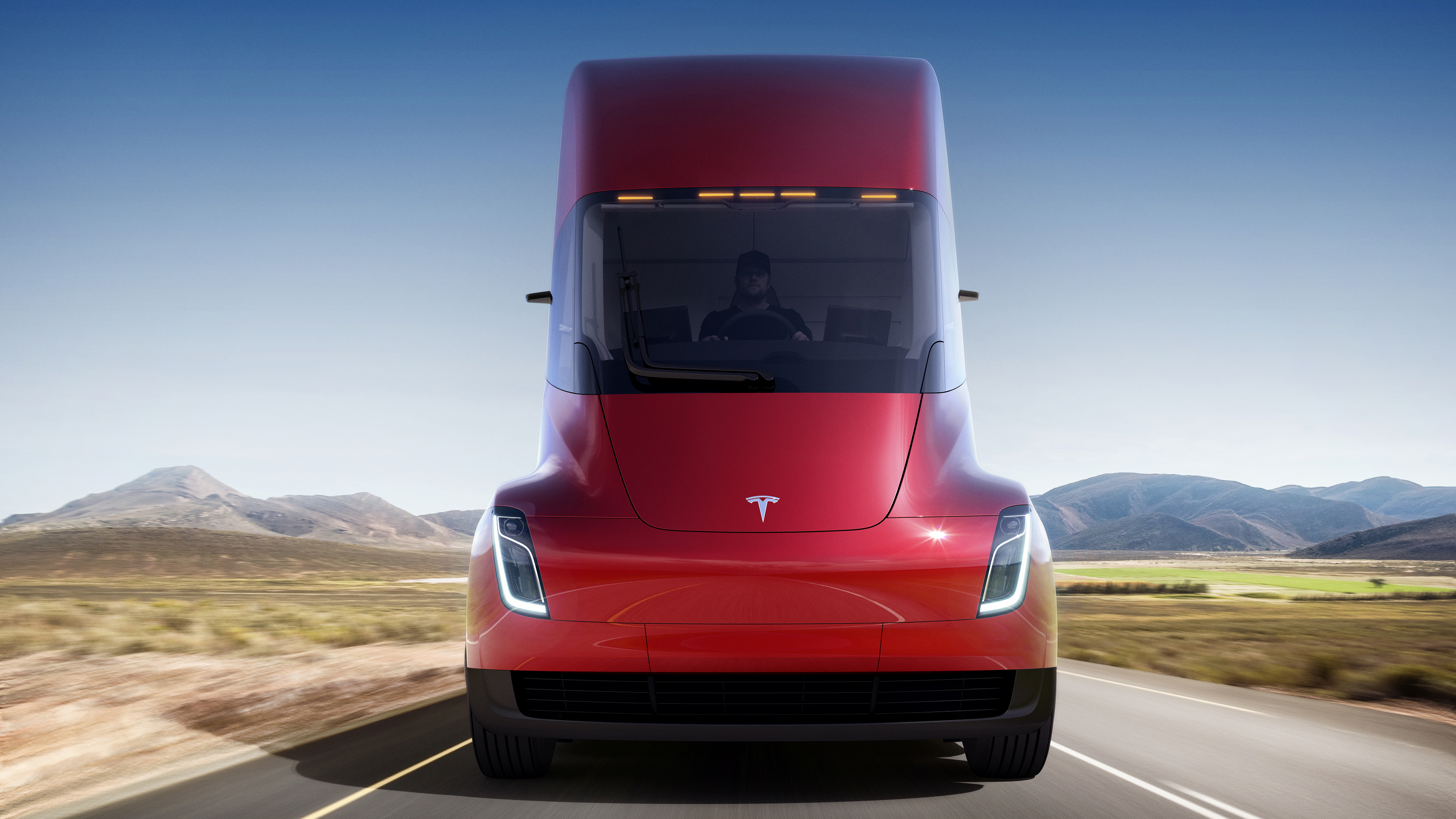 The interior of the Tesla Semi has one seat positioned in the center and provides drivers with unparalleled  visibility. The seat is surrounded by two touchscreens that reminisce the ones found in the Model 3 sedan. Tesla's semi-truck will also be equipped with Enhanced Autopilot which Musk notes will provide safety by automatically pulling over and stopping when truckers are in danger.
The Semi also has a small front truck, "because why not", said Musk. The glass windshield on the Semi is thermonuclear resistant glass, which Musk says is a big deal because semi-trucks often have their windshields crack twice a year (which renders the truck undrivable). It can be assumed that this incredible glass could be related to Tesla's nearly indestructible Solar Roof glass development.
Tesla claims that the semi will cost 20% less per mile compared to diesel trucks, costing $1.26/mile versus $1.51/mile . But that wasn't all. Musk announced convoy technology that will further reduce the cost per mile driven for the Tesla Semi, even beating the cost of rail-based transportation.
"Tesla Semi can also travel in a convoy, where one or several Semi trucks will be able to autonomously follow a lead Semi."
While Tesla didn't unveil the price of the Semi, Musk noted that the semi-truck is expected to save operators $200k on fuel alone over 1 million miles. This resonated with fleet owners as Jerome Guillen pointed to some important guests at the event, stating that they had "placed a lot of reservations". First production of the Tesla Semi is expected sometime in 2019.