Tesla as a company is doing very well, but one would not really see this from looking at TSLA stock's performance this year. Amidst CEO Elon Musk's turbulent acquisition of Twitter, Tesla shares have seen a notable dive, with the company losing over $600 billion in the past year.
Tesla bulls and bears have found common ground in the notion that TSLA stock has suffered this year partly because of Musk's Twitter acquisition. And as it turns out, institutional investors that were surveyed by Morgan Stanley think the same way, too. 
Morgan Stanley recently released a note highlighting what institutional investors think of Twitter's effect on Tesla's stock performance. According to Morgan Stanley's note, a survey about Tesla's Twitter overhang was sent to an email distribution list comprised of institutional investors and industry experts. 
There were only two questions that were asked. "How much of Tesla's recent underperformance o you attribute to the Twitter situation?" and "What impact do you believe Elon Musk's acquisition of Twitter will have on Tesla's business going forward?" The results were very telling.
Almost 75% of the respondents to Morgan Stanley's survey noted that Musk's Twitter acquisition has accounted for at least a significant portion of TSLA's underperformance. About 40% of the respondents also noted that the Twitter situation has accounted for half or more than half of the weakness that's been evident in the EV maker's stock. 
Apart from this, about 65% of the respondents to Morgan Stanley's survey noted that Musk's Twitter takeover would have a negative or slightly negative impact on Tesla's business moving forward. That being said, 5% of the respondents expected a positive impact from Musk's Twitter acquisition.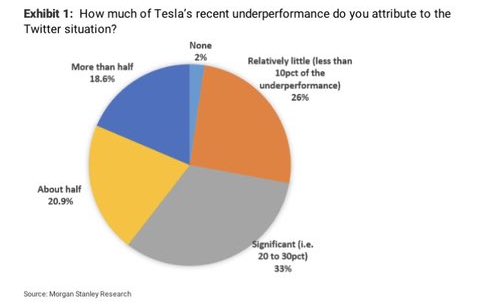 "As we highlighted in last week's note, we see the situation at Twitter potentially exposing Tesla to risks along a number of areas including: (a) consumer sentiment/demand, (b) commercial partnerships, (c) government relations/support; and (d) capital markets support. While difficult to quantify, we believe there must be some form of sentiment' circuit breaker' around the Twitter situation to calm investor concerns around Tesla," Morgan Stanley wrote.
That being said, Morgan Stanley remains optimistic about Tesla. Despite its reservations about Elon Musk's Twitter overhang, Morgan Stanley still has a $330 per share price target for the EV maker and an "Overweight" rating. Morgan Stanley explained its stance on the EV maker in its note. 
"Tesla is the only name we cover that generates a profit (before incentives) on the sale of EVs. Tesla is the only self-funding pure play EV name we cover and has achieved a unique position to secure supply of the battery metals and related up-stream supply necessary to produce EVs at multi-million-unit scale.
"In a slowing economic environment, we believe Tesla's 'gap to competition' can potentially widen, particularly as EV prices pivot from inflationary to deflationary. The current price offers approximately 80% potential upside to our $330 price target, which is the highest upside to target we have seen from Tesla in over 5 years," Morgan Stanley wrote. 
Disclosure: I am long Tesla.
Don't hesitate to contact us with news tips. Just send a message to simon@teslarati.com to give us a heads up.