The Tesla Supercharger Network is one of the electric vehicle maker's most notable accomplishments. And now that it is being opened to non-Tesla electric vehicles, the rapid charging system seems poised to become one of the key drivers of mainstream EV adoption.
Back in May, veteran automaker Ford announced that it had reached a deal with Tesla so that its electric vehicles could access the Supercharger Network. Other automakers followed suit, including fellow auto giant General Motors. Even newer carmakers like Rivian opted to join Tesla's growing "NACS coalition."
Considering the adoption of Tesla's North American Charging Standard by multiple other automakers, it would not be too surprising if the Supercharger Network became the charging standard for the region. It would likely be beneficial for EV owners, as per the results of J.D. Power's 2023 U.S. Electric Vehicle Experience (EVX) Public Charging Study.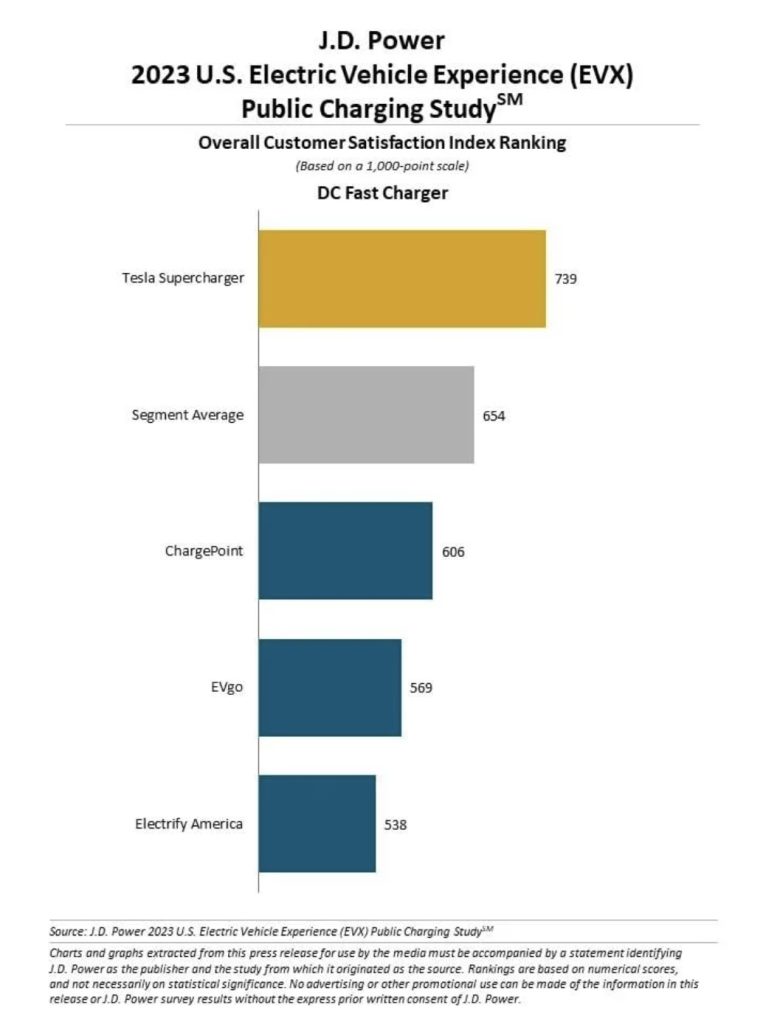 Among the DC fast chargers that were considered in the study, the Tesla Supercharger dominated. The rapid charging network achieved a score of 739 out of 1,000 possible points, putting it far ahead of competitors like ChargePoint, EVgo, and Electrify America, which received 636 points, 569 points, and 538 points, respectively. 
Interestingly enough, J.D. Power's study also noted that customer satisfaction with public Level 2 charging solutions has declined to an overall 617 points. Overall scores among DC fast chargers also saw a decline compared to a year ago. As noted in a Ford Authority report, however, experts believe that the shift to Tesla's NACS, and access to the Supercharger Network, would likely increase overall customer satisfaction for DC fast chargers. 
Brent Gruber, executive director of the EV practice at J.D. Power, issued a statement about the matter.
"With greater adoption of the North American Charging Standard (NACS) pioneered by Tesla, it may provide a boost in fast-charging satisfaction among owners of EVs from other brands as they begin to use Tesla's Supercharger stations.
"We're monitoring whether the use of Tesla Superchargers by non-Tesla owners will affect satisfaction, but the move does help address charger scarcity and offer access to industry-leading reliable chargers. It's just too early to tell if it can reach the satisfaction levels of Tesla owners who are already part of that fully integrated Tesla ecosystem," Gruber said.
Don't hesitate to contact us with news tips. Just send a message to simon@teslarati.com to give us a heads-up.