Tesla's (NASDAQ:TSLA) 2021 annual shareholder meeting comes at a historic time for the company. After delivering a record 241,300 cars in Q3 2021 and producing 237,823 vehicles in the quarter, all eyes are now on Tesla and its capability to ramp even higher in the the fourth quarter.
Unlike the previous years, Tesla's 2021 annual meeting of stockholders is completely virtual. A livestream of the meeting could be found here. Topics that will be discussed by the company remain to be seen, though questions submitted to Say, an Investor Relations platform, include inquiries about a potential stock split, Cybertruck production, dividends, and 4680 cell production.
The following are live updates from Tesla's 2021 annual shareholder meeting. I will be updating this article in real-time, so please keep refreshing the page every minute or two to view the latest updates on this story.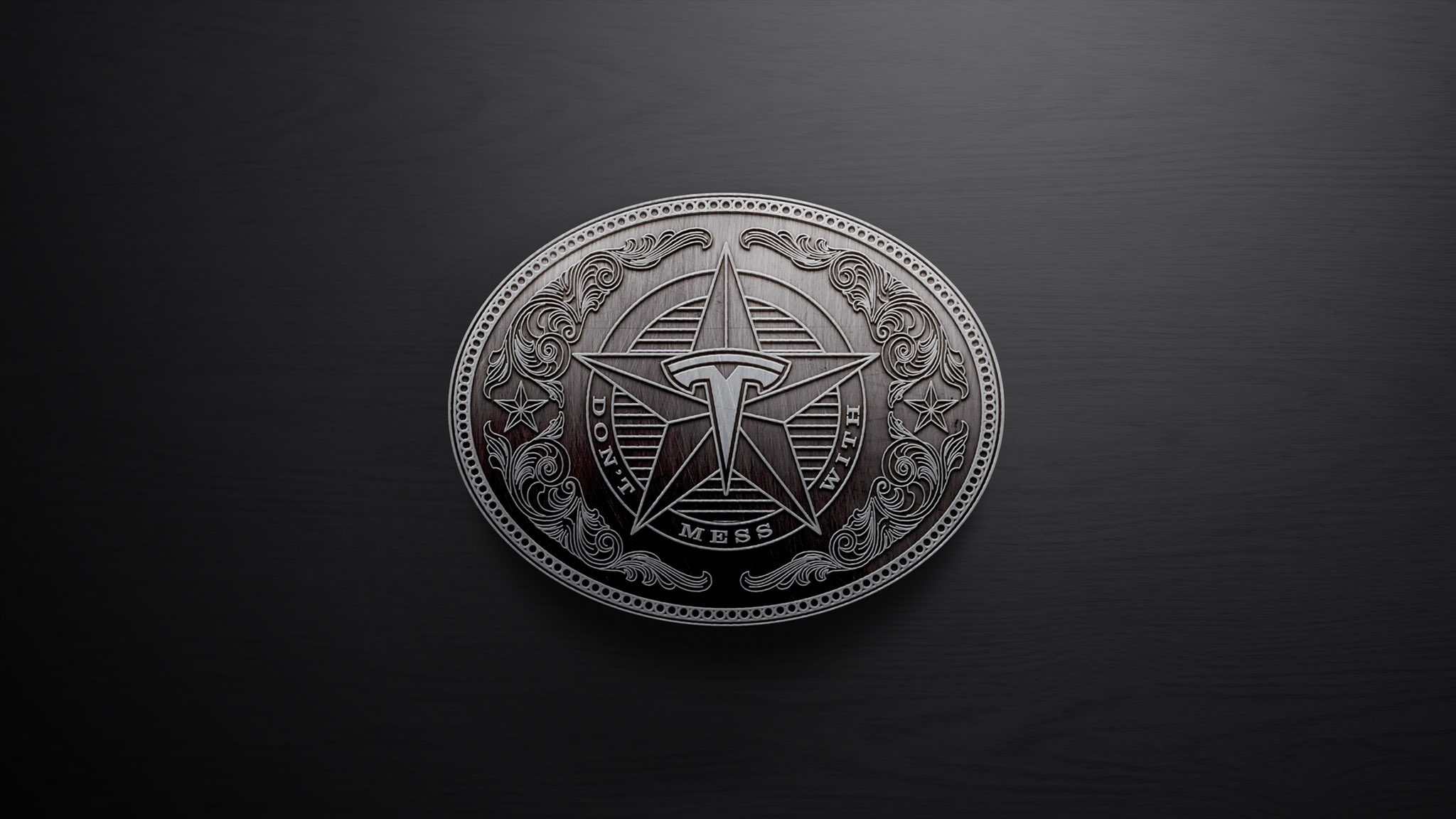 15:51 PT – And that's a wrap! Thanks once more for staying with us for this Live Blog. This year was definitely great. Lots of new updates, and high-spirits Elon is always welcome. Till next time then, everyone! Now signing off!
15:50 PT – Elon notes that Giga Texas would be making the Cybertruck and the Tesla ATV. He admits that ATVs are inherently dangerous. So Tesla's goal would be to make the least dangerous ATV. Low center of gravity and everything. "You've got to have one with a Cybertruck." As for electric planes? "Maybe one day," Elon said.
15:48 PT – More energy storage projects will likely happen in Texas. Elon notes that Tesla is in talks with ERCOT for more potential projects. As for Tesla Insurance, it's a regulatory labyrinth, Elon notes. "There's a zillion applications, and you have to wait for a long time. And most of it is state-by-state," the CEO added, though he notes that Tesla Insurance is launching in Texas next week.
15:43 PT – Tesla's first off-planet factory? "I like the way you think. I'd like to see one before I'm dead though," Elon noted. Oh and Elon's Safety Score? "I don't know actually. Yeah, I don't know what it is, because mine just got turned on. I'll find out," he said.
15:41 PT – Elon notes that lithium is plentiful. It's so plentiful that it's actually harder to find places where there is no lithium. "What actually matters is the cathode. Our long-range vehicles use a nickel-based cathode. But for our Standard Range vehicles and stationary vehicles, we're using iron-based cathode," Musk said, adding that while nickel is not rare, iron is just that much plentiful.
15:39 PT – Audience questions begin! Elon jokingly tells the audience to just yell out their questions since there's no microphone. Unfortunately, the audio is lacking. However, Elon responds to the inquiry by stating that the annual global capacity is about 100 million per year. So mining for battery materials will stop when the transportation sector becomes electric. By this time, key battery components could be recycled. This will happen in about 30-40 years, Elon said.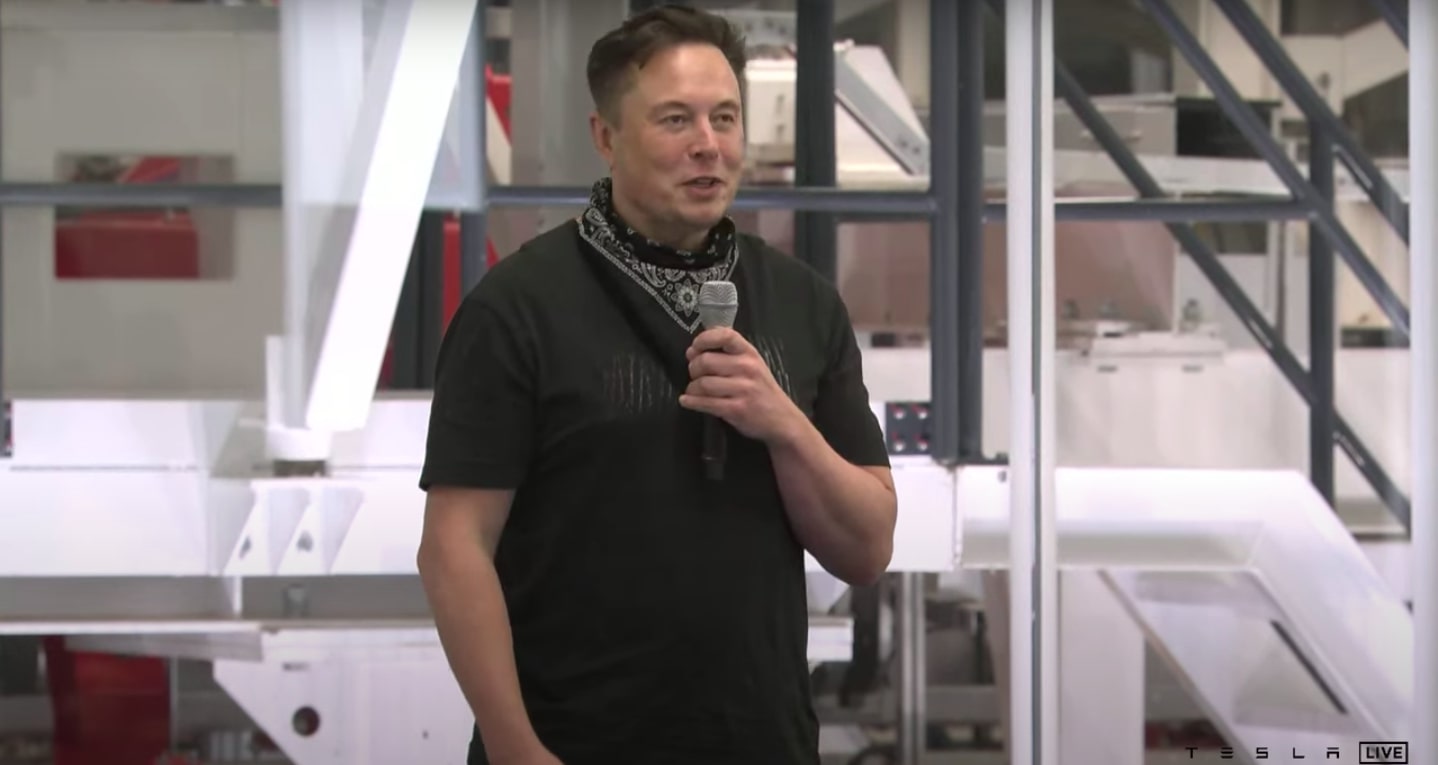 15:38 PT – Elon highlights the importance of solar and batteries. He notes that he was in a friend's house when he experienced the Texas freeze earlier this year. Unfortunately, his friend had neither solar nor Powerwall, so they essentially froze themselves out in the dark. The CEO also confirms that yes, FSD Beta 10.2 is on track for a rollout Friday night to owners who have a perfect Safety Score. "It's looking really good," he said.
15:33 PT – And here's a question on a Tesla Minibus. Elon notes that he is actually a big fan of the original VW Minibus. "I think over time, I think Tesla would make all major variants of vehicles. One in every significant category," he notes. As for Solar Roof, Musk notes that the company is actually making some rapid progress. "Energy, in general, got shortchanged since we were focused on Model 3 production. It was all hands on deck. So we're a couple of years behind on that. But I think we're making progress on Solar Roof," Musk said, adding that Solar Roof is currently far more efficient with new home builders. It's just harder to have the Solar Roof retrofitted to an existing roof.
15:29 PT – Elon also notes that Tesla's next Gigafactories would not necessarily be bigger by footprint, but they would be more and more advanced. This pretty much confirms that the "Terafactory" concept would probably not be that much larger than the company's current Gigafactories. But their output would be nothing but insane. "Not all Gigafactories will get bigger with each iteration. They will get more advanced and more efficient," Musk said.
15:28 PT – As for the ramp of Tesla Energy, Elon notes that this year has not been a good guide for Energy's progress, since the company's battery storage products have taken a step back compared to the company's vehicles. Oh, and there's no "Model 2." "The 'Model 2' is not a car," Elon said.
15:26 PT – Dividend plans? Elon notes that there are no plans for dividends for now.
15:25 PT – Any new factories? Musk laughs a bit, adding that building factories is pretty hard. "Hmm. I think we'll start scanning for locations next year. But I think we can do a lot with Berlin and Austin and expanding in China and Fremont, so the nice thing is having a factory in Europe, China, and North America. We'll at least have factories for high-volume products in places where customers are," Musk said.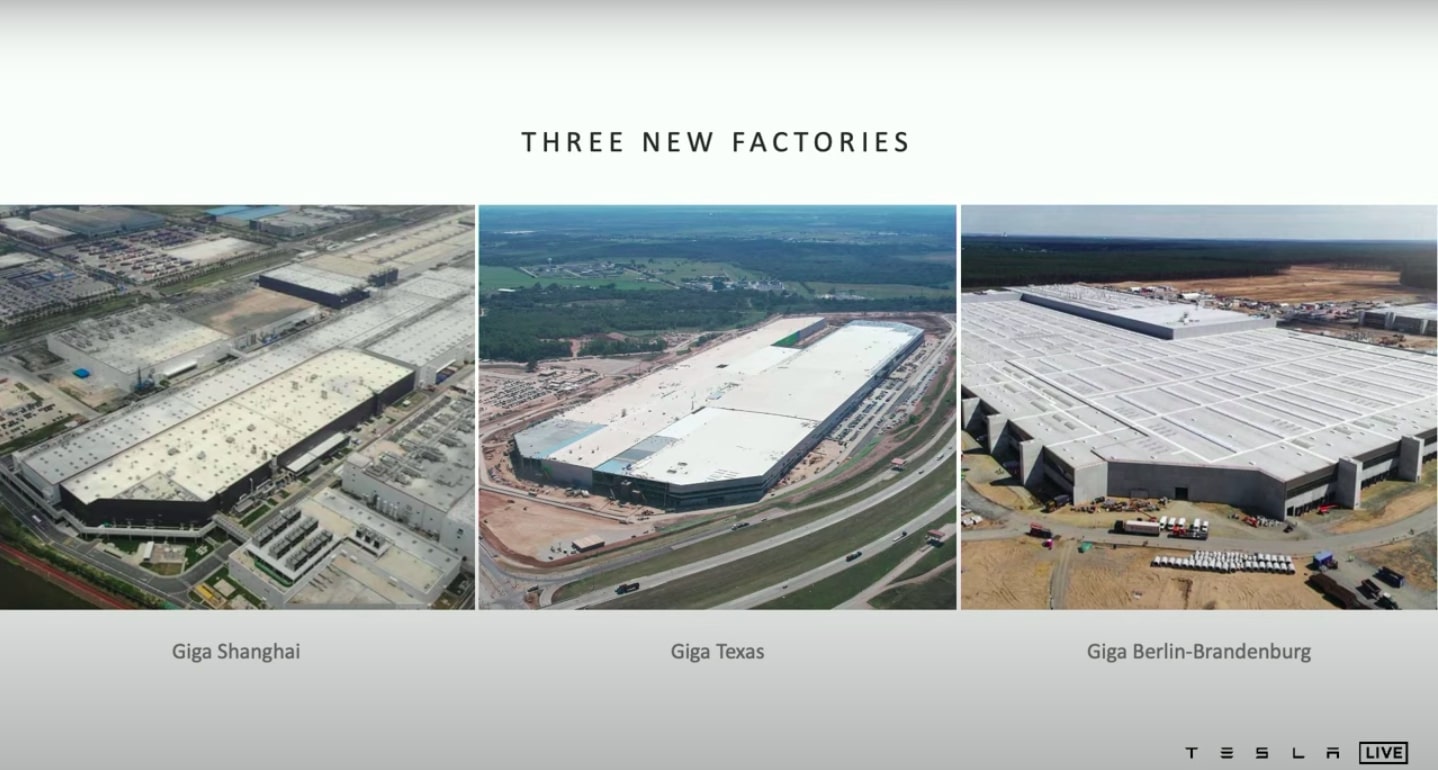 15:24 PT – Tesla next-gen Roadster is coming on 2023, hopefully. The production of the 4680 cells would likely not start in Texas this year, but Kato is ramping. Musk notes that for all intents and purposes, the Kato site is a big battery plant on its own with its 10 GWh capacity. "In Tesla land, it takes longer to build the factory than to reach high volume production," Musk said. He uses Giga Shanghai as an example, as it was built in 11 months, but it took 12 months to reach volume production.
15:23 PT – Tesla starts taking on the Say questions. First up is about Cybertruck production. Elon highlights that Tesla is limited with the supply chain shortages, and not just chips either. So even if the company produces the Semi and Cybertruck now, there won't be any volume anyway since the supply chain is strained. Initial production of the Cybertruck and Semi should start next year, with volume production in 2023.
15:20 PT – "We'll continue to expand in California significantly. But even more so here in Texas," Musk said.
15:19 PT – And Tesla's headquarters is now in Austin, Texas. The announcement was met with much applause. And that logo looks sick! This does not mean that Tesla is "leaving" California, however.
15:18 PT – Elon talks about AI Day, and states that it was necessary to shift the perception of what Tesla really is. "Tesla is as much a software company as a hardware company," Musk said. He did state that AI Day was successful, as the company received an influx of applications for its AI Team. This means that the Tesla Bot is really a go?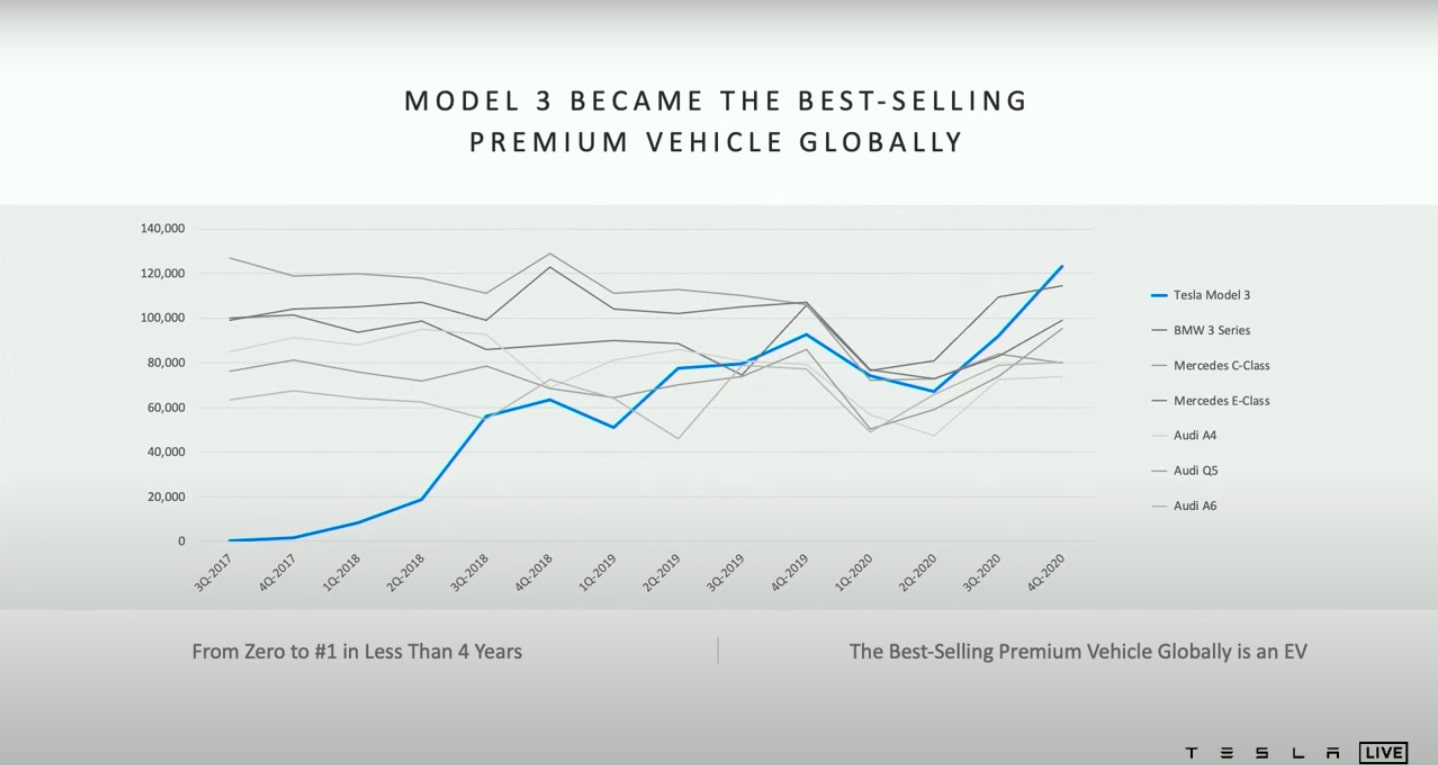 15:16 PT – Elon addresses some of the concerns about methane and batteries. "You can recycle batteries. It pays to do recycling for batteries," Musk said. He adds that he experienced the Texas blackouts personally. He notes that things would have been better if houses had solar and Powerwall when the blackouts happened. Elon also adds that Tesla's factory safety has improved to about 18% above the industry standard. "Our goal is to have the safest factory on Earth," he said.
15:14 PT – Elon proposes the carbon tax. "Can there be a carbon tax, what the hell?" Elon jokes. "It's really needed," he added.
15:13 PT – The Fremont Factory is set to be optimized further, however. Needless to say, Tesla seems to be on a path to produce large numbers of its vehicles in the coming years. Elon also cites Tesla's Impact Report, and how the company reaaallllyyyy tries to do the right thing. 🙂 *insert a well-timed eye-roll from the CEO here.*
15:10 PT – Elon reiterates that the fundamental good of Tesla would be determined by how the company could accelerate the advent of sustainable energy. Elon Musk confirms that Giga Shanghai now exceeds the Fremont Factory. He praises Giga Shanghai, for its amazing vehicle quality, operational efficiency, and low drama. That's not a bad combination at all.
15:09 PT – Elon notes that he likes fusion as an idea, but there's a giant fusion reactor in the sky that we can tap into every day. So why not use it?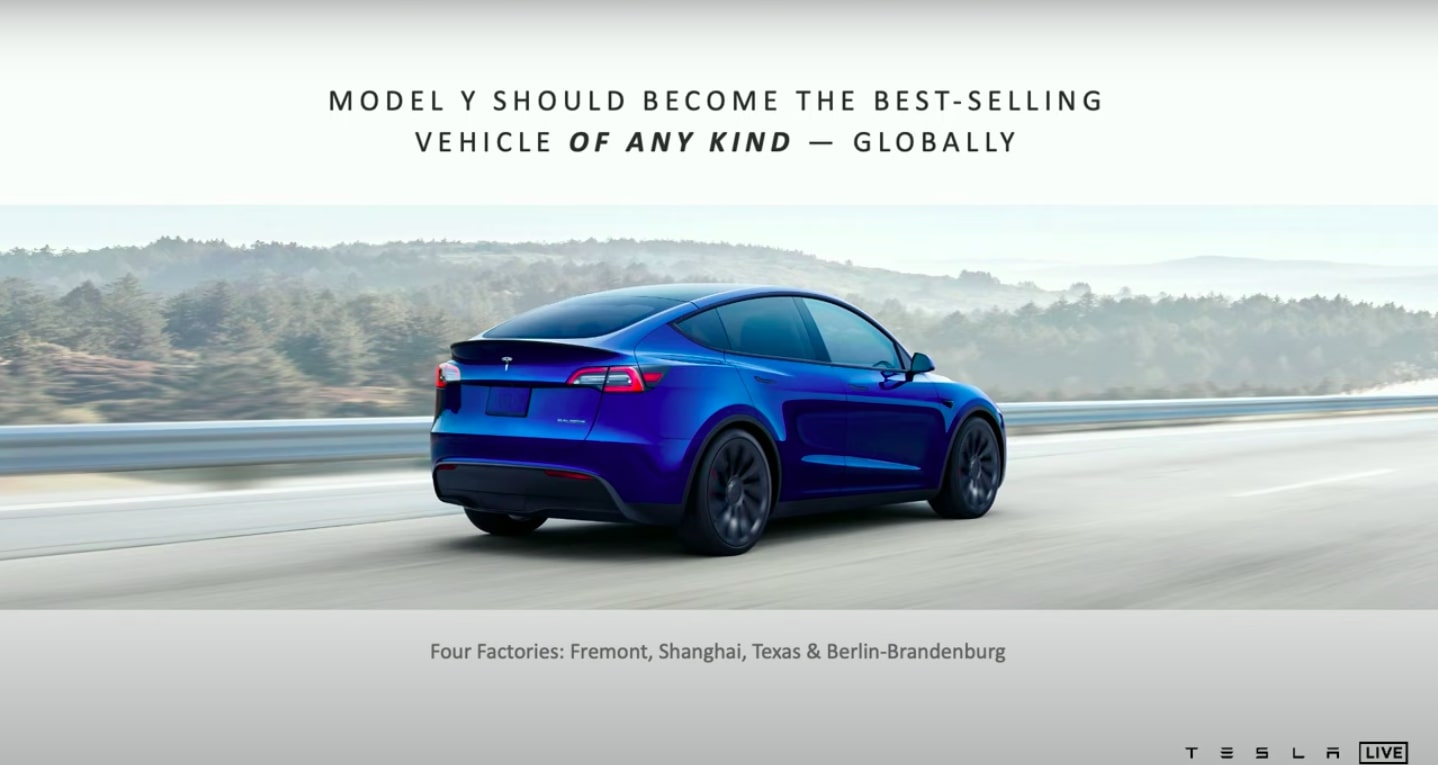 15:08 PT – Elon adds that Tesla has had difficult years financially. He jokes that he definitely does not want to revisit those years. The CEO also adds that Tesla's finances should be even better, especially as FSD matures. Elon did admit that Tesla has had to raise vehicle prices for a bit due to the supply shortages, but hopefully, these are just temporary. He also reiterates Tesla's need for more batteries. Batteries from suppliers, and more from Tesla. "As many cells as you can supply to us, no limit," Musk said, referring to conversations he's had with Tesla's battery suppliers.
15:04 PT – Elon notes that Tesla is growing like crazy. But only if the chip shortage alleviates soon. He notes that the Model 3 has become the best-selling premium vehicle globally. "I almost got arrested for claiming that we'll do 5,000 (Model 3) a week. Well, who's laughing now," Elon laughs. Oh, and the Model Y would be even more successful. Tesla just needs Berlin and Austin to get online.
15:03 PT – Elon's here, dressed for Texas. He starts off by thanking the Tesla team for getting the company to where it is today. He cites the company's record deliveries and production.
15:02 PT – Now we're just waiting for Elon. And he's here.
15:00 PT – Viecha notes that the polls are now closed. Tesla shareholders have approved most of the company's suggestions. And now that the voting has been adjourned, we now move to the company's updates, with Elon Musk at the helm. Here we go.
14:58 PT – So far, four out of five proposals have focused on worker/human rights.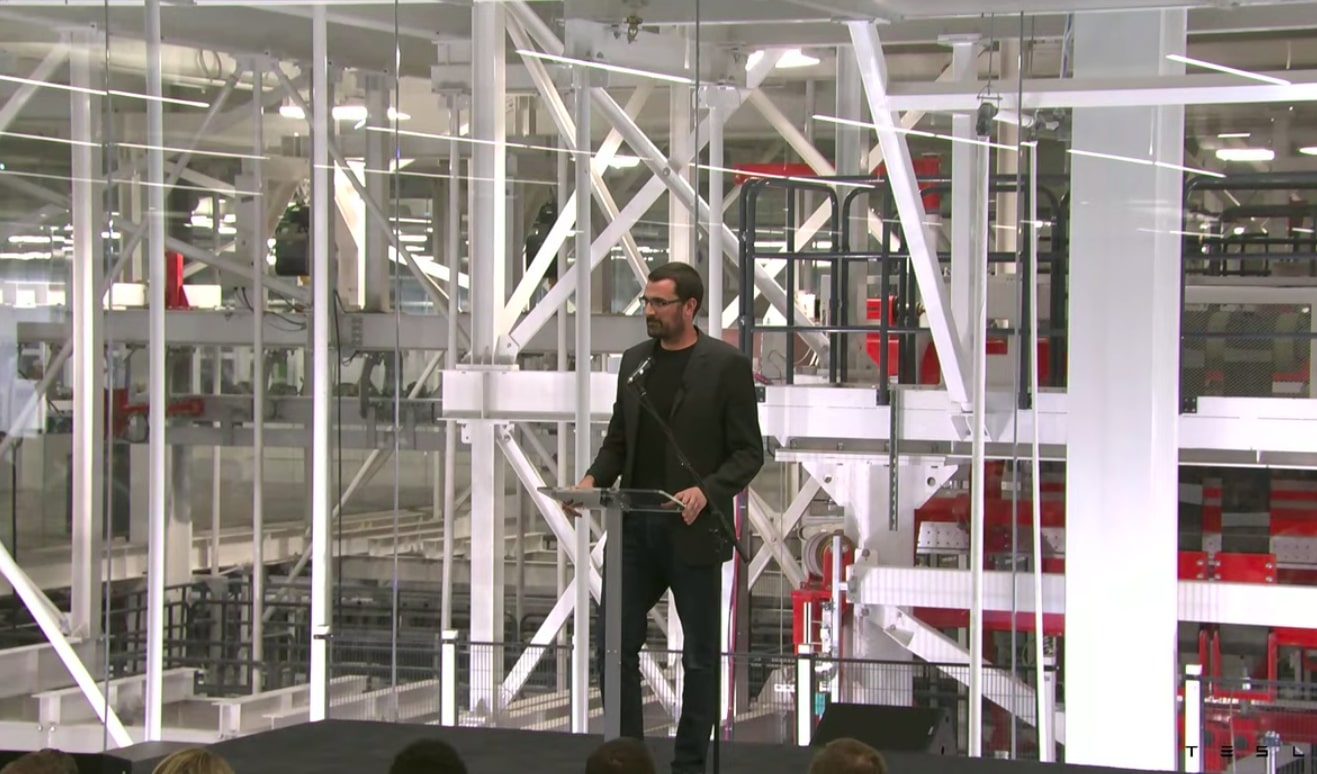 14:56 PT – Viecha explains that the next "No" recommendation from Tesla involves additional reporting on human rights. A member of the Sisters of Good Shepherd New York cites the human rights impact of cobalt, a controversial material that still sees child labor in the Congo region. She asks Tesla to be open for a third-party report that would show how the company handles the human rights challenges for its business.
14:53 PT – Viecha explains that the next "No" recommendation from Tesla involves a call for the board for strategic oversight of the company. A representative of the shareholder explains that investors are focused on the role of effective human capital in a company's operations. He argues that Ford and GM have both made efforts to improve their human capital management. He also reiterates the $137 million jury order over alleged racism incidents at the Fremont factory.
14:48 PT – Viecha explains that the next "No" recommendation from Tesla involves employee arbitration. The shareholder's representative notes that this resolution requests Tesla's leadership to be more transparent. She cites the $137 million jury order that Tesla was faced with earlier this week as an example of this. "A diverse workforce is shown to create a more innovative environment," she said.
14:44 PT – Viecha explains that the next "No" recommendation from Tesla involves diversity and inclusivity. The shareholder cites Tesla's diversity report. She notes that they support the company's efforts. She calls for more diversity in the workforce, as research shows that a more diverse workforce is more productive. The shareholder also noted that the company's leadership is still mostly male and white.
14:41 PT – Viecha explains that Tesla is recommending that Tesla vote "No" to the notion of keeping board members for just one year. The shareholder who proposed the motion is explaining his stance virtually, but the connection is not very good. Ah, the pandemic times.
14:38 PT – Martin Viecha opens the meeting. Voting formally begins.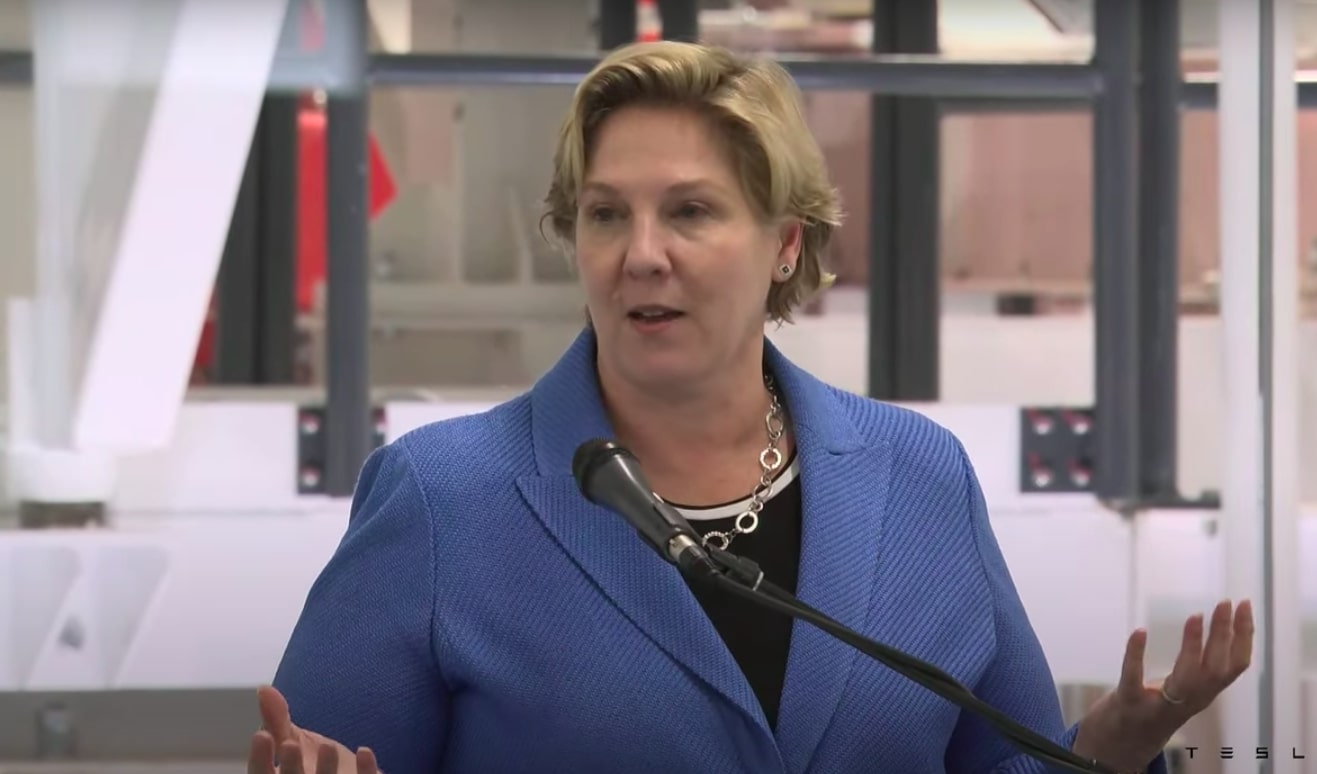 14:37 PT – Denholm thanks her fellow board members, particularly Antonio Gracias, who is retiring from the board. "Antonia, we appreciate everything you've done for the company. We will miss you," Denholm said. She also thanks TSLA shareholders. "Our shareholder base is the most engaged base we have ever seen," the Chair added. She hands over the floor back to Viecha.
14:35 PT – Denholm adds that while Tesla's performance today has passed expectations, Tesla is just starting. She reiterates the company's 20-million-vehicle target for the end of the decade. "The automotive and energy sector have to become full electric. There's no question about it… We need continue to grow exponentially to have true impact for our planet and shareholders," she said, adding that Tesla's employee headcount is now approaching 100,000 people.
14:33 PT – Denholm states that's he would lie to recap the last 12 month. Over 800k vehicles produced, the 4680 cell production project. "Over the last 12 months, Tesla has continued to help shift the public reception of electric vehicles," she said. Totally true.
14:31 PT – And we're starting on time! Martin Viecha is opening the program. Giga Texas is looking pretty darn good. Tesla Chair Robyn Denholm takes the stage.
14:30 PT – Good day, everyone! Any bets if we're starting on time today or if we're on Elon Time? We did just get a notification that we'd start in 3 minutes or so. Let's get ready.