A recent analysis from automotive search engine service iSeeCars has determined that used EV prices have risen five times more than their combustion-powered counterparts in July. During the month, electric vehicle prices saw an increase of 54.3% year-over-year, while gas-powered cars were up just 10.1%. 
According to iSeeCars Executive Analyst Karl Brauer, the rising costs of used electric vehicles in the market shows that the demand for second-hand sustainable cars is soaring. 
"Until recently, mainstream electric vehicles typically depreciated rapidly due to improvements in battery technology and a lack of demand in the secondary market. However, soaring gas prices, improvements in public charging infrastructure, and a lack of inventory for new EVs have led to soaring demand for used electric vehicles," Brauer said. 

The firm's analysis involved the costs of over 13.8 million 1-5-year-old used vehicles that were sold between January and July of 2021 and 2022. The gap between used EV prices and used ICE car prices has only gotten more prominent this year. In January, for example, second-hand conventional fuel vehicles saw a 36.3% rise in cost, which was not too far from the 54.1% exhibited by used electric cars. This gap has grown significantly over the past two months. 
This was quite evident with vehicles like the Nissan LEAF, which saw a 45.0% price increase year-over-year in July 2022. Another affordable electric car, the Chevrolet Bolt EV, saw a price increase of 29.3% in the same month, which was also quite substantial. 
"The price increase for the Nissan LEAF, which was once the highest depreciating car on the market, is likely due to heightened gas prices as well as the heightened desirability for the redesigned 2018 model that offers increased range and is now coming off lease to enter the used car market," Brauer said.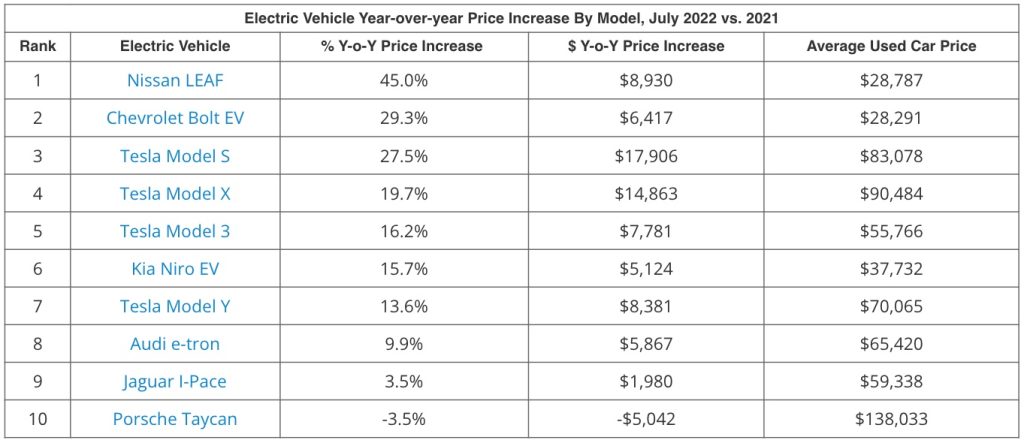 Interestingly enough, Teslas saw a more tempered price increase in the used EV market in July. Used Model Ys only saw a 13.6% price increase YoY, used Model 3 sedans saw a 16.2% increase, and second-hand Model X units saw a 19.7% rise. Only used Model S sedans saw a notable price increase of 27.5%, which may be due to the influx of refreshed variants that were only released last year, like the Model S Plaid. 
"Demand for used versions of the Model 3, Model X, and Model Y was high last year before the rise of gas prices because they were relatively scarce in the used car marketplace, which helps explain why they have not had as steep of a yearly price increase," Brauer added.
Interestingly enough, the Porsche Taycan was the outlier in July 2022, becoming the only electric vehicle that iSeeCars tracked that saw a price decrease in the used EV market. The prices of used Taycan units only decreased by 3.5% year-over-year, though Brauer stated that this might be a hint that car buyers may have an upper limit to what they're willing to pay for used EVs.
"The Porsche Taycan is the only electric vehicle that has gone down in price compared to last year, perhaps suggesting an upper limit to what consumers are generally willing to pay for used EVs," he said.
iSeeCars' full report can be accessed here. 
Don't hesitate to contact us with news tips. Just send a message to simon@teslarati.com to give us a heads up.