Gino Bernardi owns and operates Watts on Wheels, a personal limousine service that picks you up and squires you to your destination in a Model S.
You're probably envisioning Gino driving up to some Silicon Valley executive's home and driving her to SFO for a first class flight to close another billion dollar deal. Wrong. Watts on Wheels is in Chicago. Gino holds the unique distinction of being the lone chauffeur in the city of Chicago that drives a Tesla on the job. He's one out of 9000+ registered livery and taxi drivers listed in the public database. Gino is definitely a pioneer with his EV, but we need to give credit where it's due. The horse-drawn carriage, still in use today on the streets of Chicago, is the original gasoline free livery.
Watts on Wheels is the sole act of a Tesla enthusiast whose dream is to increase awareness of electric vehicles through building a livery business. I see this type of thought leadership in many Tesla owners. We are not just comfortable with change, we welcome and enjoy it. The green aspects of Tesla are naturally attractive, but there's a thrill in knowing we are driving the future of personal transportation today.
Gino's dream is to expand his business to ten or fifteen Teslas someday. To always have a Model S on the road providing transportation to the residents and visitors of Chicago. He has tagged himself an Eco Driver and wants to stimulate more discussion about reducing emissions and remind everyone that Chicago is a leading edge city. We are home to 1871 an entrepreneurial hub for digital start-ups and Built in Chicago, a community that enables inventors, founders, creators and investors to connect online.
I recently sat down with Gino to get more insight into how things are going and a glimpse into the future.
How long have you been a livery driver? How many cars do you have?
I became a livery driver because of Tesla. I received my Chicago license in May 2013, the same month my car arrived. Right now I have one car and I'm the only driver.
What sparked the idea? How does this experience mesh with your existing lifestyle?
I am a big fan of clean, renewable energy, but my intent all along was to build a business. I was working full time as a civil engineer, so at first I was a part time driver while continuing on my engineering career. Driving the Model S as a livery helps me pay for the car and has given me a ton of experience. Just last week I quit my job and am now driving full time.
Since you're in your car for hours, how do you manage battery life?
I drive the 60 kwh battery pack and didn't buy the supercharger, so I'm at the base for range. The reason for this is I wanted to start slow and see how it would work out. Spring through fall I had no issues at all with battery life or range. I charge it at home every night to about 85% which takes me through the morning shift. I charge over lunch which keeps me juiced for afternoon and early evening runs. Winter was quite different. This was the worst season in Chicago in 40 years. I would charge the battery to full capacity daily. There were days I wish I had the 85 kwh.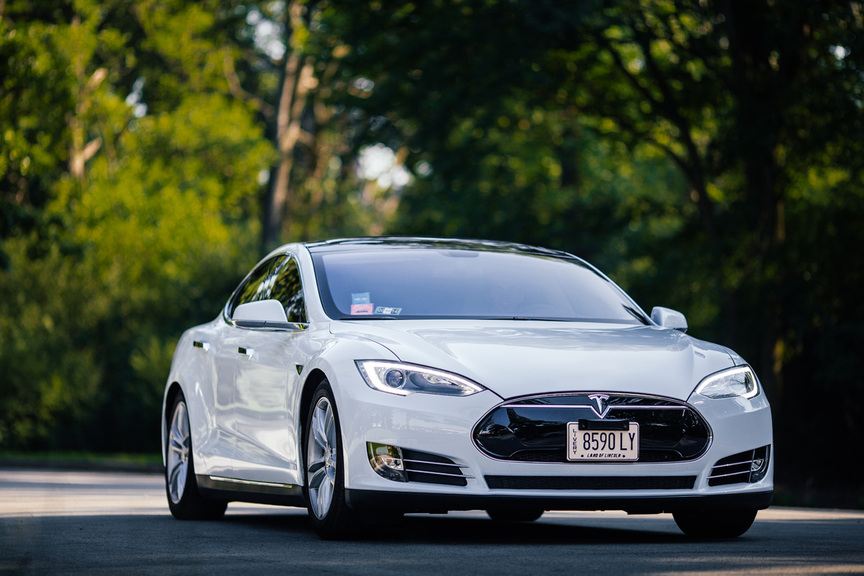 How do people react when you pull up in your Tesla? Do they recognize it?
I drive for Uber Black so if you order me through their app you will know a Tesla is coming. It's interesting. My Model S is white, so some people get confused when a non black car arrives. When I first got the car last spring I'd say about 95% of my clients had no idea what kind of car it was. Now, almost a year later, that has dropped to probably about 5%. The awareness of the car has grown quickly.
Does any one trip stand out?
It was the end of the day and I was taking some clients to an event at Chicago Stadium. Upon arrival I was informed that I would have to take a passenger to Sugar Grove, then make the drive back to my then home in Highland Park. Total round trip over 100 miles. I didn't have the range. While they watched the game I went to the Grand Avenue Tesla Service Center. They let me borrow an adapter so I could plug in and charge until pick-up time. It was a tough night and I pulled into my drive with one mile left on the battery.
Obviously a livery vehicle is put through the paces. How has the car held up?
Overall I'd give it high marks. I have had some minor problems. The rear curbside door handle got stuck in the extended position at one point and the door couldn't be opened. That's the door my clients use all day long, so it became a problem quickly. Tesla service has been very good. They fixed the problem in one day and I was back on the road. But if I can't drive I don't make money. I don't treat my Model S any differently than any other car I've driven. It has normal wear and tear just like any other car.
How many miles are on your Model S? Do you drive livery every day?
I've just reached 33,000 miles in eleven months, so that's a lot of road time. I livery drive five or six days a week, depending on what my clients need. Early on I was in the car up to ten hours a day. Now it's closer to eight, maybe even a bit below that.
How do people find out about you? Do you have repeat clients?
Most people find out about me through word of mouth. My web site Watts on Wheels shows contact information right up front; phone, text and email. That's another way I get business. If you do a Google search for Gino Tesla or Watts on Wheels, I index at the very top. I definitely have repeat customers. Chicago is a big city and so rides to and from O'Hare are common. I also have connections to entertainment companies who schedule me to transport their clients to events at United Center, Soldier Field, etc.
Are your rates competitive?
My pricing benchmark is Uber SUV. Usually I match their rates, but lately I've been charging a bit more. A Model S is not the usual ride to the airport. It's definitely a unique experience and clients are frequently over the top satisfied. When I'm in the limo holding area at the airport the other drivers swarm the car with questions and big smiles.
As we were wrapping up I asked Gino to share a bit about what's on the horizon. He feels that there is pent up demand for drivers who would love to switch to a Tesla. The price of the car is obviously a barrier for many wanna be Tesla Chauffeurs, but a growing used Model S market may help. Gino obviously knows the financials by now and claims it is possible to turn profit as a Model S livery driver. The key of course is no gas charges and very low regular maintenance.
With an eye on the future Gino and a colleague are working on a mobile app that would allow people to request a Tesla ride right from their phone. It will be "Uber-like," allowing a driver to accept the request and complete the monetary transaction all through the app. Ultimately he wants to make it available to Tesla drivers all over the world. Stay tuned for more on this.
The Tesla is built to seamlessly fold into everyday life. It's not a weekend or show car. It's the new form of Personal Transportation. When you visit Chicago and need a ride from the airport, give WattsOnWheels a call.
Photo Credits: Gino Bernardi, Tuan Bul.