Why has Tesla's stock price increased so much in value over the past couple of months? What effects have a Trump Presidency had on Tesla stock values? And, overall, why have there been so many skeptics who've openly voiced concerns about Tesla's validity as an investment?
Tesla has seen a pattern in which, due to delivery date misses, analysts have critiqued the company's overall growth potential. They often wonder aloud whether turning monies back into the Tesla business makes sense for investors. Increasing scrutiny of new competitors for a currently small but potentially significant electric vehicle market has complicated the overall Tesla stock valuation picture.
And then there's CEO Elon Musk, widely known for working 100 hour weeks while he runs both the Tesla automotive company and SpaceX.
Over the past year, a cycle has taken place in which sliding stock prices are followed by strong public sentiment that pushes stocks prices upward. Helpful for the overall Tesla financial health picture have been carefully placed Tesla news events, model improvements, software updates, or new company acquisitions, such as SolarCity.
What's changed from late 2016 into early 2017 with TSLA?
TSLA stocks are currently receiving very positive reports from the market. Shares have risen nearly 20% since the beginning of the year and up over 40% from the period between November's low through January, 2017. Just last week, Morgan Stanley's lead auto analyst, Adam Jonas raised Tesla's price target from $242 to $305 with associated higher earnings prediction for fiscal year 2018.
Partially that optimism rises from a view that Tesla can launch its $35,000 Model 3 on schedule. Tesla describes Model 3 targets on its website as production beginning in mid-2017 and delivery estimates for new reservations in mid 2018 or later. Jonas has given the nod to the likelihood that Tesla will be able to create additional business through car-sharing, but also cited a "supportive political environment" as cause for the upgrade.
There's also Tesla's short interest, which has jumped 27.8 percent in the past year. Traders have wagered that the Model 3 may not live up to the market's sky-high expectations.
The Trump effect on TSLA
Possibly the most important reason that TSLA stock has been trading with a brighter outlook is the addition to Musk's collaboration with newly-elected President Donald Trump. When Musk first agreed to participate as one of Trump's council of business leaders, much consternation arose among Tesla fans. The President has reiterated a strong stance since then on creating U.S. jobs by bringing the workforce back into the U.S.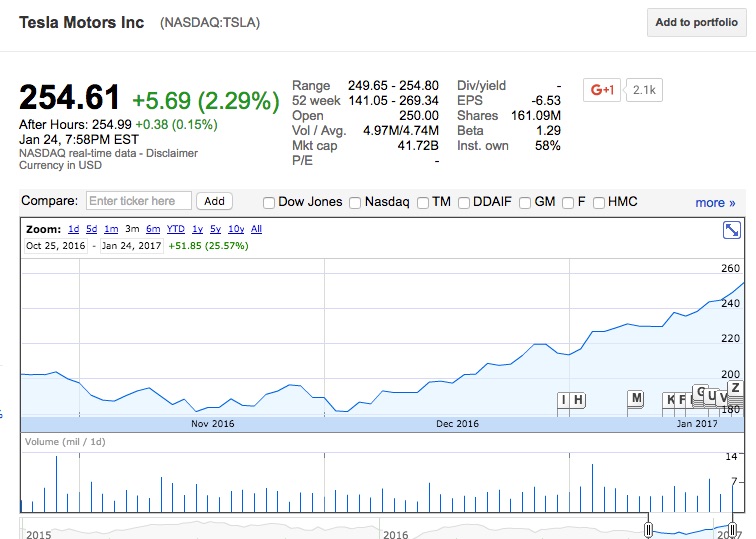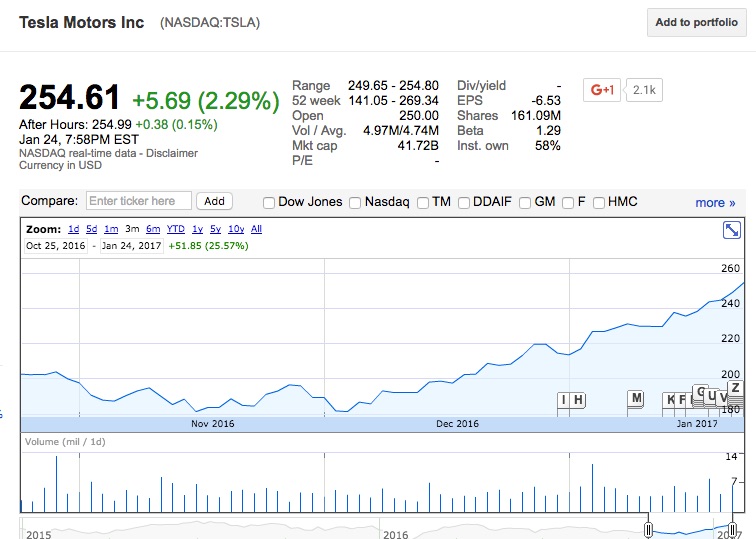 But, with Tesla increasing production at its California plant and returns quickly mounting at its Gigafactory in Nevada, the Tesla Effect is jobs, jobs, jobs. Tesla is already well on its way to accelerating the world's transition to sustainable mobility by producing electric vehicles in sufficient volume and forcing change in the automobile industry.
Trump urged U.S. car manufacturers on Tuesday to build more cars in the U.S as part of a plan to discourage the car industry from investing abroad. In response, the Big Three voiced concerns about fuel efficiency standards, trade policy, and regulatory concerns.
Silencing the roaring bears
With more cash on hand than expected, Tesla has wilted the case of the more aggressive bears. At the end of 2016, analysts noted increased company efficiency, which dampened the previous overarching view that Tesla would need a capital infusion in early 2017. So, too, in Tesla's favor is its ability to sell carbon credits against its zero emissions vehicles. With former Audi exec Peter Hochholdinger now on payroll to improve and accelerate production, Tesla will also only improve in its production methodology.
As Tesla's production process shifts to widespread automation through machines that build machines, these and other improvements have diminished the bear case against Tesla. Certainly, 2017 and beyond contain challenges for Tesla. But, at least for now, Tesla has made significant strides to move the Wall Street bulls a lot closer to its point of view.