OK, we'll cut straight to the chase. As many have suspected, Tesla's new Model S P85D is a dual motor all wheel drive variation of the Model S. But what many didn't expect is the 'insane' (in Musk's own words) power output of 691 hp / 687 lb-ft capable of rivaling McLaren's F1 0-60 time at 3.2 seconds.
The additional motor mounted on the front axle along with the new gearing allows Tesla to bump top speed to 155 mph while also increasing driving range by an additional 10 miles. By having two motors, the Model S can better optimize the usage of energy between each motor thereby increasing overall efficiency and mileage.
The 221 HP front axle-mounted electric motor, seen in the image below, paired with the existing 470 HP rear-mounted motor boosts power output to 691 hp.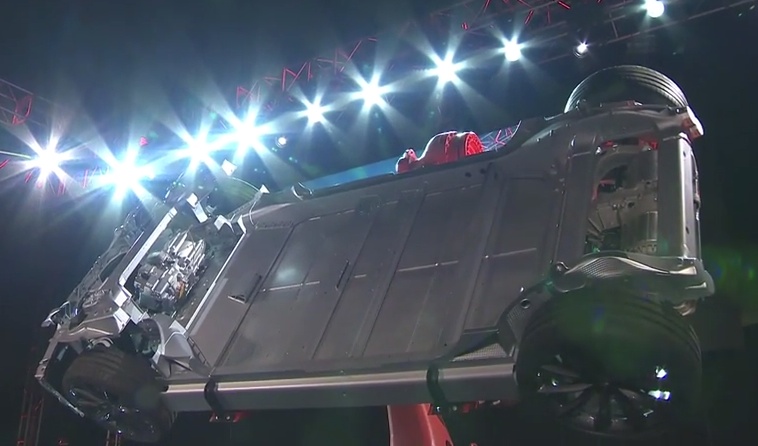 Buyers of the Model S will continue to have an option between a 60kWh and 85kWh battery pack version, but with an additional upgrade to the "D" dual motor set up. Range for the 60D will increase to 225 miles per single charge while the 85D will reach nearly 300 miles on a full charge.
To much fanfare, Musk announced that every Model S rolling off the assembly plant will come with a new "autopilot" feature that uses a combination of long-range radar, capable of seeing through all weather conditions, plus a camera and image recognition system designed to scan fortraffic signs, people and objects. A long-range ultrasonic sonar system rounds out the autopilot feature and used for detecting soft objects such as people and animals.
RELATED:
The additions will allow the Model S to perform auto lane-changing, obey traffic speed limits, perform active emergency braking when needed, and even self parking. Our friends at SlashGear provided a great video (below) showing the Model S autopilot feature in action.
The price for the dual motor upgrade comes in at a respectable $4,000 while the autopilot features tacks on an additional $4,250 to the sticker.