Now that Tesla has tentatively opened some of its intellectual properties (IP) to the competition and that we have some insight as to its motives, who else wants to benefit from this strategy?
Tesla welcomes the competition
Welcoming the competition might seem like a bold and dramatic move, but it is one Elon Musk has carefully planned. In the past articles, we visited what it means to open some of the company's IP to the competition, and asked what does Tesla Motors mean by "good faith" use. We also saw this is a strategic move to once and for all cement Tesla's role at the core of the electric vehicle (EV) industry. It also gives it a chance for its charging protocol to become a de facto standard.
BMW and Nissan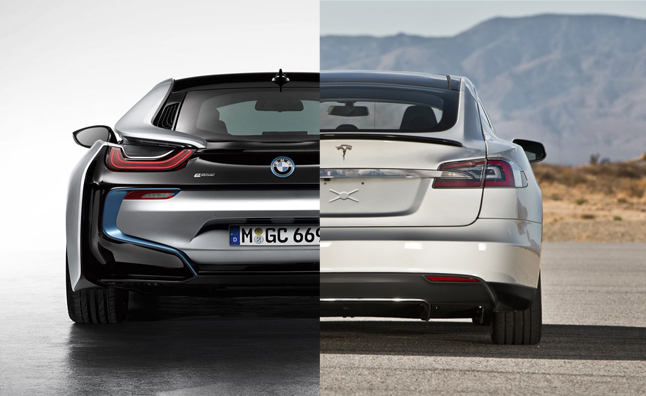 BMW has demonstrated a willingness to step into the 22nd Century, leaping over its local German competition. It has dabbled with the idea of selling directly, but is careful not to rock the boat. The matter of the fact is that BMW needs other carmakers more than Tesla does in terms of manufacturing. Case in point, its partnership with Toyota, which gives it more production capacity. BMW also gains much of a strategic alliance with Tesla.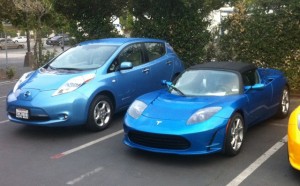 Nissan is the next logical choice. Already at the forefront of EVs with its best selling Nissan LEAF, which stands for Leading, Environmentally friendly, Affordable, Family car, it built and sold more electric cars than any other company in history.
Tesla already announced last week that it had a meeting with BMW, who showed great interest. BMW is working hard to make its "ultimate driving" electric machines not only fun to drive, but feasible. And serious, BMW is. BMW bought its own carbon fiber manufacturing company and developed a sophisticated resign carbon fiber tub for its electric i3 and the stunning plug-in hybrid (PHEV) i8. I was fortunate to interview Benoit Jacobs, the head designer of the iDrive team, who revealed the gist was to have static air flow control with no electronics. Every curve and line are functional on both the i8 and i3, from the static upper windshield spoiler to the dramatic rear air diffusers. Benoit told me he wanted static aerodynamics, not electronic automation. One glance at the i8 and we can say they achieved something the Germans are not always known for, dramatic beauty. Now the real work rests on batteries and electronics, something Tesla does brilliantly.
The only problem BMW has, as well as an other recent EV I tested on CarNewsCafe is the (in)famous Combined Charging Standard (CCS) plug. CCS stations are far and few between compared to more readily available CHAdeMO, with more than 1,000 globally and the Superchargers, 100 globally. Nissan uses CHAdeMO and enjoys many more locations than CCS, but it, too, has never developed a charging network.
How come electric carmakers don't build charging networks?
One of the many question we, journalists, ask EV makers is why they haven't actively built a charging infrastructure like Tesla? There are many reasons, most about keeping their core competencies and ROI balanced for survival. Both BMW and Nissan would benefit tapping into Tesla's technology and hopefully shift the power away from the idiotic charging standard war dividing manufacturers, leaving consumers to pay the price once more. If BMW and Nissan adopt Tesla's charging protocol, the industry inexorably tilts toward a unified charging standard, leaving the CHAdeMO versus CCS battle a vestige of yesterday's knuckle-dragging battle techniques behind. Did I make that last point strongly enough? Now imagine how the rest of carmakers and the charging industry feels.
Image source: Autoguide