Elon Musk's Boring Company flamethrowers are now sold out, but that doesn't mean that you can't get one.
Not long after Musk announced that all 20,000 Boring Company flamethrowers had been purchased, online ads from new flamethrower reservation holders immediately emerged online. True to form, several buyers of the flamethrower turned out to be scalpers, asking for huge markups for the limited-edition item.
In eBay's listings alone, several posts for The Boring Company flamethrower could be seen. As of writing, all of the flamethrowers listed in the e-commerce platform are tagged with prices far beyond the original price of $500, with the vast majority seeking $800-$1000. 
Others, however, were a bit more ambitious in their for sale listings, asking for $2,500 – $3,000 for the fiery device. There are also scalpers asking $25,000 and $44,995 for their flamethrowers. All of the sellers in the online platform explicitly stated that the firestarter is now out of stock, and would likely never be released again.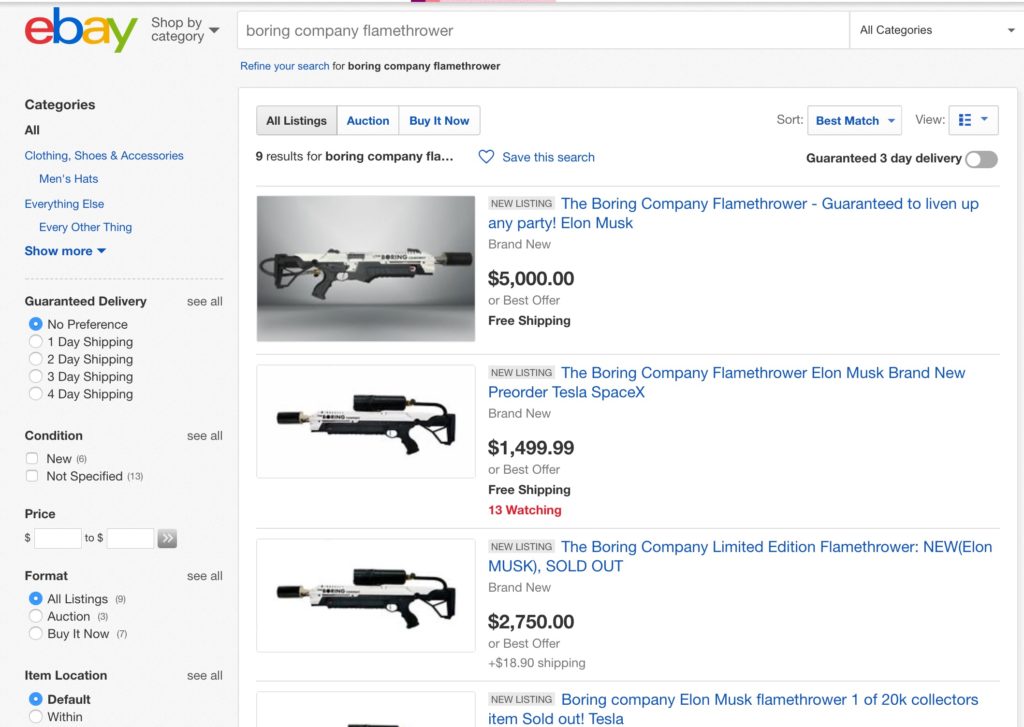 Craigslist ads for the Boring Company flamethrower have also started emerging online. Just like the ads on eBay, the Craigslist listings for the fiery device feature prices far beyond the item's original cost. As could be seen in the following ad, which incidentally violates Craigslist's terms and conditions for an acceptable product, the seller of The Boring Co. flamethrower is asking for $1,200 for the item.
This is not the first time that scalpers are trying to make a lot of money off Elon Musk's merchandise. In eBay, for example, several ads selling the now-discontinued Boring Company hat are available, with most of the items selling far more than their original price. Many The Boring Co. hats, for one, are being sold for $200 and up, with some sellers asking as much as $500 for the simple, black headgear.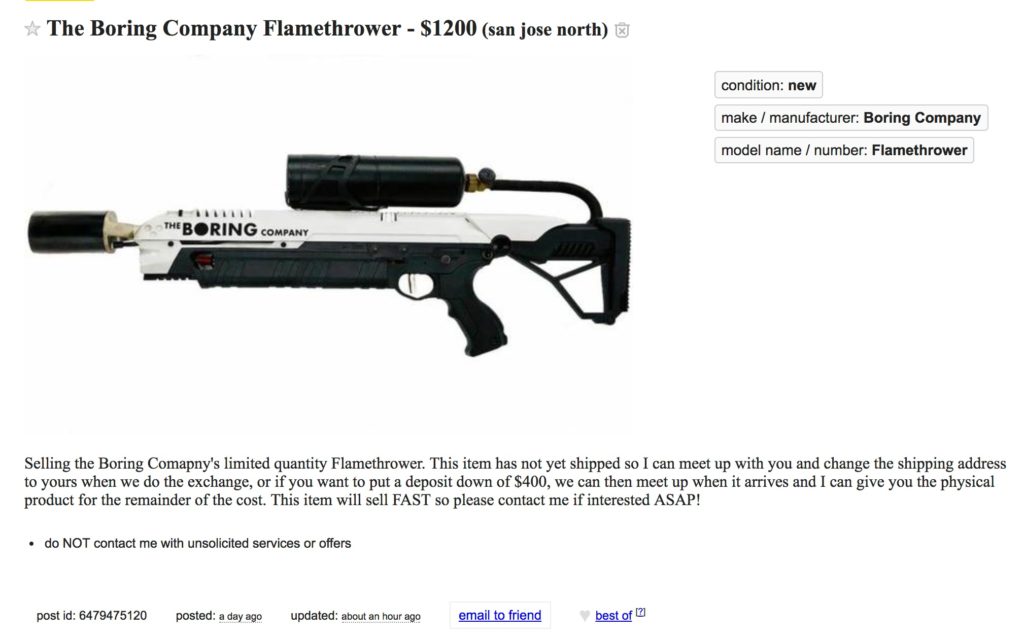 Sales from both the Boring Company hat and flamethrower would be used to fund the ongoing projects of the tunneling startup, which is looking to dig a 6.5-mile proof-of-concept tunnel from northeast Westchester to Brentwood in Southern California. As we noted in a recent report, representatives of The Boring Co. recently presented the company's plans and concepts to the city council of Culver City. During the council meeting, the tunneling startup asserted that it would be funding its own projects.
If Elon Musk's success with The Boring Co. merchandise is any indication, however, it seems like funding would not be a problem for the tunneling firm. From the sale of the flamethrowers alone, Musk was able to bring in $10 million for its digging initiatives. The serial tech entrepreneur notes that the sequel to the flamethrower may, in fact, be a "snowthrower".
A snowthrower would be really fun

— Elon Musk (@elonmusk) February 1, 2018