Tesla Motors, Inc. has sent invitations to a product reveal on Friday, October 28, 2016 at Universal Studios in Los Angeles. The product announcement is a formality, as Tesla CEO Elon Musk tweeted on September 22: "Aiming for Oct 28 unveil in SF Bay Area of new Tesla/SolarCity solar roof with integrated Powerwall 2.0 battery and Tesla charger."
Tesla is in the process of buying SolarCity in a deal worth $2.6 billion. The proposed Tesla/ SolarCity merger vote goes to the shareholders on Nov. 17. Friday's upcoming announcement offers Tesla an opportune platform as it attempts to persuade shareholders that the merger has sound financial merit. Should the two companies join into one consolidated brand, the Tesla label would prevail, according to Motley Fool, with roof systems marketed alongside vehicles and energy storage products.
How can Musk's vision for photovoltaic units integrated into the roof itself change the industry?
Traditional rooftop solar panels are attached to roofs using metal mounting systems. But Musk's plans for an actual roof that's integrated with a series of solar panels is a step into a new dimension of decentralized renewable energy systems. That means that re-roofing, which is generally required about every 20 years, could migrate into a common pattern of homeowners switching to the solar roof option. While likely more expensive than a conventional roof-mounted panel, the Tesla solar roof will offer homeowners the incentives of savings in power production, endurance of the product, and overt symbolism of a sustainable lifestyle.  The latter may have a profound effect on the highly-desired millennial market.
Musk has emphasized that the new solar roof product is "a fundamental part of achieving a differentiated product strategy." The solar roof concept incorporates Tesla's Powerwall, with 6.4 kWh storage capacity, sufficient to power most homes during the evening using electricity generated by solar panels during the day. The Powerwall can also act as a backup electrical system in the event of a power outage. Multiple batteries may be installed together for homes with greater energy needs. The upcoming Powerwall 2.0 will simplify the process of installation and feature a charger for Tesla automobiles.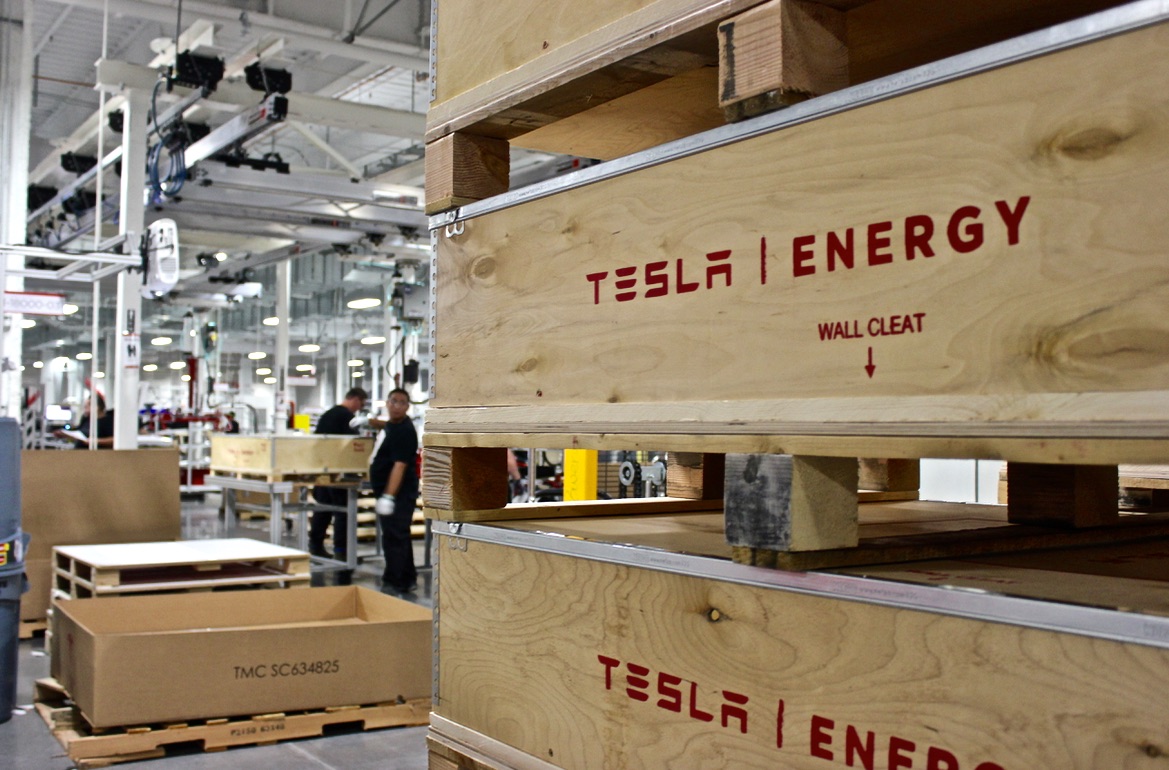 A typical Powerwall system includes solar panels, an inverter for converting electricity between direct current and alternating current, a meter for measuring battery charge, and, in backup applications, a secondary circuit that powers key appliances. Each element interacts with the other.
Panels convert sunlight into electricity that charges Powerwall and powers the home during the day.
The home battery is charged with electricity generated by solar panels.
The inverter converts direct current electricity from solar panels, the grid, and Powerwall into the alternating current used by a home's lights, appliances, and devices.
A Tesla/ SolarCity partnership also has the gravitas to succeed where others have failed. Research and development around building integrated solar has been underway by various companies for years, including some systems that moved into the development stage. However, cost factors as well as inefficient electricity generation have tabled many of these efforts. Recently, Dow Chemical ceased production of its solar shingles, citing a lack of sales, according to Fortune.
Among many partnerships, Tesla is now providing batteries for Swell Energy as part of its all-in-one home management energy system. It also recently announced its pledge with Panasonic to produce solar cells at a manufacturing facility in Buffalo, New York should the Tesla/ SolarCity merger reach stockholder approval.
Already, the Tesla Powerwall unit is in demand in areas where grid reliability is an issue. Recent power outages in Australia saw demand for the Powerall increase by 30x. This newest announcement comes on the heels of an October 19 frenzy of speculation about another Tesla mystery product, which turned out to be Tesla's autonomous driving hardware.
Tune in on October 28 to see the live product unveiling via webcast on Tesla's website or Follow Us on @Twitter to see behind the scenes action from the event.