This is a free preview of LaunchPad, one of Teslarati's member-only launch briefing newsletters. Before each SpaceX launch, I'll give you an inside look of what to expect and share amazing photos and on-the-ground details after the launch. Become a member today receive all of Teslarati's newsletters.

SpaceX launch technicians and engineers have officially completed the integration and static fire testing of the second Falcon Heavy rocket ever, nearing the end of preflight preparations for the vehicle's critical commercial launch debut.
Carrying the commercial communications satellite Arabsat 6A, the rocket will be tasked with placing the massive spacecraft into a high-energy geostationary orbit. After a combination of hurdles and conflicting priorities conspired to delay Arabsat 6A's launch from mid-2018 to February, March, and eventually, April of 2019, both the spacecraft and rocket are nearly ready to go. If all goes as planned, SpaceX will also complete the first successful launch and near-simultaneous landings of three independent rocket boosters, preparing two of the three boosters for reuse on a launch that could happen as early as June 2019.
When: 6:35 pm EDT, 22:35 UTC (click for your time), April 10th
What: Arabsat 6A, communications satellite, ~6000 kg (13,200 lb)
Where: Pad 39A, Kennedy Space Center, Florida
Boosters: B1052.1, B1053.1, B1055.1
Recovery: Yes; drone ship Of Course I Still Love You (OCISLY) & LZ-1/2
Weather: 80% GO, 4/10
Falcon 9 Block 5, meet Falcon Heavy
With this Falcon Heavy, SpaceX has effectively built – once again – a center stage that is nearly its own rocket, much like the tortured development of the first vehicle's center stage can be blamed for a lot of its years of delays.

Based on Falcon 9 V1.2's Block 3 iteration, Falcon Heavy Flight 1's center core was effectively outdated a year before it launched, and Falcon 9 Block 5 debuted just three months after its first and last launch.

Combined with the center core's untimely demise when it crashed into the Atlantic after running out of engine starter, the now 14 months separating Flight 1 and Flight 2 of Falcon Heavy can be explained by the rocket's delayed path to the launch site.

By the time the first Falcon Heavy's main components were all present in at the launch site, SpaceX was already building Block 5 rockets and was as few as three months away from completely transitioning its Hawthorne, CA factory to Block 5.
Due to the extensive changes in production incorporated into Block 5, this was effectively a no-turning-back deal where the cost of transitioning back was simply a non-starter.
By the time Falcon Heavy had launched, and its center core had smashed itself to pieces on the Atlantic Ocean surface, it was far too late to begin producing a replacement copy. One step further, the process of ramping up Block 5 production had been slowed significantly by the drastic changes made across the board, taking SpaceX to the edge of production-related launch delays over the course of 2018.

Put simply, building two side boosters and a relatively boutique Falcon Heavy center core – all three of which would be inextricably tied together for the foreseeable future – was not a practical option when three separate Falcon 9 Block 5 boosters could instead support 6-12+ launches over a period of six or so months.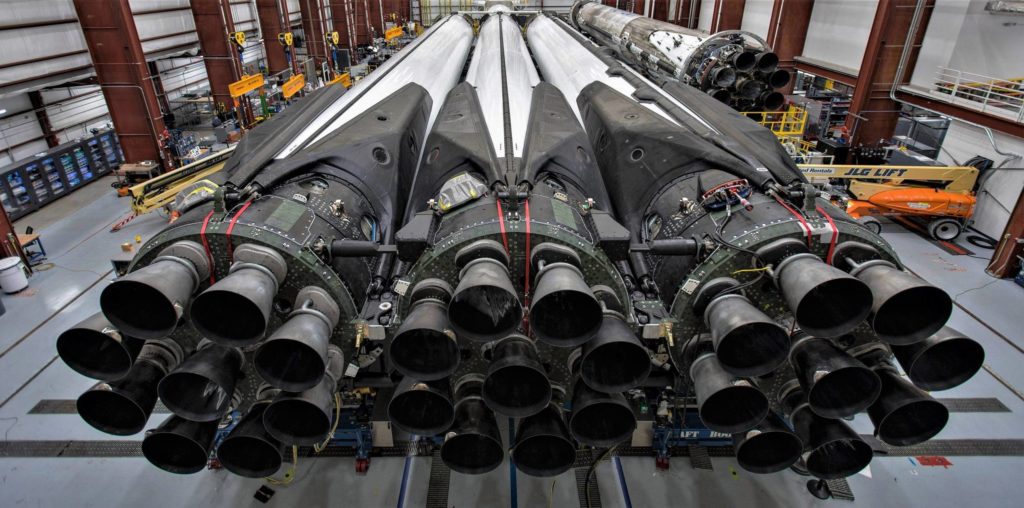 (Hopefully) the first of many
In the nominal event that SpaceX's second Falcon Heavy launch is an unqualified success, it's entirely possible that the doors to new markets could be opened as the world and its many spacefaring customers begin to contemplate the existence of an affordable super-heavy-lift launch vehicle – the first of its kind.

On the outside, Falcon Heavy can begin to look like a bit of a boondoggle from a business perspective. It will have probably cost no less than $750M-$1B to develop, including the Block 5 modifications needed, and likely brought in less than $100M in gross revenue. It's a black hole that SpaceX currently dumps huge volumes of cash into, in other words.
However, this sort of observation is far too pessimistic and gives SpaceX far too little credit after some additional careful analysis. As of today, SpaceX has six public launch contracts for FH, two of which are from the USAF/NRO and likely valued around $130M-$150M.
Purely commercial contracts for Falcon Heavy will probably be closer to $90M-100M, more than competitive with rockets like Atlas 5, Delta IV Heavy, Ariane 5, and other future vehicles like ULA's Vulcan.

Within ~12 months, the USAF will likely have awarded 10-16 additional launch contracts to some combo of Falcon 9 and Falcon Heavy as part of the latest EELV (now NSSL) acquisition phase. Assuming SpaceX is one of the two providers chosen, Falcon Heavy could receive numerous additional contracts for heavy military satellites.

Additionally, NASA is now seriously considering Falcon Heavy for the launch of flagship missions like Europa Clipper and (maybe, maybe not) even Orion missions to the Moon.
Falcon Heavy could also be the only vehicle in the world with the performance needed for a number of other missions that could arise from the Lunar Gateway, including launching actual segments of the space station and launching deep space cargo missions resupply said Gateway.

Only ULA's Delta IV Heavy can marginally compete with Falcon Heavy's performance, but it typically costs no less than $300M per launch, a 2-3X surcharge over SpaceX's offering. Due to the utter and complete lack of competition from both a price and performance perspective, SpaceX could essentially have the heavy life market cornered for something like 48-60+ months.

Offering a unique product with potentially high demand and no real alternative, SpaceX would not be out of place to raise its profit margins significantly, helping to rapidly pay back the capital investment it put into Falcon Heavy's extended development.
Regardless, the future of Falcon Heavy has every right to be even more thrilling and diverse than the already impressive Falcon 9.
You can watch Falcon Heavy's commercial launch debut live here on April 10th at 6:35 pm EDT (22:35 UTC). We'll see you after the launch at LandingZone with exclusive photos and on-the-ground details of Falcon Heavy's center core recovery.