No stranger to creating surprises (in 280 characters or less), Tesla CEO Elon Musk took to Twitter Thursday afternoon to announce that the company's mass-market Model 3 sedan has been given a lower cost, Mid Range battery option that's capable of 260 miles of range per single charge.
With a starting price of $45,000, the Model 3 Mid Range variant with rear wheel drive takes the Silicon Valley electric carmaker one step closer to offering the highly-anticipated $35,000 base version, which the company expects to produce in the first half of 2019.
Tesla's first Model 3 variant, the 310-mile-capable Long Range version in a single motor, rear wheel drive configuration, will still be available for ordering directly through company sales representatives for another week, although the option has been removed from the Model 3 Design Studio.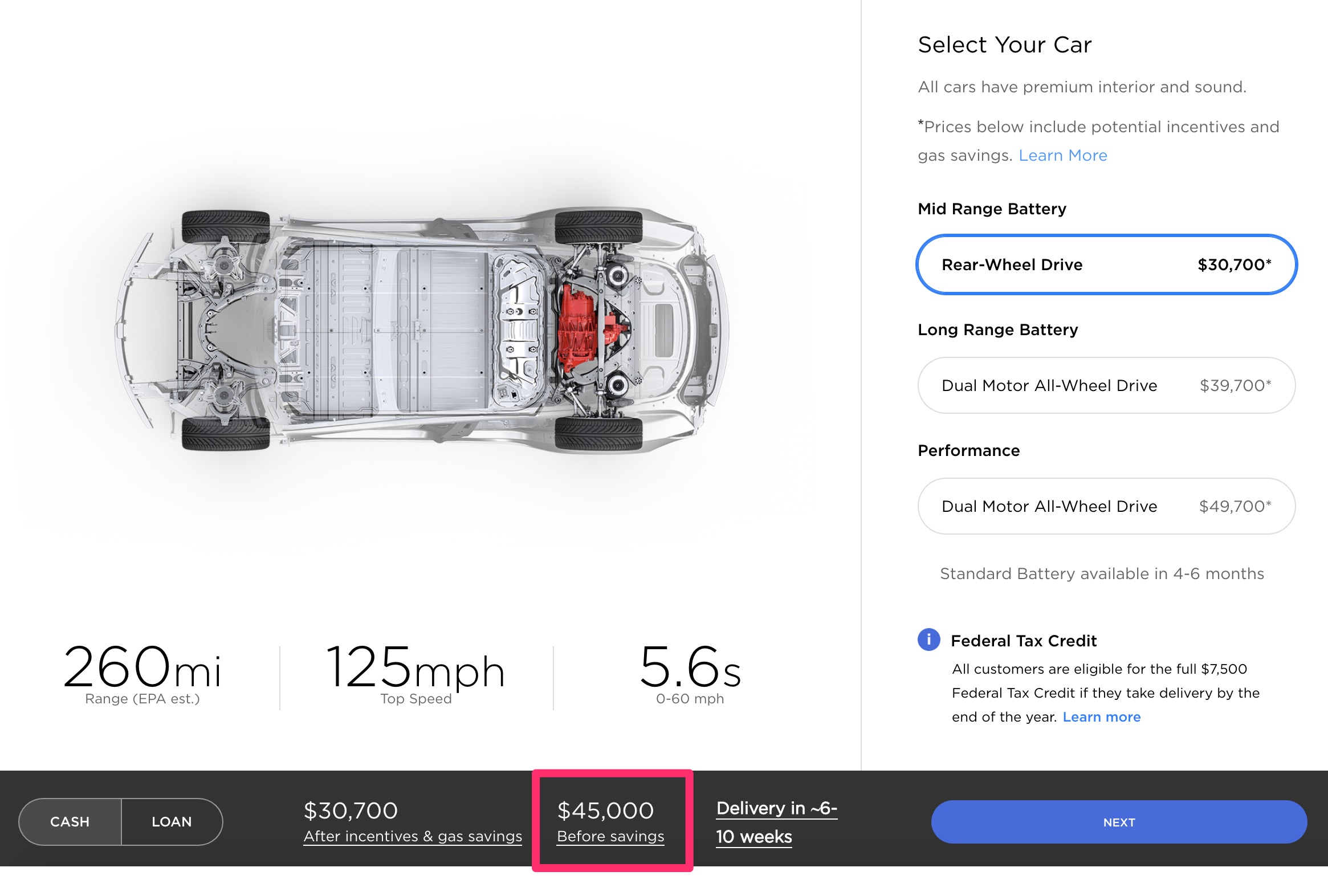 The lower price for the Mid Range Model 3 represents a $4,000 savings from the Long Range rear wheel drive version that starts at $49,000 before incentives. However, this cost savings also equates to 50 miles less of driving range and reduced performance. 0-60 mph performance for the Mid Range Model 3 comes in at a modest 5.6 seconds versus 5.1 seconds for the Long Range version. Top speed for midrange  Model 3 is also reduced to 125 mph (~200 kph).
Tesla Model 3 Version Comparisons
| | | | |
| --- | --- | --- | --- |
| | 0-60 mph (sec) | Top Speed (mph) | Range (mi) |
| Model 3 Mid Range (RWD) | 5.6 | 125 | 260 |
| Model 3 Long Range (RWD) | 5.1 | 140 | 310 |
| Model 3 Long Range (AWD) | 4.5 | 145 | 310 |
| Model 3 Performance (AWD) | 3.3 | 155 | 310 |
Elon Musk's announcement of the lower-priced Tesla Model 3 should come as welcome news for the hundreds of thousands who have waited, some for more than two years, for the company to finally offer a truly affordable electric car that bests its competition in the luxury sedan market. At $45,000, the midrange Model 3 shares a similar base price as a 2019 BMW 330i series, yet tops the Bavarian heritage vehicle in both performance and technological innovation.
Arguably of more importance is Tesla's strategic move to push higher-margin vehicles but also provide a favorable option for price-conscious consumers by creating a larger delineation between buyers looking to cost-cut and those seeking more range. By removing the RWD Long Range Model 3 as a vehicle selection, Tesla forces buyers that are looking for 310 miles of extended range to choose between a nearly $70,000 Model 3 Performance in basic trim or a $59,000 Model 3 Long Range with dual motor configuration. At a minimum, buyers looking for the long-range battery option will be spending $10,000 or more than they normally would have with the $49,000 RWD Long Range Model 3 as an available option.
According to the Tesla's online configurator, buyers looking to purchase a Model 3 Mid Range can expect delivery in 6 to 10 weeks.
Model 3 long range, rear wheel drive is still available for ordering off menu for another week or so

— Elon Musk (@elonmusk) October 18, 2018