Elon Musk's highly successful and once "experimental" Tesla Referral Program has arguably been one of the company's best viral campaigns for selling cars. The concept is simple. Buy a new Tesla, refer a friend to buy one through a referral code, and win exclusive prizes including a highly coveted invite to a Tesla unveiling event. Whether it's a VIP Fremont Factory tour, an invite to the upcoming Model 3 launch party, or the opportunity to witness Elon Musk unveil Tesla's electric Semi truck on September 28, chances are you want to be there and you'll do anything to make it happen. And that's exactly what many have done.
In question are the ethics behind the oversharing of one's Tesla referral code. It's a normal occurrence these days to see Tesla owners shamelessly plug their personal referral codes across social media, on forums and even on email signatures. I'm guilty of it and I'm sure many others are too. But when Tesla owners begin buying keyword-based Google ads to promote their referral code on a massive scale, a question of whether this is fair or even "legal" under Tesla's Referral Program "Good Faith" clause naturally arises.
According to Tesla:
Good Faith
We introduce programs such as these in good faith and expect the same good faith in return. Please note that we may withhold awards where we believe customers are acting in bad faith or otherwise acting contrary to the intent of this program. To be clear, commercializing or otherwise selling referral codes is not appropriate, and we will not honor such codes. We cannot cover every nefarious scenario, nor will we attempt to, but we do promise to be fair and reasonable.
One can interpret "Commercializing or otherwise selling referral codes" as paying a person or service to use one's referral code, which would put Google AdWords buyers in violation of Tesla's Good Faith clause. But what if you're a highly popular Model S or Model X-owning YouTuber that has the ability to influence millions of fans on the purchase of a Tesla? Is it moral to ask your subscribers to consider using your referral code?
Not according to Twitter user Station2Station. In a tweet to Elon Musk, Station2Station writes, "As an owner, please DO AWAY with referral code prgr. Too many youtube owners hustling their YT channels to gain refs."
Musk replied back, stating that he "will shut that down", which presumably means he'll disqualify any referral code use that came by way of someone that is not a "friend" to the original Tesla owner.
@station2stat @TeslaMotors Will shut that down. The point is to provide something special that only existing owners can give to friends and it is limited to 5 people.

— Elon Musk (@elonmusk) May 24, 2017
While Musk's intention is clear that the program is meant to be something special, penalizing Tesla-owning YouTubers for sharing their referral codes would be a step in the wrong direction. Let us not forget that many Tesla-owning YouTubers began their channels with the sole purpose of sharing their love for the company, their cars, and most importantly Musk's vision of the future. As their voice amplified across the Google-owned social video platform and subscriber counts grew, so did Tesla's brand reach and presumably the number of Model S and Model X vehicles sold each quarter. Should they be faulted for having a loyal following, many of whom built something special in the form of friendships with their YouTuber through social media? I say no.
In this instance, it's less of an issue of referral code misuse and more the case of sour grapes.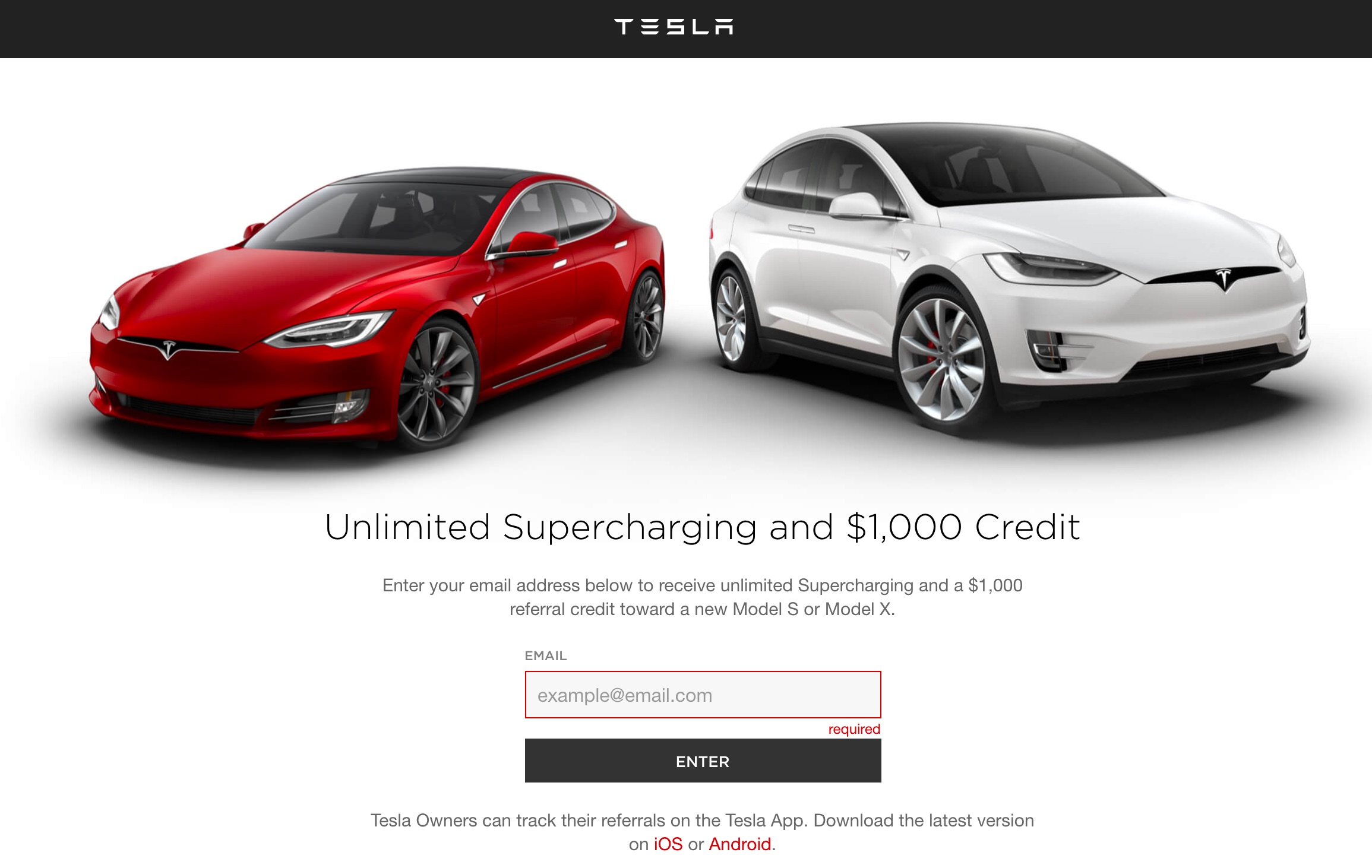 Here's a fun blast from the past email sent by Musk when the first Tesla Referral Program was introduced.
From: "Elon Musk" <elon@teslamotors.com>
Subject: Trying something new (plus party at the Gigafactory and a Founder Series Model X)
Date: July 29, 2015 at 2:05:31 PM PDT
Word of mouth has always been a major part of how Tesla sales have grown. When I meet Tesla owners, one of the first things they often tell me is how they have convinced many others to buy the car. As you may already know, Tesla does not advertise or pay for endorsements or product placement. Maybe by doing so we could sell more cars, but I don't like the idea of trying to trick people into buying a product by false association. If you see somebody famous driving a Model S, it is because they genuinely like the car.
If you see it in a movie or TV show, it is because the people associated with that production genuinely like the car. Besides word of mouth, another way that our cars are sold is through stores. These will always be important to allow people to check out new models and ask our product specialists detailed questions. However, stores are quite expensive to set up and operate. In reviewing the Tesla cost of sales, we found that it is approximately $2,000 to sell a car through our stores, higher in some regions and lower in others.
Both ways of reaching potential customers are important, but, if we can amplify word of mouth, then we don't need to open as many new stores in the future. So, we are going to try an experiment. This is similar to the customer growth program that I worked on at PayPal/X.com back in '99. What worked for PayPal may not work for Tesla, but it is worth trying, as the net result would be lowering our costs by $2,000, allowing us to give that money to our customers.
From now through October 31st, if someone buys a new Model S through your link, they will get $1,000 off the purchase price and you will get a $1,000 credit in your Tesla account, which can be applied to a future car purchase, service charge or accessories. To put some limits on the experiment, each Tesla owner can grant a maximum of ten $1,000 discounts.
Just for fun, there will also be some things that money can't buy. If five of your friends order a Model S, you and a guest will receive an invitation to tour the Gigafactory in Nevada – the world's biggest factory by footprint – and attend the grand opening party. This will be awesome. At ten orders, you get the right to purchase a Founder Series Model X, which is not available to the public, with all options free (value of about $25,000). The first person to reach ten will get the entire car for free.
Elon