The new Tesla Model S has earned a 5-Star safety rating from the Euro NCAP. The rating applies to both the new Model S Long Range and the flagship Model S Plaid. Tesla's premium sedan accomplished the feat despite being subjected to the Euro NCAP's newest and most stringent 2020-2022 testing protocol.
The Tesla Model S has always been a safe vehicle. Thanks to its rigid structure, its low center of gravity, and its generous crumple zones, the original Model S became the vehicle to beat when it came to safety. In 2014, the Model S became the only vehicle to achieve a 5-Star Euro NCAP rating and 5 stars in every NHTSA category.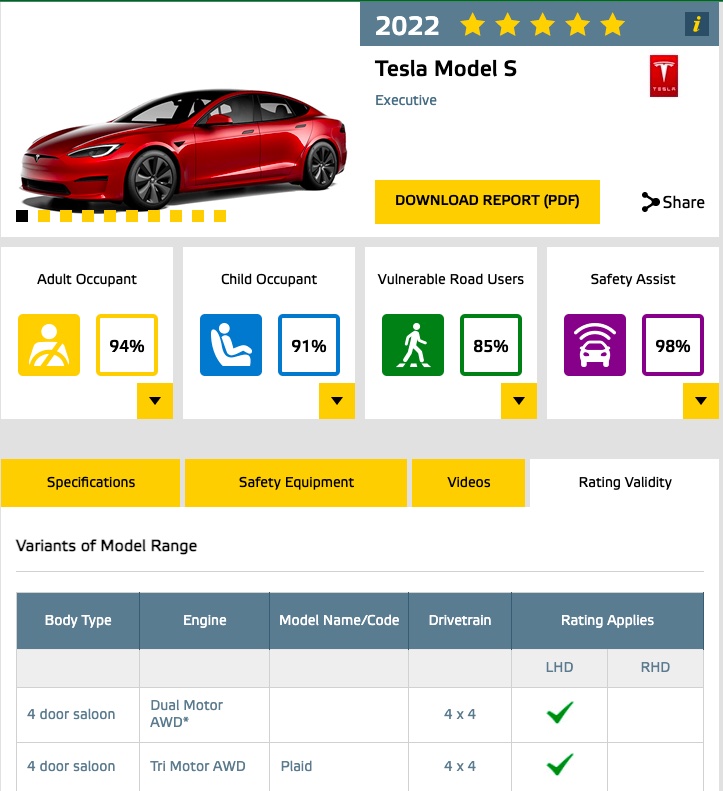 But Tesla is a company that continues to improve its vehicles even if they're already excellent. And when it comes to the safety of its flagship sedan, this was definitely the case. In a recent blog post, Tesla noted that improvements to the Model S' safety had been rolled out over the years as soon as they were available, some of which were released through free over-the-air software updates. 
The Euro NCAP's newest and most stringent testing protocol focuses on a vehicle's ability to protect adults, children, and vulnerable road users. It also tests a car's crash avoidance and other safety features. Following its recent round of tests, the new Tesla Model S once more received a 5-Star safety rating from the Euro NCAP. The vehicle's scores were very impressive too. 
The new Model S was able to earn a score of 98% in Safety Assist, 91% in Child Occupant Protection, 94% in Adult Occupant Protection, maximum points in Far-Side Impact subsection, and maximum points in Rescue, Extraction and Post-Crash Safety subsection. These scores, according to Tesla, were made possible through innovations such as advanced front-structure castings, far-side airbags, and multi-collision braking systems.
Overall, Tesla noted that while the Model S is designed to be a flagship vehicle that's rife with features, the sedan's "first feature" is still its safety. Yes, the Model S, particularly the Plaid variant, is monstrously quick, and yes, its infotainment system is a rolling gaming console, but beyond these fun functions, the flagship sedan is simply a vehicle that can keep its occupants safe from harm. 
"Model S—and Plaid in particular—is designed to be the most fun you can have in a car: the fastest acceleration, console-grade in-car gaming, sublime sound and more; however, safety comes before all of that—it's always our first feature," Tesla wrote.
Watch the new Model S' tests with the Euro NCAP in the video below.
And following are the Euro NCAP's official results for the new Model S' safety tests. 
Euroncap 2022 Tesla Model s Datasheet by Simon Alvarez on Scribd
Don't hesitate to contact us with news tips. Just send a message to simon@teslarati.com to give us a heads up.