The Nikkei reported the initial and eventual Panasonic investments in Tesla's Gigafactory, something we have been waiting for some time now. The Panasonic investment in Tesla confirms the long-term strategic partnership between both companies and further boosts Tesla Motors' credential as a serious carmaker, amongst its many diversified products and services. Panasonic and Tesla Motors finally tie the Gigafactory knot.
Panasonic invest in Tesla's Gigafactory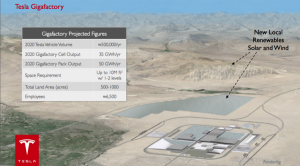 Although the Nikkei is not always the most reliable news source, the impending news that Panasonic would follow Tesla Motors in its Gigafactory venture was to be expected. According to the Nikkei, Panasonic reached a basic agreement to further invest in Tesla Motors' Gigafactory, while Tesla would shoulder the cost for the land and buildings. The initial investment would be for $200-300 million, but leaves an additional investment open for up to $1 billion if capacity at the factory scales up according to plans. Panasonic already invested $30 million in Tesla Motors back in November of 2010 and a new reworked contract in October 2013 said Panasonic would supply Tesla with 2 billion battery cells between 2014 and 2017. You can do the math to see how many cars Tesla Motors expect to build, if it only uses Panasonic batteries.
Tesla Motors and Panasonic Gigafactory, the next Exxon/Mobil?
This leads Seeking Alpha's Eselkla to ask whether or not Tesla is positioning itself "as a vertically integrated supplier to a new electric economy, much as ExxonMobil (NYSE:XOM) is for oil & gas." Eselkla concludes that if the report is true, it would put Tesla between one half and three quarters of the way towards making the Gigafactory $4 to $5 billion a reality. That can only mean Tesla's stocks are about to skyrocket again.
According to BusinessInsider Tesla representative declined to comment on the report, but the news sent its stock up more than 2% today, Monday 27th, 2014. We can expect both companies to make an official announcement before the end of the month, by this week.
The Panasonic Tesla Gigafactory deal