Porsche Taycan reservation holders from Norway recently received a rather disappointing message from the veteran German sports car maker. As it turns out, deliveries for the all-electric Taycan will be starting later than expected, with the automaker estimating a delay of about 8-10 weeks. 
The message, which was recently sent out to Taycan reservation holders and shared on media outlet Tek.no, explained the reasons behind the automaker's delivery delays. Based on the information provided by the carmaker, the complexity of the Taycan's production is a key reason behind the vehicle's longer-than-expected delivery timeline. 
Following is Porsche's message to reservation holders: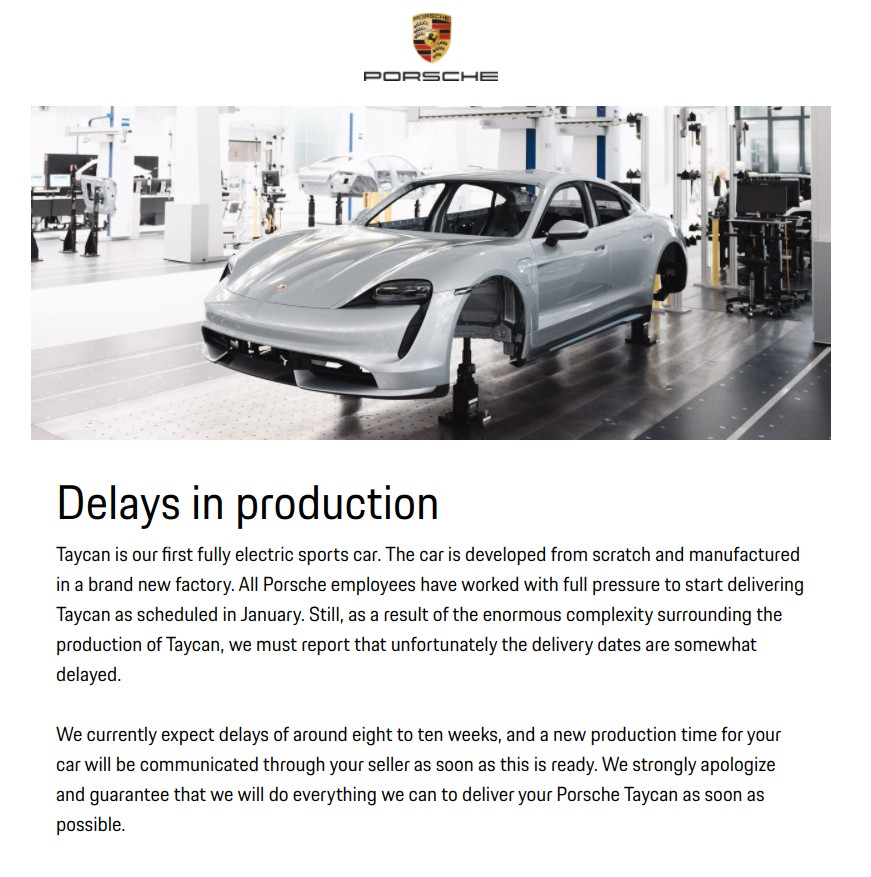 Delays in Production
Taycan is our first fully electric sports car. The car is developed from scratch and manufactured in a brand new factory. All Porsche employees have worked with full pressure to start delivering Taycan as scheduled in January. Still, as a result of the enormous complexity surrounding the production of Taycan, we must report that unfortunately the delivery dates are somewhat delayed.
We currently expect delays of around eight to ten weeks, and a new production time for your car will be communicated through your seller as soon as this is ready. We strongly apologize and guarantee that we will do everything we can to deliver your Porsche Taycan as soon as possible.
The Taycan's delivery delay has been confirmed by Porsche Norway press contact Maren Helgestuen, though Tek.no has noted that the extended wait times for the vehicle's deliveries should apply to all markets. Taycan reservation holders are best advised to wait for more information from their sales representative, who would be notifying them when a new delivery date is ready. 
The Porsche Taycan is arguably one of the most highly-anticipated all-electric vehicles in the market today. Positioned as a four-door high-performance sports sedan, the Taycan has the potential to challenge and possibly even beat the reigning champion, the Tesla Model S Performance, in a fair, straight line race. This has been demonstrated by Top Gear in a recent video, though the race in itself was questionable. 
Nevertheless, the Taycan has received a warm welcome from the EV community, partly due to its stunning design and its driving dynamics that is identical, if not better, than some of Porsche's most iconic cars. That being said, the Taycan commands a premium price, with the current entry-level variant, the Taycan 4S, starting at $103,800 ($106,410 at launch). The two variants that were launched first, the Taycan Turbo and Taycan Turbo S, are priced far higher, with the former staring at $150,900 ($153,510 at launch) and the latter commanding a starting price of $185,000 ($187,610 at launch).
H/T Georg Panczel/Facebook