Sleek, sexy, powerful, silent, exhilarating, and manufactured in the USA! Kind of sounds like a Tesla Model S, doesn't it?  Well, close. If a Tesla can ever reincarnate, we think it would surely come back in the form of a revolutionary Prodeco Technologies folding electric bike.
If you're not familiar with electric bikes, also known as e-bikes, they're essentially bicycles with an integrated electric motor that can assist with propulsion. The small electric motor is attached to either the front or rear wheel and supplements the rider's pedaling power, making it especially helpful during steep hill climbs or when you're just feeling lazy.
---
Prodeco Tech Storm
Prodeco Technologies is one of the world's largest and most innovative manufacturers within the growing e-bike industry, and has a reputation for craftsmanship, superb design and progressive technology. That's why we were so excited when we heard about the opportunity to review one of their latest line of folding electric bikes during one of our Supercharged road trips.
Initial impression
We tested their Storm series; an attractive looking bike that compliments the sleek lines of the Tesla Model S very well. We've heard that electric bikes tend to be on the heavier side due to the weight of the Lithium-ion batteries (no surprises there), but was shockingly surprised by how "normal" it felt in terms of weight, especially considering that it's a full-sized electric bike.
Right away you can tell that the bike has got some serious stopping power, with mountain bike caliber Avid disc brakes attached to both the front and rears. Prodeco clearly took no shortcuts when it came to retrofitting the e-bike with the best available components. 
Features
Lightweight, aircraft-grade all Aluminum Frame
½ Twist Throttle
Avid  BB5 Disc Brakes and Avid 180mm HS1 Rotors
Adjustable Suspension
SRAM X7 Twist 8 Speed Shifter
SRAM X5 8 Speed Mid Derailleur
38.4V 9Ah LiFePO4 24 Cell Battery
Front FSG 36V 300W Motor (500 W peak)
18 mph speed
25-35 miles per charge
Folds in half – folded dimensions: 48″ x 36″ x 28″
One of the lightest e-bikes out there at only 49 lbs
Foldable Pedals
Adjustable Kickstand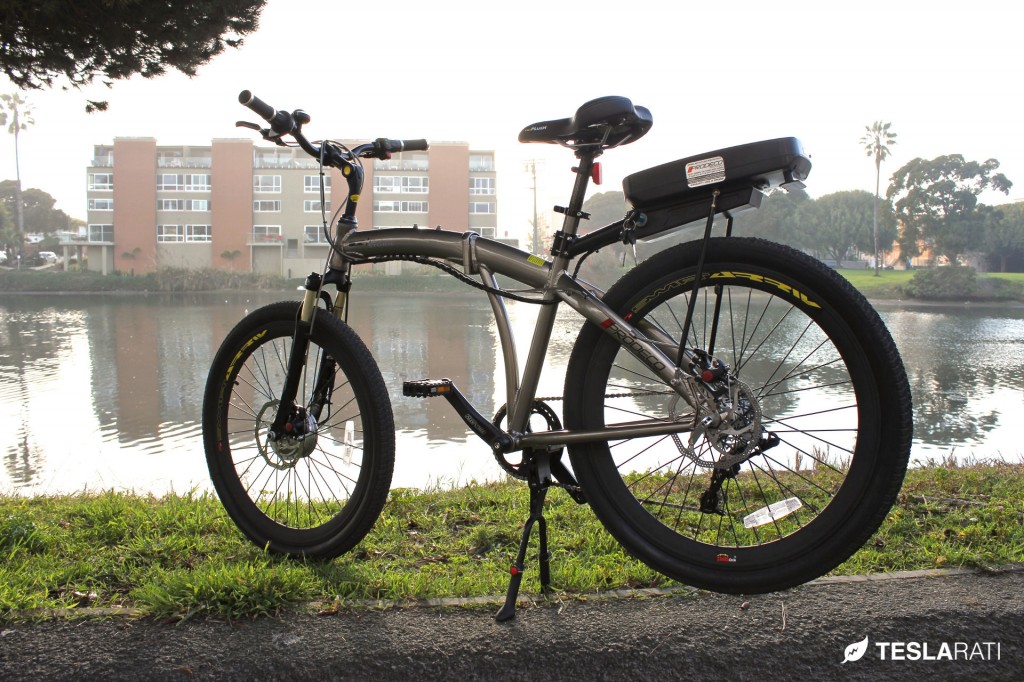 Lithium-Ion Battery Power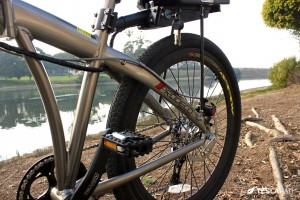 Li-ion Battery (LiFePO4): Like the Tesla, the electric motor and battery are the key, and likely the most expensive, components of the Prodeco Tech electric bicycle. We were told that every Prodeco bike comes with an advanced LiFePO4 battery that uses a Lithium-ion-derived chemistry with a much longer life cycle and higher energy density over other Li-ion technologies.  It's able to maintain a constant discharge voltage which means you'll have access to full power until the battery is discharged.  To us, this translates purely to prolonged fun!  More on that later.
It's pretty evident that Prodeco spared no expense or quality when it came to engineering their line of electric bicycles. When we dug into the history of the 7 year old bike company a bit more, we learned that Prodeco Technologies struck a partnership deal with one of the world's top Li-ion battery producers. The strategic partnership allowed Prodeco to incorporate the high-end LiFePO4 battery, a technology that's rarely used due to its higher cost, on all of their bikes; giving them a much larger competitive advantage over other e-bike manufacturers.  It was a win-win for Prodeco – premium Li-ion battery technology and at a price point that's often on par, if not cheaper, than e-bikes of much lesser quality.
Electric HUB Motor: Ok, where?  Had it not been for the rear-mounted battery pack, a dead giveaway that this was something more than just a regular bike, we would have never been able to tell that the Storm 300 was actually an electric bike. Prodeco went with an ultra lightweight and energy efficient performance motor that's mounted directly onto the wheel hub. The 300 watt motor (500 watt peak) weighs in at only 5.5 lbs, but what's even cooler is that the motor is attached via a weatherproof quick-disconnect connector, making motor swaps a cinch. We know what you're thinking; and yes, you can upgrade to a more powerful version of the electric motor!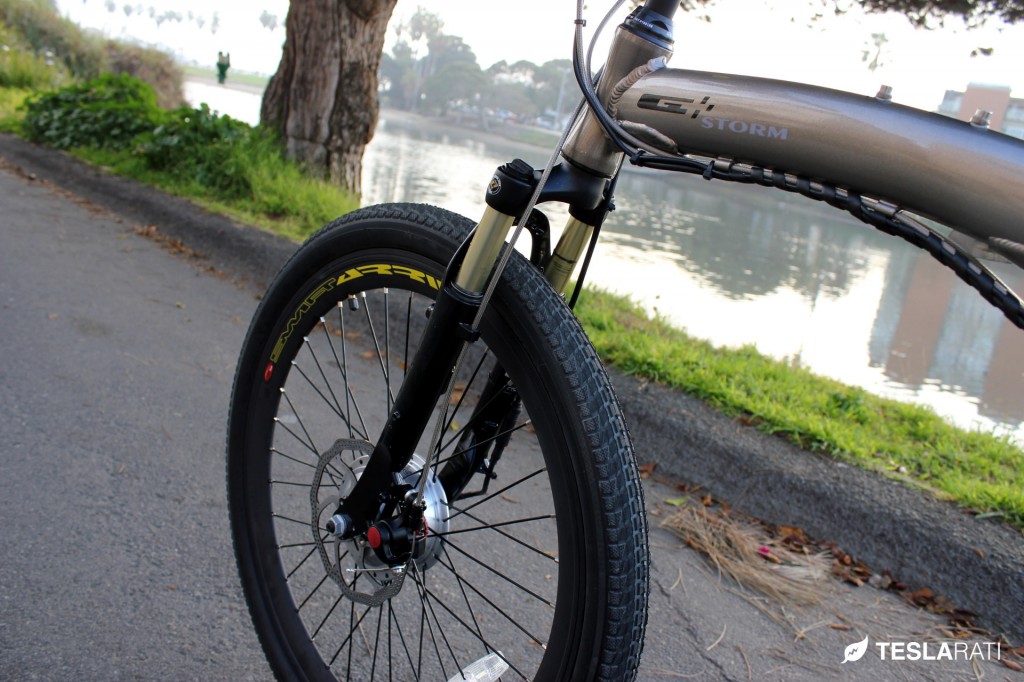 ---
Folding Electric Bike in a Tesla Model S
WARNING: This is not a magic trick.  What you're about to see is real. Please try this at home. We fit this full-sized electric bike into the Tesla Model S and still had enough room for 5 adult passengers. Don't believe us? See for yourself.
Prodeco Tech's Storm e-bike literally folds in half and stows perfectly into the trunk of the Model S. We didn't even have to flip the rear seats down!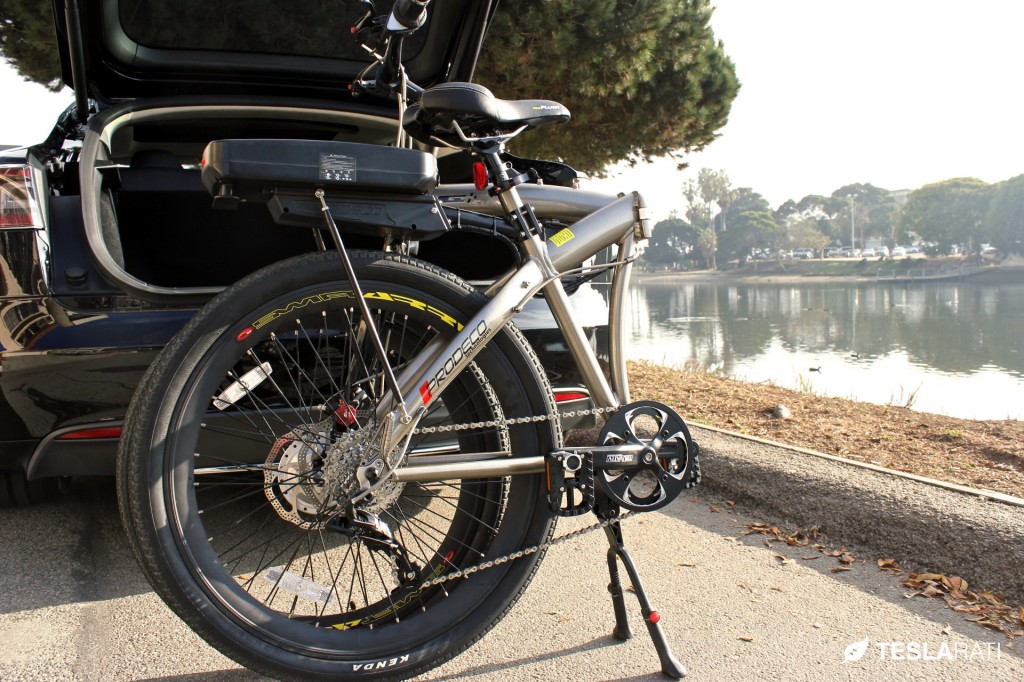 Side note: The Model S was extra shiny that day given that it came off a fresh coat of CQuart Finest.  We're doing a comparison between Opti-Coat Pro vs CQuartz Finest in an upcoming story.
---
Made in the USA
All Prodeco Technologies electric bicycles are designed, assembled and quality controlled at their 60,000 sq ft facility in South Florida. Each bike is proudly built by hand and takes upwards of 7 hours to complete. Prodeco also offers a lifetime warranty on their aircraft-grade aluminum frames and a 2 yr warranty on the LiFePO4 battery which not many manufacturers can match.
---
Riding the Prodeco Tech Electric Bike
We packed up the Storm 300 into our Model S and headed out on a test ride in the hills of Malibu Creek state park.
Riding an electric bike for the first time is as monumental and life changing as the first time you drove a Tesla Model S. You're not quite sure what to expect until you hear the subtle whirl and feel the instantaneous torque of the electric motor propel you forward. It's exhilarating, it's ridiculously fun and it's addictive. The impression it leaves on you makes you want to come back for more, because you just feel great doing it.
Turning the key which is situated below the rear-mounted battery activates the electric bike.  A set of LEDs, located near the 1/2 twist throttle on the right handle bar, lights up and lets you know that you're about to have some fun.  And we're off!
The Prodeco bikes are solid and they do a great job absorbing a variety of terrains using their adjustable suspensions. The Storm is primarily a street and light trail bike, however Prodeco offers a huge selection of bikes that can suit even the most discriminating rider. Their Phantom X2 has received countless rave reviews and by far one of their most popular bikes. It's pretty much the same bike as the Storm, but with upgraded components and a motor that's 67% more powerful.
Pedaling on the Prodeco Tech Storm is smooth and gear changes happen with lightening quick precision thanks to the SRAM X7 Twist 8 Speed Shifter. Let it be known that pedaling is still required when it comes to riding an electric bicycle. E-bikes are not scooters. The electric motor act as a supplemental source of energy to pedaling, and becomes especially handy during uphill climbs or when you just want to go faster.  The 300 watt motor, which delivers 500 watts at peak, is capable of propelling the bike to just shy of 20 mph. Did we already mention that it's insanely fun to ride?
---
Conclusion
Prodeco Technologies is the Tesla of electric bikes. Through perfect execution and a no-compromises approach, they've managed to revolutionize the electric bike industry and become one of the leaders within the premium segment. It's no wonder that the ProdecoTech brand has become the bike of choice for Tesla owners and enthusiasts.
The Storm 300 is electric, it's sleek, stunning to look at, portable, and overall the perfect companion for the Tesla Model S – electric x 2!