This story was originally published on EVANNEX.
Renowned mutual fund manager and investment icon Ron Baron of Baron Capital is well-known for his conservative, long-term approach to stock picking. He's been compared to Warren Buffett (both for his investing style and outstanding track record) and has said that Tesla "may be the most interesting" company he's ever invested in over his 46 year career.
Yesterday, CNBC interviewed Baron for his views on Tesla [NASDAQ: TSLA]. What is his forecast for the stock? "I think it is going to be about $500 to $600 next year, and I think it is going to be $1,000 in 2020." At that time, Baron said, he expects the company to have $70 billion in revenue and to be earning $10 billion in operating profits. By 2020, Tesla says it expects to be selling one million cars per year.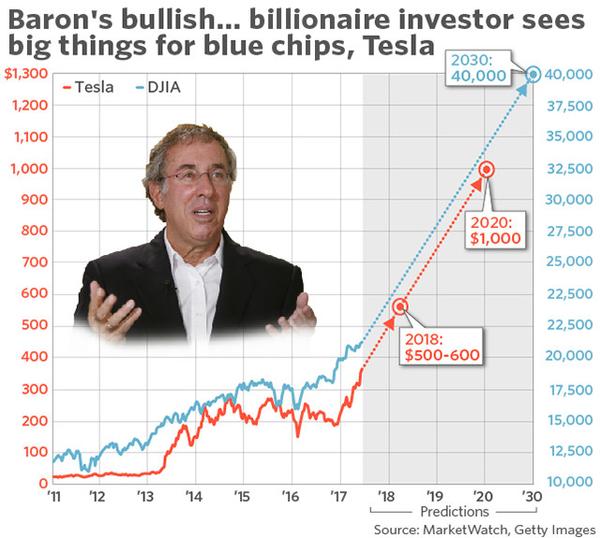 Baron is a major Tesla shareholder. He noted that he bought about 1.6 million shares at an average share price around $208 to $210. Marketwatch reports that "Tesla is the fifth largest holding in the Baron Opportunity Fund which first bought shares back in June 2014… [and] so far this year, the Baron Opportunity Fund has absolutely crushed the S&P 500 and its fund peers, surging 26%."
And Ron Baron is not alone when it comes to his outlook on Tesla. Yesterday, Teslarati reported that Berenberg (based in Germany) is also extremely bullish on Tesla — upgrading its price target to $464. Berenberg's Alexander Haissl explains, "With no clear pathway to high-volume EV production for these OEMs [original equipment manufacturers] before the mid-2020s, Tesla will be given a near-monopolistic opportunity to gain market share and outcompete the incumbent automotive industry."
Berenberg's Haissl also believes that Tesla's "best-in-class cost base and production processes" will allow it to generate 50% more profit per vehicle than its competitors in the coming years. Haissel notes, "Tesla's disruptive potential encompasses the vehicle, the entire production process and the product-to-market strategy. Once the business reaches scale, the cash generation potential is significantly superior to existing premium OEMs."