Enterprising graphic artist Denzzian provides a first high-res look at Tesla's Model 3 center touchscreen controls through a digitally remastered spy shot of the vehicle's dashboard. Referencing recent photos that captured Model 3's center console display and steering wheel, Denzzian reconstructed every detail of the interior in fine detail through Photoshop.
"I recreated Tesla Model 3 Release Candidate Dashboard using Photoshop pixel by pixel looking at the spy shots of the car to give a clear picture of the UI." notes Denzzian via Imgur. "All the buttons and screen is remastered as exactly as it is to give more clarity."
Tesla owners and enthusiasts might recognize the detail seen on the left hand side of the screen as data from the current Controls tab found on the Model S and Model X. This is the main feature that allows drivers to open the frunk, access the charge port door, and open/close the rear powered liftgate.
Seen on the right hand side of the remastered Model 3 screen is a Developer Mode screen that provides access to the vehicle's CAN bus data. The CAN bus is the Controller Area Network bus that allows various components of the car to communicate with one another without the need for a host computer.
The data being displayed in Developer Mode can be deciphered by tag. Tesla hacker wk057 aka Jason Hughes shared a list of the vehicle's tags over at the Tesla Motors Club forum in the past. Based on his findings, we can see that DI and PM tags are related to Model 3's rear drive unit. BMS tags are related to the battery management system for the vehicle.
The interface also includes an additional "factory" menu selection, as well as selection for "Model 3" and "Settings". One can see through Denzzian's remastered image that phone, music and navigation controls has been shifted to the lower portion of the screen furthest from the driver.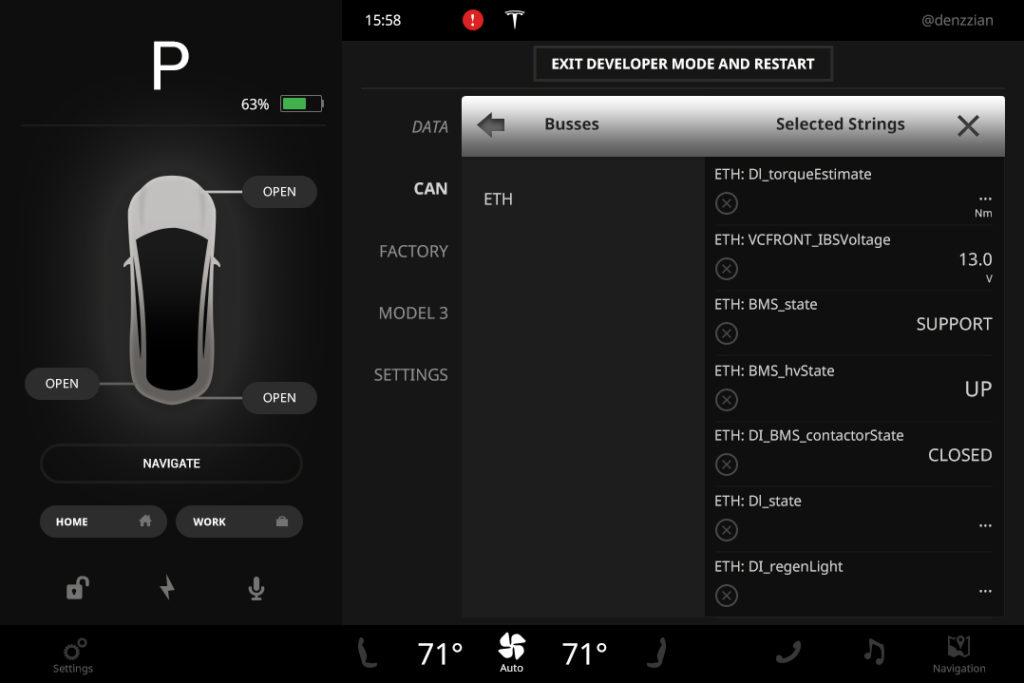 We had previously seen Tesla's service-specific screens, but this is the first time we're seeing a wide range of consumer controls on the Model 3 display.
Having only a single screen at the center of the vehicle's dashboard has been an incendiary issue amongst prospective buyers, leading many to theorize that Model 3 will have a heads up display or HUD. However, this rumor was quickly shut down by Tesla CEO Elon Musk.
No

— Elon Musk (@elonmusk) March 28, 2017