SpaceX is set for a surprise event that is expected to revolve the announcement of a newly-contracted launch planned to send a private individual around the Moon with BFR, potentially queuing up a true race (back) to the Moon between SpaceX and NASA sometime in the early to mid-2020s.
Alongside the official announcement and a fascinating render revealing a dramatically-updated iteration of BFR's spaceship upper stage, CEO Elon Musk cryptically hinted on Twitter that the private customer could be Japanese, as well as confirming that the spaceship as shown was indicative of a new BFR design.
We're going to the Moon, people! What I wouldn't give to be this passenger… https://t.co/11ahm2LhE8

— Joy Dunn (@RocketJoy) September 14, 2018
Most importantly, at least for anyone eager to learn more, SpaceX will be hosting an official webcast of the announcement, NET 6:00 pm PDT on Monday, September 17th (01:00 UTC, Sept 18). Given the extreme rarity of streamed SpaceX updates unrelated to launches, as well as the fact that all of those updates have been presented by Elon Musk, it's safe to expect that this particular update will be no different.
With any luck, this announcement may actually be the BFR update Musk teased on Twitter in mid-July, and his quoted "in a month or so" ETA meshes well with an actual update roughly two months later, Musk-time accounted for. It's also possible that this newly-announced space tourism contract is directly related to a similar announcement made in 2017 that would have instead launched "two private customers" around the Moon with Falcon Heavy and Crew Dragon – SpaceX's official press release noted that both of those customers had "paid a significant deposit".
Prior to Falcon Heavy's launch debut in February 2018, Musk offered a new perspective on human missions with Falcon Heavy, stating that SpaceX had made an internal decision to skip over a human-rated Falcon Heavy and head directly for BFR, citing his feeling that development of the next-gen rocket was proceeding quite smoothly.
"What we decided internally is to focus our future efforts on BFR. If that ends up taking longer than expected, then we'll return to the idea of sending a Crew Dragon on Falcon Heavy around the Moon. But right now it looks like BFR development is moving quickly and it will not be necessary to qualify Falcon Heavy for crewed spaceflight." – Elon Musk, 5 February 2018
Discussed last week, the render SpaceX published alongside this fresh announcement featured a new variant of BFR, suggesting that the company is still iterating on the spaceship's design. This helps to explain a roughly 6-12 months schedule delay for prototype spaceship hop tests and a full BFR's first orbital mission, slipping slightly from NET H1 2019 (hops) and 2020 (orbit) to late-2019 and 2021, respectively.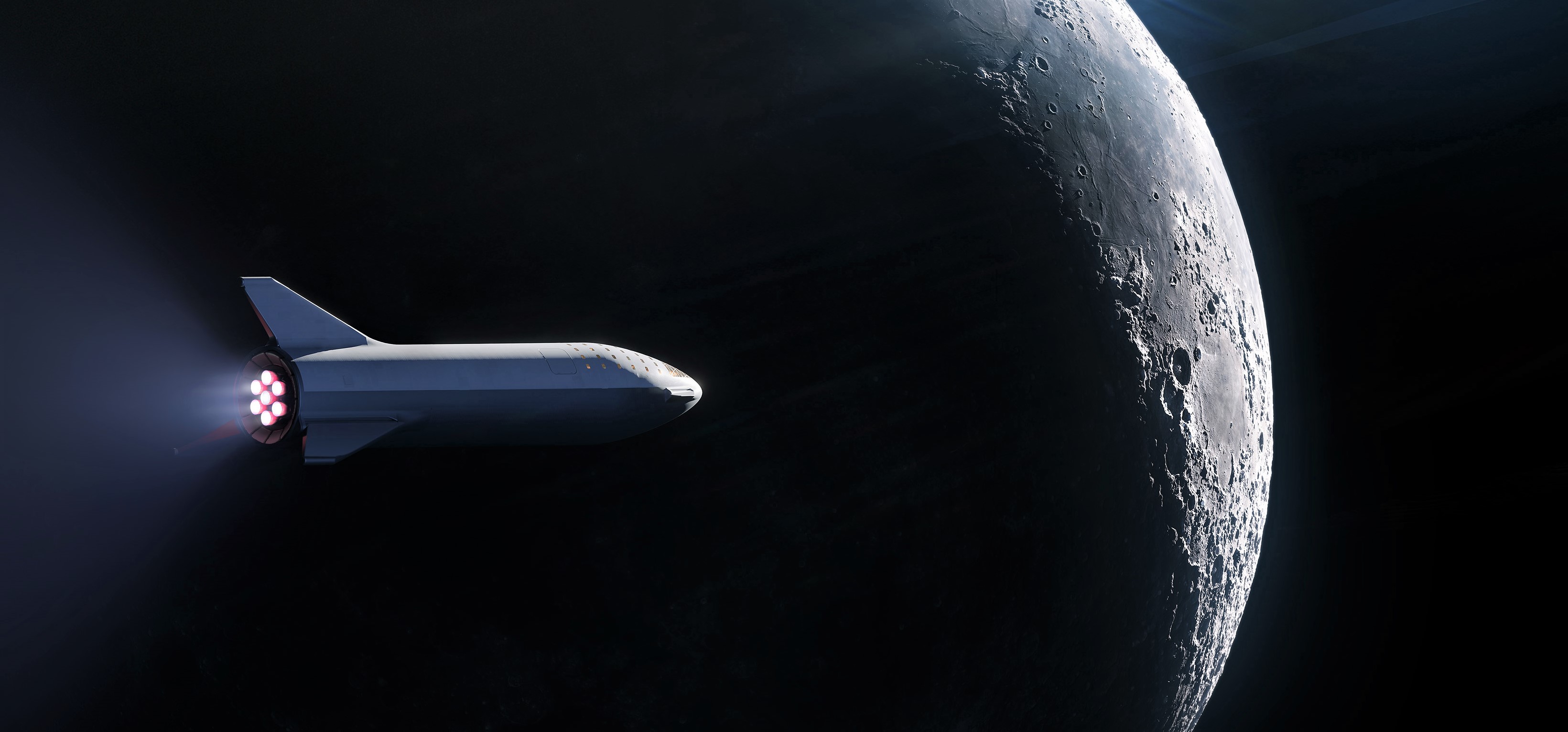 Still, it's believed that SpaceX is already building composite propellant tank and structural prototypes in a temporary tent set up at Port of Los Angeles, evidenced by massive stacks of boxes of materials (some empty and some not) necessary for composite manufacturing (prepreg, resin, industrial HVAC, etc.). Raptor, the critical propulsion system that will power both booster and spaceship, was said by Tom Mueller – VP of Propulsion Engineering – to have all but completed prototype Raptor testing, with eyes now on building and testing engines optimized for flight. Located in the Port of LA, a dedicated BFR factory is in the early stages of construction, and completion of the first phase (a smaller factory floor) could happen sometime between Q2 and Q4 2019.
Catch the event live at the webcast below and stay tuned for Teslarati's on-site coverage.
---
For prompt updates, on-the-ground perspectives, and unique glimpses of SpaceX's rocket recovery fleet check out our brand new LaunchPad and LandingZone newsletters!