A new generation of space race is currently underway, but this time it's not a race to determine which country will reach orbit first, but rather which spaceflight company will successfully reach orbit first with the world's second generation of super-heavy launch vehicles (SHLVs).

SpaceX, United Launch Alliance (ULA), Blue Origin, and NASA all have plans to build and operate their own SHLV rockets. All entities are deep into design and development and are, for the most part, at various stages of assembly and integration of their first flight hardware, offering an excellent opportunity to compare and contrast the differing approaches at work.
While NASA and ULA are developing rockets featuring an expendable single core supported by solid rocket boosters, SpaceX and Blue Origin have developed reusable designs that will utilize an enormous single core booster powered by multiple engines.
SpaceX: Starship/Super Heavy
Currently the world's only builder and operator of a super-heavy launch vehicle (Falcon Heavy), SpaceX's next-generation rocket is undoubtedly the most well known.

The design of SpaceX's next-generation Starship & Super Heavy rocket is by far the most ambitious. According to company CEO Elon Musk, the new rocket will be comprised of a massive booster deemed "Super Heavy", featuring as many as 35 Raptor engines capable of producing a total of more than 70,000 kN (15.7M lbf) of thrust at liftoff. The rocket's upper stage is known as Starship and will be a fully-reusable crew and cargo transport vehicle powered by up to 6 Raptors – 3 sea level-optimized engines and 3 vacuum-optimized engines.

Per a September 2018 design update, Starship and Super Heavy will stand 118 meters (387ft) tall and will be able to launch a minimum of 100 metric tons (220,000 lb) to Low Earth Orbit in a fully reusable configuration, in which both the booster and ship return to Earth for recovery and reuse. On its own, Starship will stand at least 55 meters tall and feature a massive payload bay (or crew section) with a usable volume of no less than 1000 cubic meters (~35,000 ft3). The now-outdated 2018 design also featured almost 90 cubic meters of unpressurized cargo space, a bet less than nine times as much SpaceX's operational Cargo Dragon spacecraft.

Although CEO Elon Musk has stated that the design of Starship's legs and control surfaces has since changed, including the addition of legs to Super Heavy boosters, the upper stage's 2018 design featured two actuating canards and fins/legs, two of which actuate a bit like flapping wings.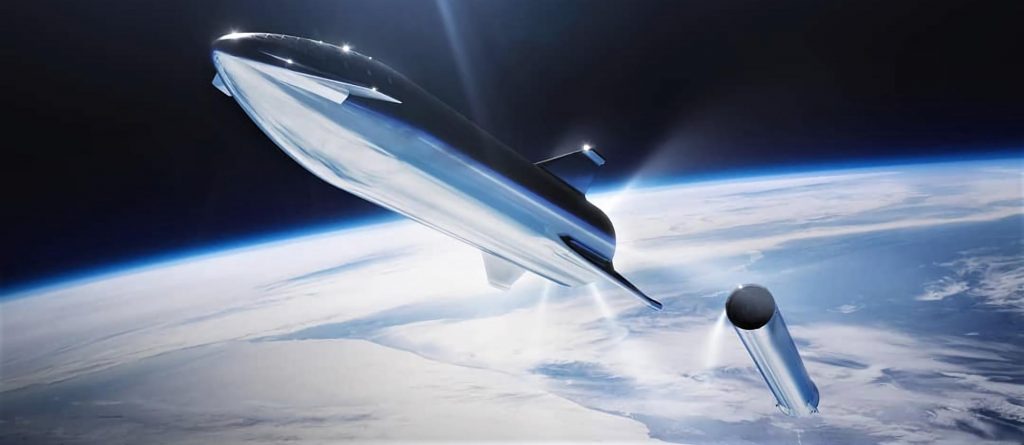 Currently, SpaceX is actively building two orbital Starship prototypes at two separate facilities in Cocoa Beach, Florida and Boca Chica, Texas, as well as an unusual low-fidelity prototype known as Starhopper. Outfitted with a lone Raptor engine (SN06), Starhopper very recently completed a successful 20-meter hop, also the vehicle's first untethered test flight.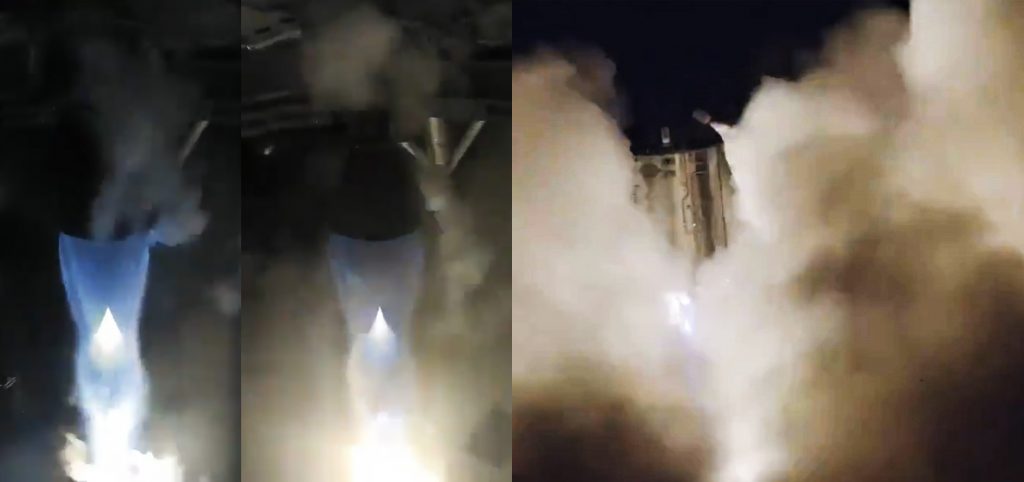 According to Musk, Starhopper is being prepared for a second untethered flight as early as August 16th, in which the rocket will reach a maximum altitude of up to 200 meters (650 ft) and perform a small divert, landing on an adjacent landing pad. Musk also has plans to present a major update on the status of Starship during an official event, scheduled to occur on August 24th in Boca Chica, TX. Aside from hundreds of disconnected snippets in the form of Musk's prolific tweets, this will mark the first official presentation on Starship since SpaceX made the radical leap from carbon fiber to stainless steel.

SpaceX has taken a truly unprecedented approach to Starship and Super Heavy production and is currently assembling two full-scale Starship prototypes (Mk1 and Mk2) outside with little to no cover, although some spartan covered production facilities are simultaneously being built.
Blue Origin: BE-4 for all
On the near-opposite side of the spectrum, Blue Origin and ULA have formed a partnership in the sense that both companies will ultimately use the same Blue Origin-built engines to power the boosters of their own next-generation launch vehicles. ULA has decided to acquire Blue-built BE-4 engines for its Vulcan Heavy rocket, motivated primarily by the fact that the company will no longer be able to legally import the Russian-built RD-180 used on Atlas V after 2022 as a result of US sanctions.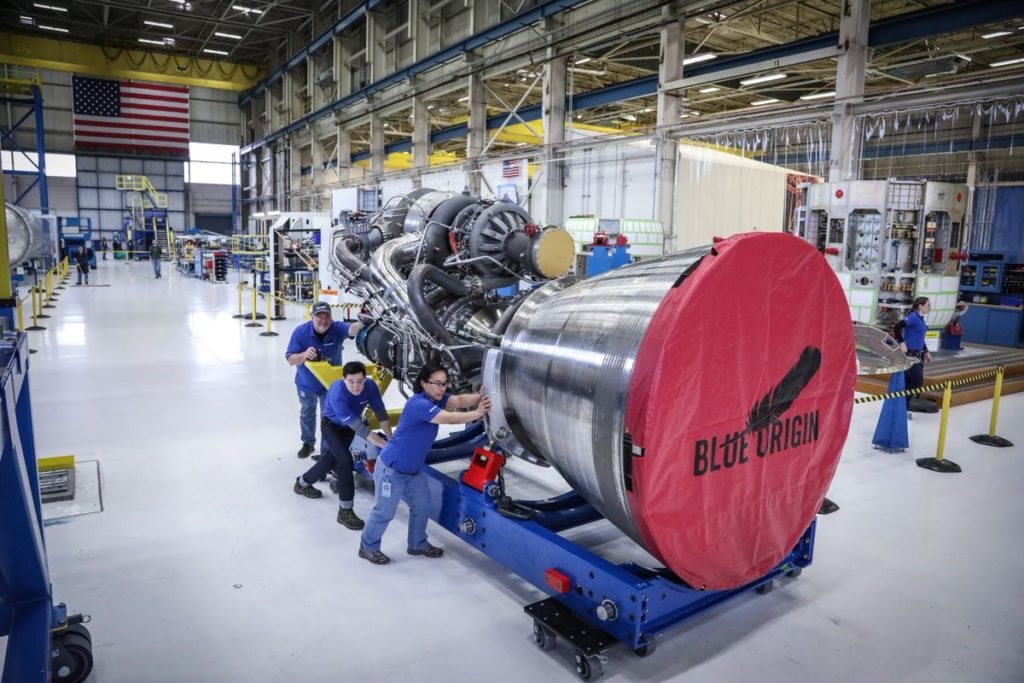 First and foremost, though, Blue Origin is developing BE-4 as the primary propulsion of the company's own two-stage super heavy-lift rocket, known as New Glenn. New Glenn's first stage will be powered by 7 of the extremely powerful oxygens, utilizing liquefied natural gas (LNG) and liquid oxygen to produce at least 2,450 kN (550,000 lbf) of thrust. Altogether, New Glenn will lift off with a maximum thrust of 17,100 kN (3.85m lbf) of thrust at sea level.

Unintuitively, New Glenn will actually produce a full 33% less thrust than SpaceX's Falcon Heavy (~23,000 kN or 5.1M lbf) at liftoff but will likely be able to crush Falcon Heavy's performance to higher orbits while still in a reusable configuration. This is thanks in large part to the greater efficiency of a single-core rocket, as well as the greater efficiency of its methane-powered BE-4 boost-stage engines and hydrogen-powered BE-3U upper stage engines. According to Blue, New Glenn will be able to launch 45,000 kg to LEO and 13,000 kg to GTO while still recovering the booster, compared to Falcon Heavy's 8,000-10,000 kg GTO performance.
New Glenn will stand 95 meters (313 ft) tall and feature the largest payload fairing in operation, measuring 7m (23 ft) wide and in diameter. New Glenn's booster will follow in the footsteps of Blue Origin's relatively tiny New Shepard and will rely on actuating fins for in-atmosphere maneuvering, as well as two fixed wing-like strakes that will partially function as wings during recovery. New Glenn will also feature six retractable landing legs and land on a modified ship, much like SpaceX's Falcon family.
While Blue Origin has scarcely published a word or photo on New Glenn's production progress since its September 2016 reveal, the company does provide small updates on the status of its BE-4 engine every few months, including a photo of a recent full-power engine test completed on August 2nd at Blue's Van Horn, Texas facilities.
ULA: Vulcan Heavy
ULA's next-generation Vulcan Heavy rocket will feature two such BE-4 engines but will be fully expendable for at least 4-6 years after its nominal 2021 launch debut. ULA will continue to lean on their well-worn preference for supplementing liquid propulsion with 2-6 strap-on solid rocket boosters (SRBs), adding as much as ~12,000 kN (2.7M lbf) to booster's two BE-4s, themselves producing 4,800 kN (1.1M lbf) of thrust
In its largest configuration, Vulcan Heavy will stand 69.2 m (227 ft) tall – just a tad shorter than Falcon 9 – and be capable of launch up to 15 tons (~33,000 lb) to GTO and 30.3 tons (67,000 lb) to LEO.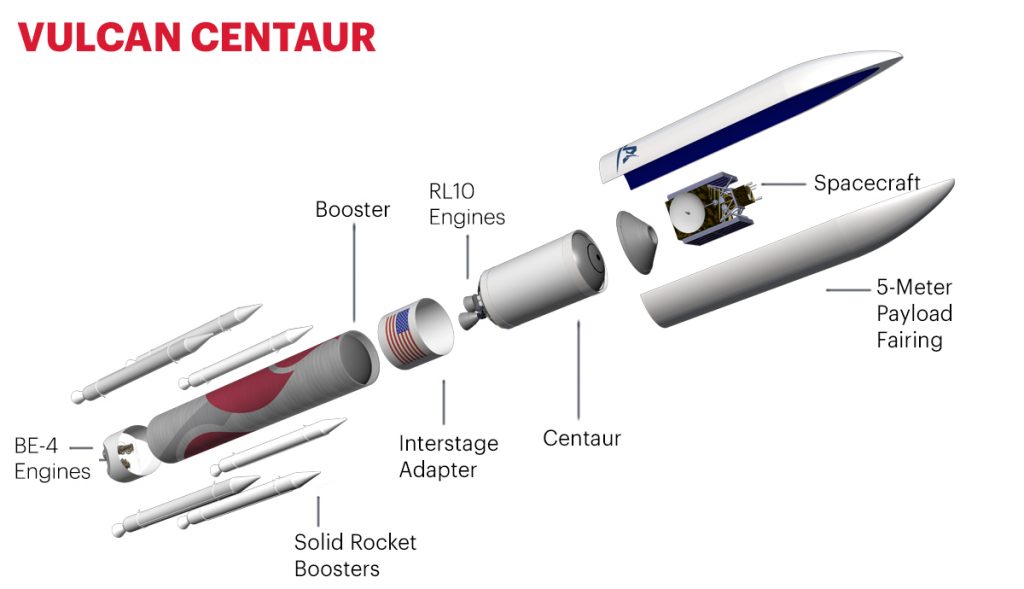 ULA CEO Tory Bruno recently took to Twitter to provide a small Vulcan development update, revealing that the first Vulcan booster was recently completed at the company's Decatur, Alabama factory. This particularly booster is a structural test article (STA) and will never fly, but it's still a huge milestone for ULA's next-generation rocket.

The photos give a great idea of scale as the Vulcan booster is pictured alongside one of the company's significantly smaller Atlas V booster, 3.8m compared to Vulcan's 5.4m diameter.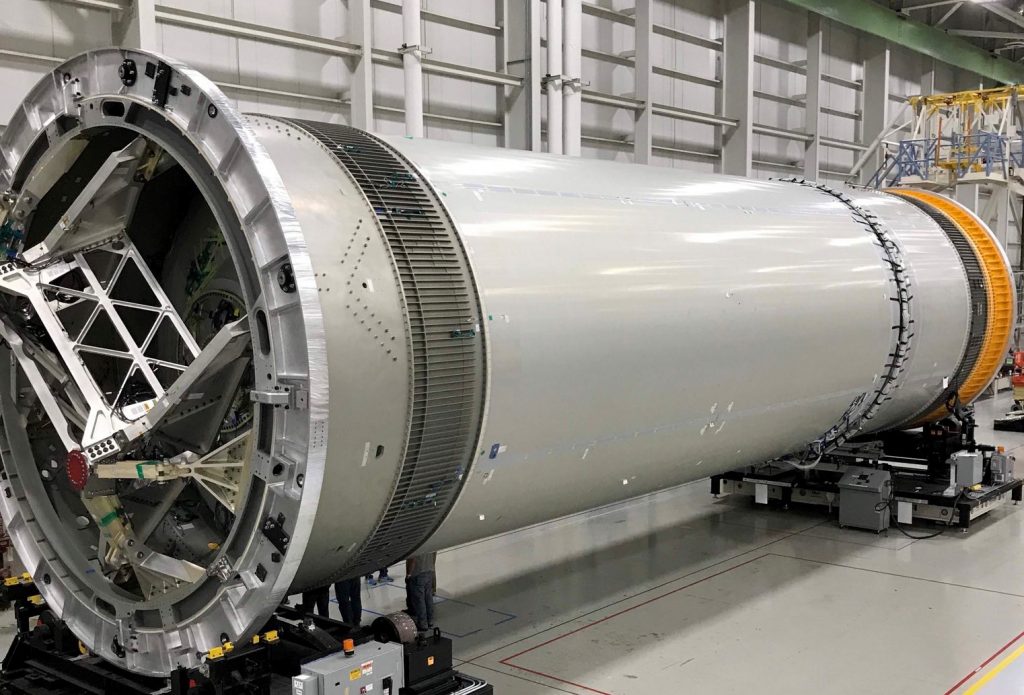 Ultimately, this modern space race will hopefully benefit the spaceflight industry as a whole, particularly with respect to the introduction of New Glenn, hopefully giving SpaceX's reusable Falcon 9 and Heavy rockets some real technological competition. ULA's Vulcan is aiming for a H1 2021 debut, followed by New Glenn in late-2021 or 2022.

SpaceX's Falcon Heavy is already operational and just completed its third launch in June 2019, with several more launch contracts on the books from late-2020 onwards. Its Starship/Super Heavy rocket is in a bit of a chaotic state at the moment, but CEO Elon Musk believes an orbital launch attempt could come as early as early-2020. Meanwhile, NASA is very slowly making its way to the launch debut of its Space Launch System (SLS) rocket, likely to slip into 2022.

With any luck, the early 2020s will be greeted by the operational debuts of two, three, four, or even more extremely capable rockets offering largely unprecedented launch costs. For now, we wait…
Check out Teslarati's newsletters for prompt updates, on-the-ground perspectives, and unique glimpses of SpaceX's rocket launch and recovery processes.