As of September 14th, SpaceX is nearly ready to break ground on what will likely be the first orbital-class Starship and Super Heavy launch pad, coming in the form of an addition to the company's NASA-leased LC-39A pad at Kennedy Space Center.

Based on environmental assessment documents published in August 2019, the modifications SpaceX plans to make to Pad 39A are surprisingly minor and could arguably take just a handful of months from start to finish. Once complete, SpaceX will possess dedicated Starship launch facilities in both Florida and Texas, although there is a strong chance that Pad 39A will be ready to support orbital launch attempts well before SpaceX's Boca Chica launch site is certified.
Per NASASpaceflight.com's Kennedy Space Center (KSC) sources, the new activity and equipment at Pad 39A was confirmed to be the start of Starship-related modifications. However, the basic location of the new activity supports the theory that the work is Starship-related irrespective of any sourced confirmation.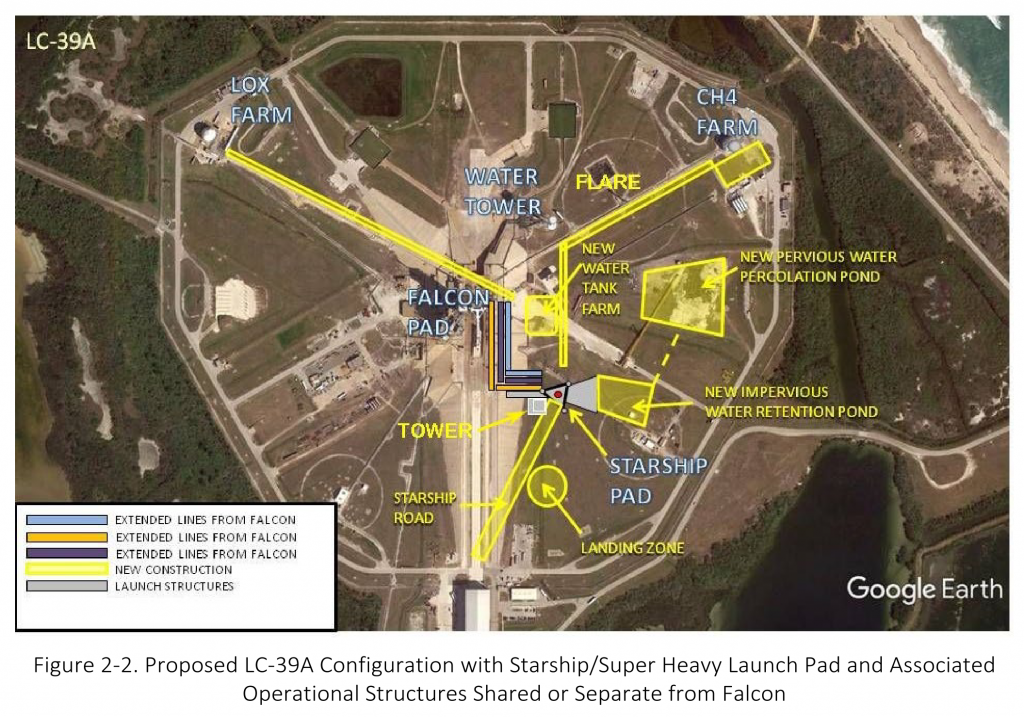 Maps published in an August 2019 Draft Environmental Assessment (EA) show that SpaceX is currently staging construction materials and equipment in the same quadrant that a majority of Starship's Pad 39A ground systems will eventually be located. According to the draft EA, SpaceX will likely continue to use its existing 39A hangar, additionally supported by a comment from CEO Elon Musk indicating that Starship and Super Heavy will be more or less structurally stable in horizontal positions. The 39A hangar is large enough to house Starships and Super Heavy boosters, although their presence would almost certainly impact Falcon 9/Heavy operations

Still, Starship and Super Heavy will be vertically integrated into a single 'stack' prior to launch. According to SpaceX, a large, mobile crane will be used temporarily and will eventually be replaced with a permanent, fixed-structure crane at some point in the future. Aside from a propellant farm and associated plumbing for Starship's liquid methane fuel supply, the EA shows plans for new water percolation and retention ponds, as well as a new landing zone located just a few hundred feet away from the planned launch mount.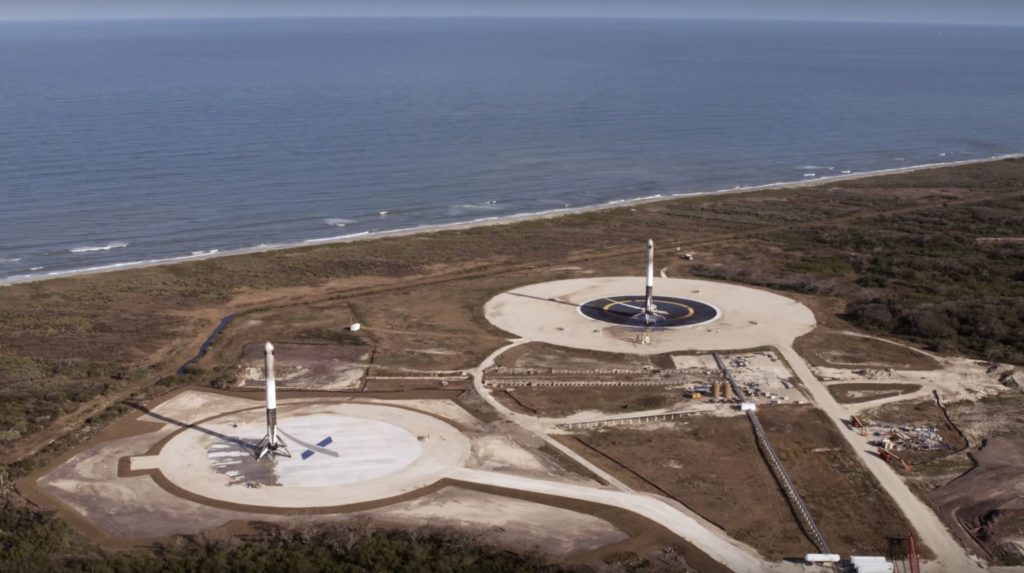 Until the FAA performs an environmental assessment of rocket landings at Pad 39A, SpaceX will land Starships at its established LZ-1/2 landing zones, while Super Heavy will be exclusively recovered via drone ship until SpaceX has permission to literally perform return to launch site (RTLS) landings.

As with most SpaceX projects, Pad 39A's Starship-related development is effectively structured in phases. The first phase focuses primarily on suborbital Starship flight tests and will require a relatively spartan launch mount/stand and water-cooled thrust diverter. SpaceX is in the middle of preparing to build the concrete foundation that said Starship launch mount and deluge system will be installed on. Once SpaceX is ready for orbital Starship launch attempts (and thus Super Heavy booster involvement), the company will either stretch the existing launch mount a dozen or so meters taller or build a new structure tall enough to prevent Super Heavy from destroying the concrete foundation.
That latter task will be quite the challenge, given that a full-up Super Heavy booster at full thrust could produce almost twice as much thrust as NASA's Saturn V rocket, the massive launch vehicle Pad 39A was originally built to support. According to Elon Musk, Starship's first orbital launch attempt(s) could begin as early as November or December 2019, although sometime in Q1 or Q2 2020 is a far safer bet. Either way, it's possible that SpaceX will transport Starship Mk2 to Pad 39A as early as this month (September 2019) and the first launch of a Starship prototype (likely Mk1) is scheduled as early as October 13th. Starship Mk2 could be ready for its own flight debut soon after.

Stay tuned as SpaceX continues to fire on all cylinders in pursuit of its fully-reusable, next-generation launch vehicle.
Check out Teslarati's newsletters for prompt updates, on-the-ground perspectives, and unique glimpses of SpaceX's rocket launch and recovery processes.