In a bizarre turn of events, NASA administrator Jim Bridenstine has offered harsh criticism of SpaceX's response to Crew Dragon's April 20th explosion, suffered just prior to a static fire test of its eight Super Draco abort engines.

The problem? The NASA administrator's criticism explicitly contradicts multiple comments made by other NASA officials, the director of the entire Commercial Crew Program, and SpaceX itself. Lest all three of the above sources were either blatant lies or deeply incorrect, it appears that Bridenstine is – intentionally or accidentally – falsely maligning SpaceX and keeping the criticism entirely focused on just one of the two Commercial Crew partners. The reality is that his initial comments were misinterpreted, but an accurate interpretation is just as unflattering.
Ultimately, Bridenstine responded to a tweet by Ars Technica's Eric Berger to correct the record, noting that the criticism was directed at his belief that SpaceX's "communication with the public was not [good]", while the company's post-failure communication with NASA was actually just fine. In fact, according to Commercial Crew Program (CCP) Manager Kathy Lueders, NASA team members were quite literally in the control room during the pre-static fire explosion and the failure investigation began almost instantly.

A blog post and official update published by NASA on May 28th further confirms Lueders' praise for the immediate SpaceX/NASA response that followed the failure.
"Following the test [failure], NASA and SpaceX immediately executed mishap plans established by the agency and company. SpaceX fully cleared the test site and followed all safety protocols. Early efforts focused on making the site safe, collecting data and developing a timeline of the anomaly, which did not result in any injuries. NASA assisted with the site inspection including the operation of drones and onsite vehicles."
— NASA, May 28th, 2019
Why, then, are Bridenstine's comments so bizarre and unfair?
A trip down memory lane
Back in mid-2018, Boeing's Starliner spacecraft suffered a major setback (albeit not as catastrophic as Crew Dragon's) when a static fire test ended with a valve failing to close, leaking incredibly toxic hydrazine fuel all over the test stand and throughout the service module that was test-fired. The failure reportedly delayed Boeing's Starliner program months as a newer service module had to replace the contaminated article that was meant to support a critical 2019 pad-abort test preceding Starliner's first crew launch.

According to anonymous sources that have spoken with reporters like Eric Berger and NASASpaceflight.com, the anomalous test occurred in late-June 2018, followed by no less than 20-30 days of complete silence from both Boeing and NASA. If Boeing told NASA, NASA certainly didn't breathe a word of that knowledge to – in Bridenstine's words – "the public (taxpayers)". Prior to Mr. Berger breaking the news, Boeing ignored at least one private request for comment for several days before the author gave up and published the article, choosing to trust his source.

After the article was published, Boeing finally provided an official comment vaguely acknowledging the issue.
"We have been conducting a thorough investigation with assistance from our NASA and industry partners. We are confident we found the cause and are moving forward with corrective action. Flight safety and risk mitigation are why we conduct such rigorous testing, and anomalies are a natural part of any test program."
— Boeing, July 21st, 2018 (T+~30 days)
SpaceX, for reference, offered an official media statement hours after Crew Dragon capsule C201 suffered a major failure during testing, acknowledging that an "anomaly" had occurred and that SpaceX and NASA were already working closely to investigate the accident. Less than two weeks after that, Vice President of Mission Assurance Hans Koenigsmann spent several minutes discussing Crew Dragon's failure at a press conference, despite the fact that it was off topic in an event meant for a completely different mission (Cargo Dragon CRS-17).
"Earlier today, SpaceX conducted a series of engine tests on a Crew Dragon test vehicle on our test stand at Landing Zone 1 in Cape Canaveral, Florida. The initial tests completed successfully but the final test resulted in an anomaly on the test stand. Ensuring that our systems meet rigorous safety standards and detecting anomalies like this prior to flight are the main reasons why we test. Our teams are investigating and working closely with our NASA partners."
— SpaceX, April 20th, 2019 (T+several hours)
Within ~40 days, NASA published an official update acknowledging Crew Dragon's accident and the ongoing mishap investigation. Meanwhile, a full year after Starliner's own major accident, NASA communications have effectively never once acknowledged it, while Boeing has been almost equally resistant to discussing or even acknowledging the problem and the delays it caused. On May 24th, NASA and Boeing announced that Starliner's service module had passed important propulsion tests (essentially a repeat of the partially failed test in June 2018) – the anomaly that incurred months of delays and required a retest with a new service section was not mentioned once.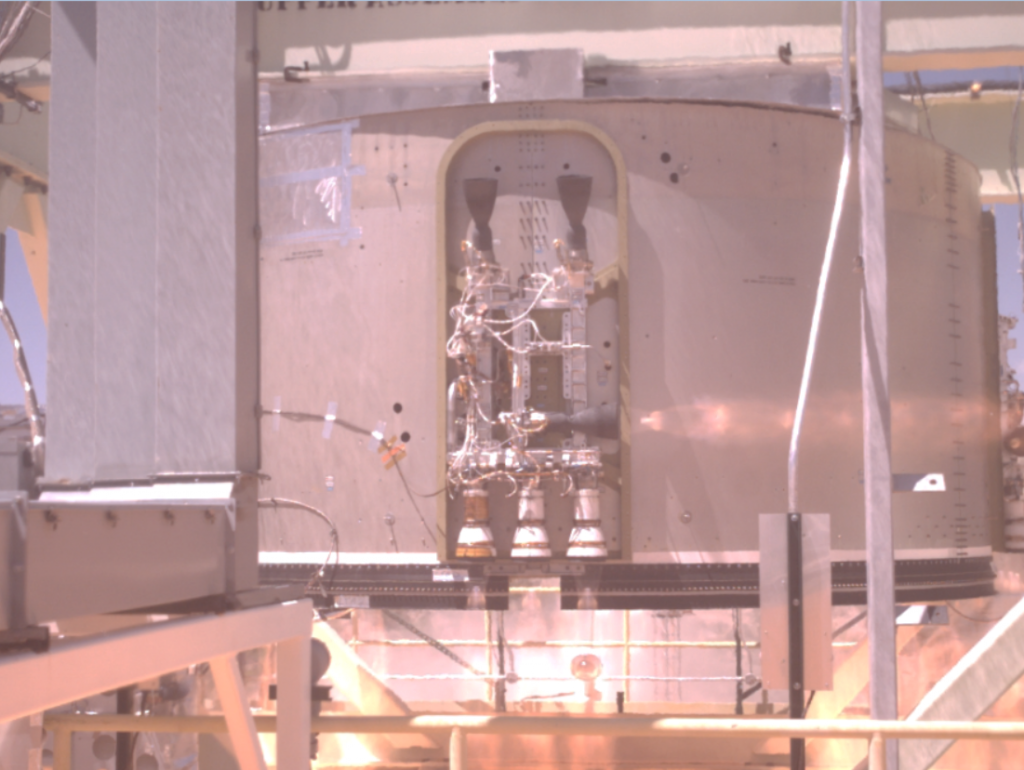 On April 3rd, NASA published a Commercial Crew schedule update that showed Boeing's orbital Starliner launch debut (Orbital Flight Test, OFT) launching no earlier than August 2019, a delay of 4-5 months. In the article, NASA's explanation (likely supplied in part by Boeing) bizarrely pointed the finger at ULA and the technicalities of Atlas V launch scheduling.

In other words, NASA somehow managed to completely leave out the fact that Starliner suffered a major failure almost a year prior that likely forced the OFT service section to be redirected to a pad abort test.
Following SpaceX's anomaly, the company (and NASA, via Kathy Lueders) have been open about the fact that it means the Crew Dragon meant for DM-2 – the first crewed test launch – would have to be redirected to Dragon's in-flight abort (IFA) test, while the vehicle originally meant to fly the first certified astronaut launch (USCV-1) would be reassigned to DM-2. Thankfully, this practice can be a boon for minimizing delays caused by failures. Oddly, Boeing has not once acknowledged that it was likely forced to do the same thing with Starliner, albeit with the expendable service section instead of the spacecraft's capsule section.

Again, although the slides of additional CCP presentations from advisory committee meetings have briefly acknowledged Starliner's failure with vague mentions like "valve design corrective action granted" (Dec. 2018) and "Service Module Hot Fire testing resuming after new valves installed" (May 2019), NASA has yet to acknowledge the Service Module failure and its multi-month schedule impact.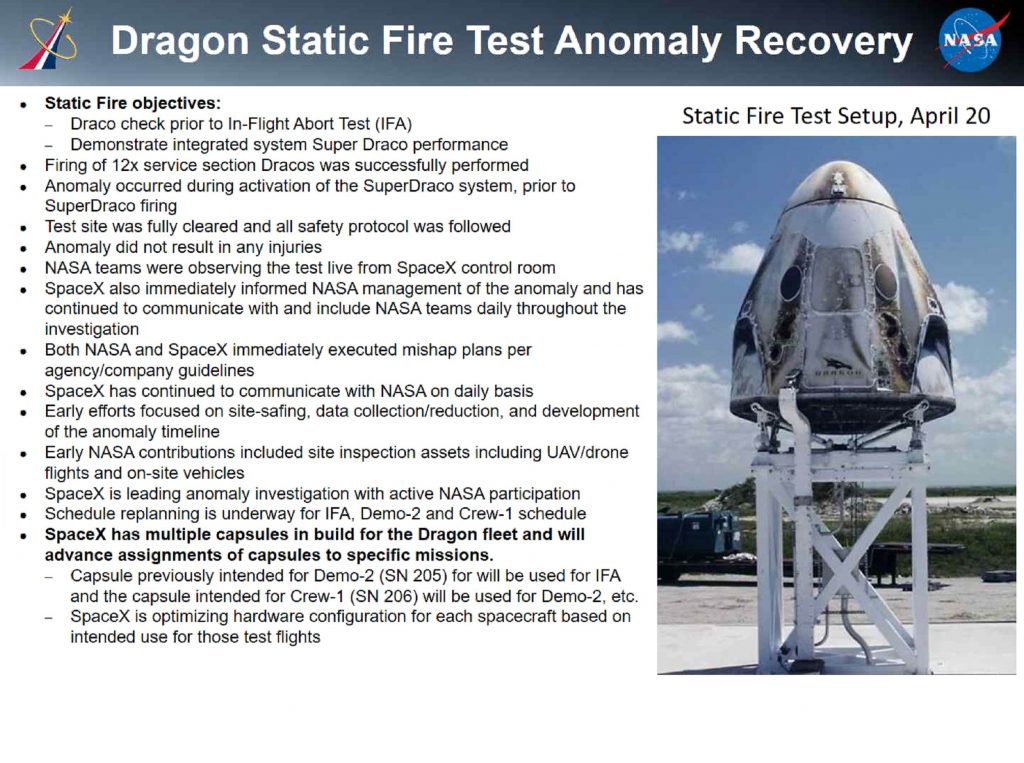 So, if SpaceX's moderately quiet but otherwise excellent communication of Crew Dragon's explosion was unsatisfactory and worthy of pointed criticism straight from the head of NASA, the fact that Boeing and NASA have scarcely acknowledged a Starliner anomaly that caused months of delays must be downright infuriating, insulting, and utterly unacceptable. And yet… not one mention during Bridenstine's bizarre criticism of SpaceX's supposed communication issues.
Check out Teslarati's newsletters for prompt updates, on-the-ground perspectives, and unique glimpses of SpaceX's rocket launch and recovery processes.