While the FAA's slow pace continues to delay Starhopper's second major flight test, SpaceX CEO Elon Musk says that his planned Starship 2019 presentation will also be delayed and will instead follow a major integration milestone for the first orbital-class Starship prototype.

That milestone – likely representing the preliminary completion of Starship Mk1's primary structure – could apparently come as early as mid-September, a claim that is at least partially supported by the relentless progress SpaceX has made in the last few weeks. Although a 200m (650 ft) Starhopper flight test would undeniably bode well for the health of SpaceX's full-scale Raptor engine development, the partial completion of the first orbital-class Starship prototype would carry far more weight for the whole of SpaceX's next-generation, fully-reusable launch vehicle.
Back in early August, about a week after Starhopper completed its inaugural July 25th flight test, Musk tweeted that his promised Starship update presentation would take place on August 24th, previously hoped to be "a few weeks" after Starhopper's second major flight test.
He quickly confirmed that it would take place in Boca Chica, Texas, while also cryptically adding that Starship Mk1 could be "almost ready to fly" by then. This led your author to speculate just yesterday that any further FAA-related Starhopper delays could very well push the low-fidelity testbed into early retirement if Starships Mk1 and Mk2 can maintain their extremely rapid rate of progress.
"According to Musk, either or both of those orbital-class prototypes could be ready for their inaugural flight tests as early as mid-September, perhaps just 1-2 months from now. Given that Starships Mk1 and Mk2 are significantly higher fidelity than Starhopper, the ungainly testbed will likely become redundant the moment that its successors are ready for flight. In other words, Starhopper is fast approaching the end of its useful life, and SpaceX's fight for a 200m hop-test permit could ultimately be a waste of time, effort, and money if said permit doesn't also cover Starship Mk1."

Teslarati.com, August 20th, 2019

Over the course of the last 3-4 weeks, SpaceX's Starship assembly progress has been absolutely relentless, ranging from adding 20+ meters of height to tank sections, installing major fuel tank bulkheads, and more. Most notably, and to be discussed in greater detail in an upcoming Teslarati article, SpaceX has accepted delivery and begun installation of two identical triple-Raptor thrust structures and bulkhead seals in both Texas and Florida.

Additionally and at least as excitingly, SpaceX's Boca Chica facilities accepted delivery of what is – by all appearances – the first finished Starship landing leg, likely one of two actuating fins per a September 2018 design update. According to Musk, the design of Starship's aerodynamic control surfaces and legs has changed since that 2018 update, but the leg that was delivered on August 18th certainly looks almost exactly like those pictured in official SpaceX media dated before Musk's reported changes.

Just like official pre-steel renders from SpaceX, the delivered leg appears to have attachment points and hinges on its cylindrical end, while the bulk of the leg is tapered. Fascinatingly, the leg's exterior appears to have been constructed primarily via riveting steel, producing an aesthetic that screams "steampunk spaceship".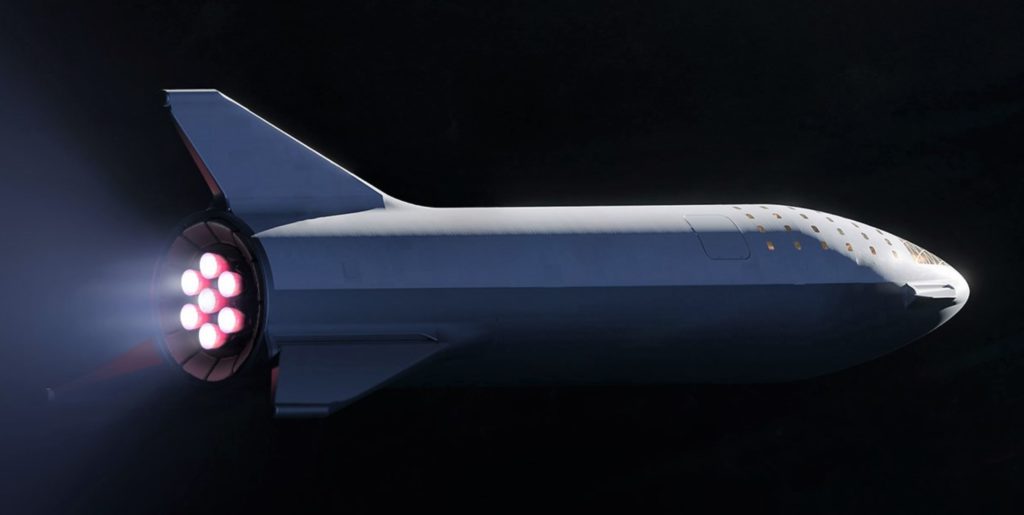 In short, given just how fast SpaceX is progressing with Starship Mk1and Mk2 and combined with the FAA's permitting delays, it's not surprising in the slightest that CEO Elon Musk has decided that the official 2019 update would be better accompanied by a major Starship Mk1 milestone. According to Musk, Starship Mk1 and Mk2 could actually be ready for their first flight tests – powered by at least three Raptor engines – as early as mid-September to mid-October.

By all appearances, ~4 weeks is an eternity in Starship assembly time and Musk's now-mid-September presentation will almost certainly be worth waiting for.
Check out Teslarati's newsletters for prompt updates, on-the-ground perspectives, and unique glimpses of SpaceX's rocket launch and recovery processes.