Four and half days after a recent call with FAA officials, SpaceX CEO Elon Musk says that the company is still waiting for a permit to perform Starhopper's next major flight test, a 200m (650 ft) hop.

Previously expected to occur as early as August 12th, Starhopper – an ungainly testbed for SpaceX's Starship spacecraft – remains grounded in spite of its apparent flight-readiness. News of the next hop test's additional delays comes some four days before Elon Musk had planned to present an updated overview of Starship and Super Heavy in Boca Chica, Texas, and it seems that both events may have to wait.
As previously discussed on Teslarati, Starhopper is grounded because SpaceX's experimental FAA flight permit only allows for flight tests up to 25m (80 ft) above ground level (AGL). Starhopper completed its first flight, a ~20m (65 ft) hop, on July 25th and is now ready and waiting for its second test, a more ambitious 200m (650 ft) flight with a likely duration of 30-60 seconds.
From 2012 to 2014, SpaceX performed test-flights focused on the maturation of Falcon 9 landing technology with two separate vehicles, Grasshopper and F9R. The former reached heights of up to ~800m (2600 ft), while F9R reached at least 1000m (3300 ft) before its untimely demise in 2014.

Both F9R and Grasshopper performed their own ~250m hop tests, lasting approximately 60 seconds and providing a good upper bound for the probable duration of Starhopper's ~200m flight.
With Starhopper, SpaceX is thus continuing a tried-and-true methodology of agile spaceflight technology development, choosing to rapidly build a series of prototypes of increasing fidelity rather than spend years attempting to build the perfect solution on the first try. The chances of such cheaper prototypes failing is inherently greater than the finalized design's, but the rationale behind it is that – within reason – it's more than okay to suffer failures during development.

In fact, failures suffered during aggressive programs of flight-testing can often result in a much safer, better-understood, and more reliable final product, whereas walking on eggshells around testing can produce an elegant design that fails to stand up to the harsh realities of flight.
Delayed into retirement?
The FAA's Starhopper permitting delays come at the same time as SpaceX's first two orbital-class Starship prototypes – far closer to the spacecraft's final design than the Hopper – continue to make spectacular progress at their respective Texas (Mk1) and Florida (Mk2) development facilities. SpaceX technicians have been working around the clock stacking new steel ring segments onto each Starship's propellant tank section, installing tank bulkheads inside the vehicles, and even integrating two seemingly-identical thrust structures that will support each ship's three Raptor engines.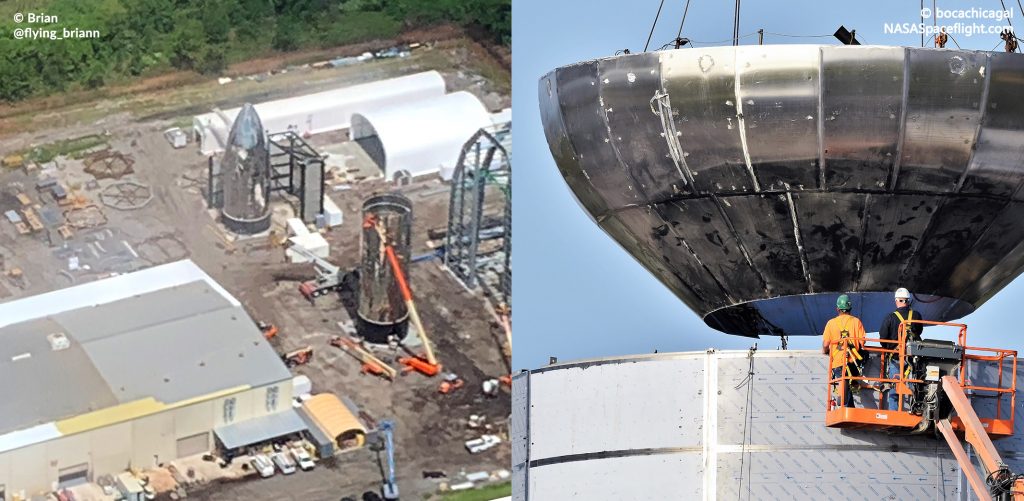 According to Musk, either or both of those orbital-class prototypes could be ready for their inaugural flight tests as early as mid-September, perhaps just 1-2 months from now. Given that Starships Mk1 and Mk2 are significantly higher fidelity than Starhopper, the ungainly testbed will likely become redundant the moment that its successors are ready for flight. In other words, Starhopper is fast approaching the end of its useful life, and SpaceX's fight for a 200m hop-test permit could ultimately be a waste of time, effort, and money if said permit doesn't also cover Starship Mk1.
Stay tuned for more analysis as these events play out and we close in on Musk's August 24th Starship update and Starhopper's imminent obsolescence.
Check out Teslarati's newsletters for prompt updates, on-the-ground perspectives, and unique glimpses of SpaceX's rocket launch and recovery processes.