SpaceX has successfully launched Cargo Dragon's 19th space station resupply mission and says that the event also marked a symbolic Falcon 9 booster landing milestone.
At 12:29 pm ET (16:29 UTC), Falcon 9 lit its nine fresh Merlin 1D engines and roared off of SpaceX's Cape Canaveral LC-40 launch pad, beginning a nine-minute trip to place Cargo Dragon in low Earth orbit (LEO). That flight-proven Dragon capsule – C106 – was supported by a rare new Falcon 9 booster – B1059 – on its inaugural flight.
Seven or so minutes after launch and a few minutes after a successful reentry burn and landing burn, Falcon 9 booster B1059 gently touched down aboard drone ship Of Course I Stil Love You (OCISLY), SpaceX's 46th booster landing. Perhaps even more impressive, SpaceX says that with the recovery, Falcon 9 B1059 became the 20th booster to successfully launch and land, rounding out a rocket lineage that stretches all the back to April 2016.
April 2016 marked the inaugural launch and landing of a Falcon 9 booster at sea, the first success after several failed attempts. About a year later, that booster, B1021, became the world's first reused liquid-fueled rocket booster in March 2017, a milestone that set SpaceX's pace for the next several years to come.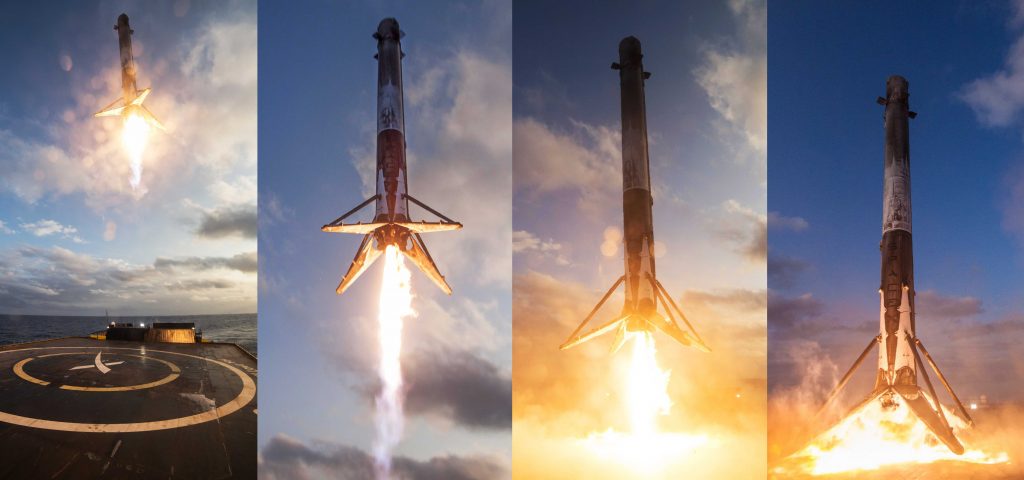 In the ~33 months since SpaceX debuted the world's first reusable liquid rocket booster, the company has leaned heavily into the standard it set then, becoming one of the world's most prolific launch providers and continually working to make its rockets as affordable and capable as possible. As of CRS-19's flawless December 5th launch and landing, SpaceX has performed 46 successful booster landings, with three Falcon Heavy missions representing an outsized 7 of those thanks to their three first-stage boosters.
All told, Falcon 9 alone has now completed 39 successful landings, meaning that of the rocket's 76 total launches, more than half have been followed by booster recovery – this despite the fact that Falcon 9 debuted in 2010, while booster landings debuted in the final days of 2015.
After a relatively gentle launch and landing offered by Cargo Dragon's lighter mass and lower target orbit, Falcon 9 B1059 should be a prime candidate for rapid reuse in the near future, perhaps supporting one of the two-dozen Starlink launches SpaceX has planned for 2020. Up next for SpaceX is a commercial communications satellite launch no earlier than December 15th, followed by either one or two more launches in the last week or two of the month, year, and decade.
Check out Teslarati's newsletters for prompt updates, on-the-ground perspectives, and unique glimpses of SpaceX's rocket launch and recovery processes.