SpaceX has pulled off an incredible feat, successfully recovering all three of Falcon Heavy's Block 5 boosters shortly after the rocket's commercial launch debut. Followed about two minutes later by the center core's bullseye drone ship landing, both side boosters once again performed a near-simultaneous recovery at SpaceX's Cape Canaveral Landing Zones.

With this flawless triple recovery in hand, SpaceX now has plans to reuse both side boosters as early as June 2019, while the center core will likely support critical reusability analysis and may also launch again in the near future. Above all else, Falcon Heavy Flight 2 has demonstrated that SpaceX's super heavy lift rocket is truly ready to offer routine commercial services for customers – both public and private – around the world. With a combination of reusability, affordability, and performance unlikely to be matched for a minimum of 2+ years, SpaceX and its Falcon Heavy rocket have the opportunity to create an entirely new market in the coming years.
Completed less than 35 minutes after launch, this mission included a wealth of major events and firsts, including the first launch of Falcon Heavy Block 5, the first successful triple booster recovery, and one of the highest orbital apogees yet seen during a SpaceX mission – >90,000 km (55,500 mi) above Earth.

The huge Arabsat 6A satellite – weighing around 6450 kg (14,200 lb) is not quite the heaviest individual spacecraft SpaceX has launched, but it is by far the highest energy orbit SpaceX has reached with a spacecraft anywhere close to its size. Known as a supersynchronous (perhaps ultrasynchronous?) transfer orbit, the extremely high apogee – almost three times higher than the nominal circular orbit Arabsat 6A is destined for – will help the satellite reach that orbit far sooner than it otherwise would. The sooner a spacecraft can begin nominal operations, the sooner it can begin making money for its owner/operator.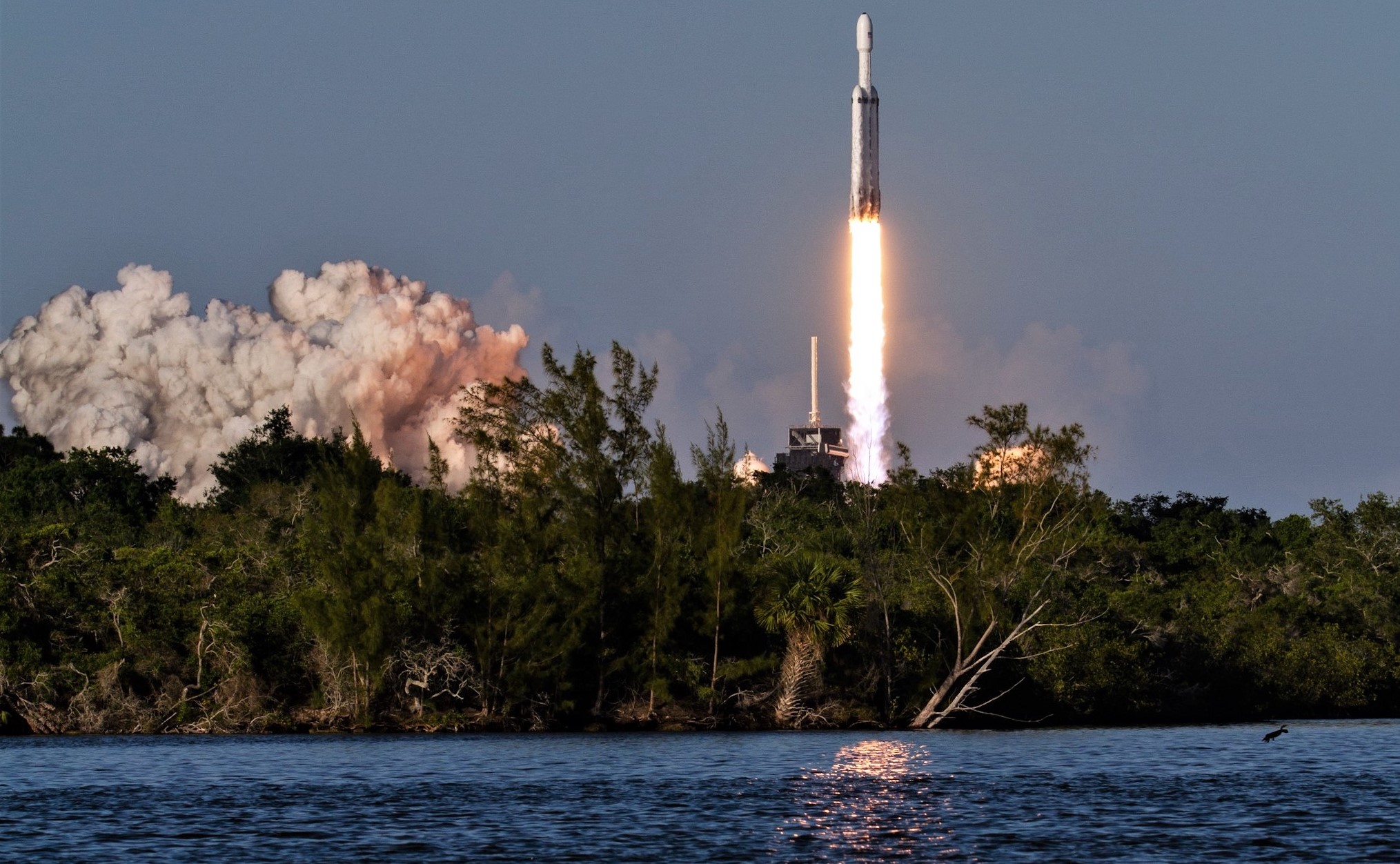 Around seven and a half minutes after launch, Falcon Heavy side boosters B1052 and B1053 nailed a flawless simultaneous landing at SpaceX's Cape Canaveral-based Landing Zones (LZ-1 & LZ-2). Less than three minutes later, center core B1055 hit the bullseye on drone ship Of Course I Still Love You, wrapping up the first successful landing of the critical Falcon Heavy booster.
With three once-flown Block 5 boosters now in hand, SpaceX will attempt to turn around both side boosters – basically just Falcon 9 first stages with nose cones – for Falcon Heavy's third launch, potentially as early as June 2019. Meanwhile, the center core will complete another 1000 km journey, this time back to the Florida coast before likely shipping to Hawthorne, California or a local hangar for analysis. Falcon Heavy's center core, as is fairly visible, is dramatically different from the Falcon 9 boosters SpaceX is used to reusing, including a range of connection hardware that is absolutely flight-critical and protrudes rather aggressively into the rocket's often-violent airstream.

In other words, Falcon Heavy center cores could get far more toasty than Falcon 9 or even their side booster companions, potentially damaging hardware that simply has to be perfect for Heavy launches to succeed and do so reliably. As such, SpaceX will likely be expecting to learn a fair bit of new information and gather critical data in the hopes of eventually optimizing Falcon Heavy center core refurbishment and reuse to Falcon 9's current level of finesse.

SpaceX's spectacular Arabsat 6A webcast can be watched in full below.
Check out Teslarati's newsletters for prompt updates, on-the-ground perspectives, and unique glimpses of SpaceX's rocket launch and recovery processes.