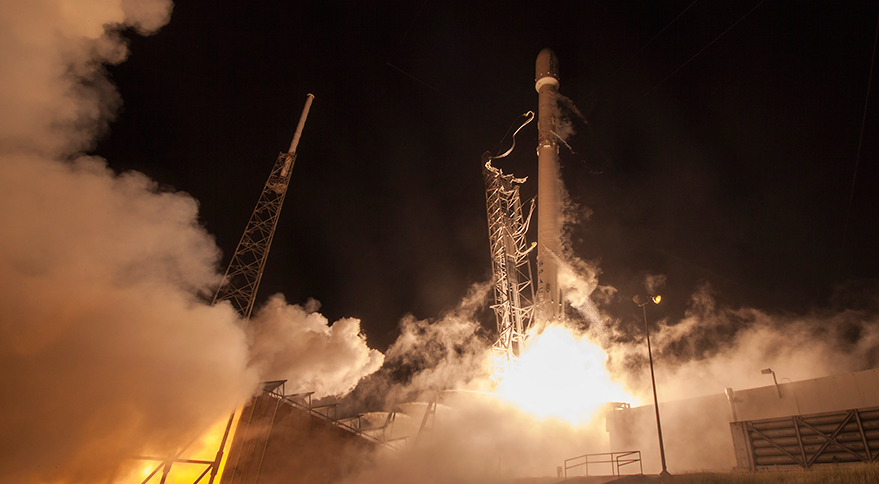 SpaceX president Gwynne Shotwell told the FAA's annual Commercial Space Transportation Conference on Wednesday that her company has an ambitious agenda for 2016. It plans to significantly increase its production of Falcon 9 rockets and introduce its Falcon Heavy rocket, which is essentially a Falcon 9 but with two extra first stage boosters derived from the Falcon 9. The Falcon Heavy is intended to be recoverable just like the Falcon 9, but getting three boosters back to earth in serviceable condition will be a major challenge.
"It's a really interesting year for us," Shotwell said. "We've had the luxury in years past of having to build only a few rockets a year, so we really weren't in a production mode. Now we're in this factory transformation to go from building six or eight a year to about 18 cores a year. By the end of this year we should be at over 30 cores per year," she said. "So you see the factory start to morph."
SpaceX plans to double the number of first stages that can be assembled at one time from three to six. It is also working to accelerate production of the Merlin engines that power the Falcon 9. If all goes according to plan, it will need to build hundreds of engines a year. "We're busy. We've got a big manifest, a lot of customers to go take care of," Shotwell said.
The next scheduled launch is for an SES-9 communications satellite sometime in February, according to Space News. That launch date may get pushed back into early March, however. After that, "You should see us fly every two to three weeks," Shotwell says.
SpaceX is still making changes to the Falcon 9 based on information it has learned from the rocket that landed itself back on earth on December 21. That rocket was static fired on January 15. "We fired it up, and actually learned something about the rocket. We're going to make some mods based on what we saw on that stage landing and firing." CEO Elon Musk had previously state that one of the engines showed "thrust fluctuations," possibly because it ingested some debris.
With all that going on, SpaceX also plans to conduct an in-flight abort test for the Commercial Crew Program, which uses eight Super Draco thursters designed to lift a manned spacecraft out of harm's way in case of failure during a launch. Manned spaceflights using the Falcon 9 are due to begin in 2017.
When Shotwell said 2016 was going to be an "interesting year," she wasn't exaggerating. Watch a SpaceX simulation of the Falcon Heavy rocket below.
Photo credit: SpaceX