As part of continued preparations ahead of SpaceX's Demonstration-2 mission (DM-2) that will debut Crew Dragon's ability to support astronaut flight, SpaceX and NASA have successfully tested crew emergency egress (escape) systems at SpaceX's primary crew launch facilities located at Launch Complex 39-A (LC-39A) at Kennedy Space Center in Florida. The successful verification tests have proven that SpaceX is ready to support crewed launches and preserve human life with effective escape methods, including a zipline mounted basket system that will whisk astronauts away from Crew Dragon and Falcon 9 in the event of a launch pad anomaly.
The formal launch pad escape verification test comes just a month after SpaceX and NASA CCP teams practiced astronaut recovery rehearsals – including emergency astronaut evacuation – from a high-fidelity Crew Dragon mockup capsule aboard the recovery Vessel GO Searcher.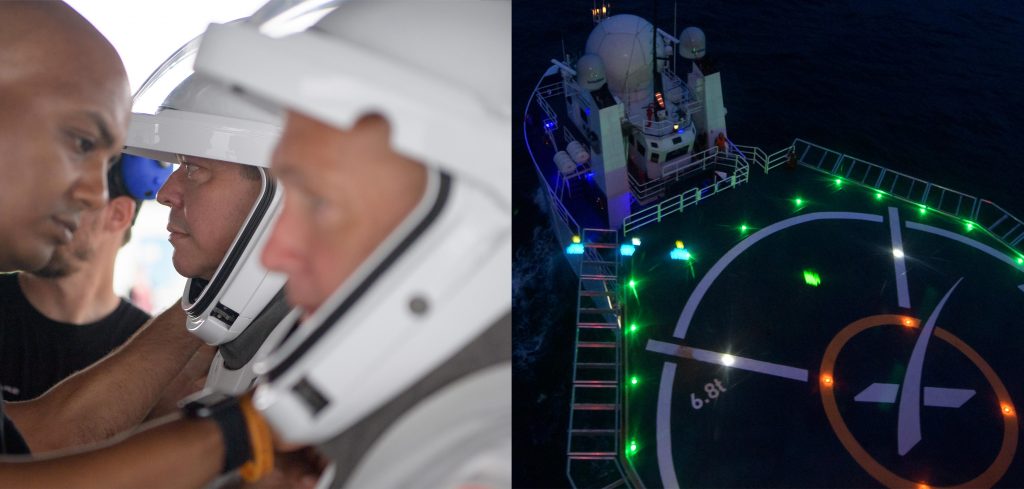 Multiple teams from NASA and SpaceX including personnel from the Astronaut Office at NASA's Johnson Space Center in Houston, NASA Flight Surgeons, SpaceX systems engineers, Kennedy Aero Medical, and Commercial Crew Program Safety worked together to successfully complete two full-dress rehearsals of different escape methods.
In a Commercial Crew Program (CCP) blog post, NASA CCP launch operations integrator Steve Payne stated that "this demonstration allowed all the various teams responsible for ground operations, system design, ground safety and emergency management to observe and verify the system is ready for operational use."
The launch pad escape methods practiced at LC-39A simulated evacuation plans that would usher flight and pad crew members to safety should any sort of life-threatening anomaly occur during launch proceedings. Two different versions of escape methods were practiced – a quick emergency evacuation utilizing the zipline system and a less life-threatening situation using an elevator.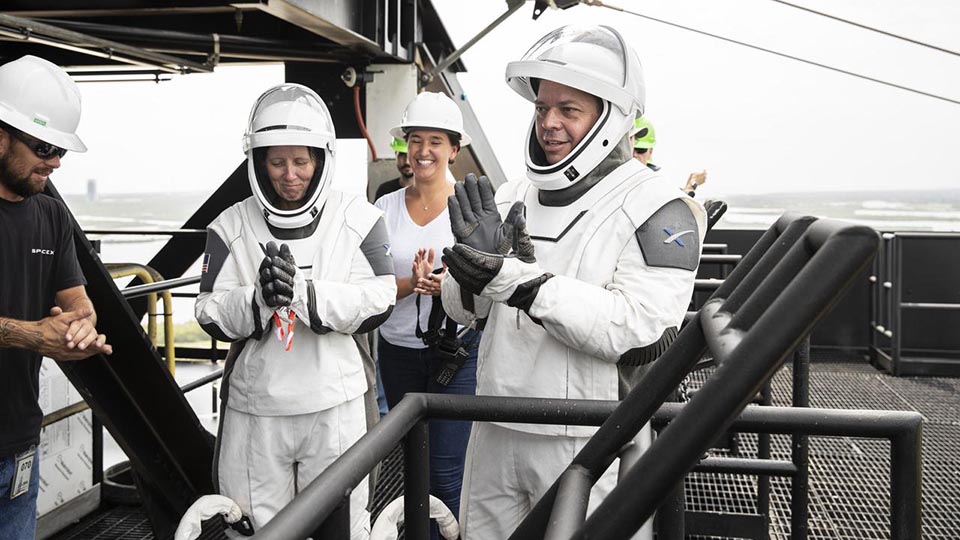 Both escape plans require that crew members are able to evacuate the crew access arm and crew-loading level of the Fixed Service Structure (FSS) at LC-39A, located some 265ft in the air. During SpaceX renovations of LC-39A the crew loading platform was moved roughly half a level higher to accommodate the Crew Dragon capsule's position atop a Falcon 9 booster, as the Crew Dragon stack is far different from and significantly taller than the Space Shuttles that previously flew from LC 39-A.
One exit method demonstrated how both flight and pad crew members could exit the launch pad under non-emergency circumstances. NASA astronauts Bob Behnken and Shannon Walker participated in the exercises and began the first rehearsal at the end of the crew access arm (CAA) – known as a white room – and took an elevator in the FSS to the ground before being escorted to a safe location nearby.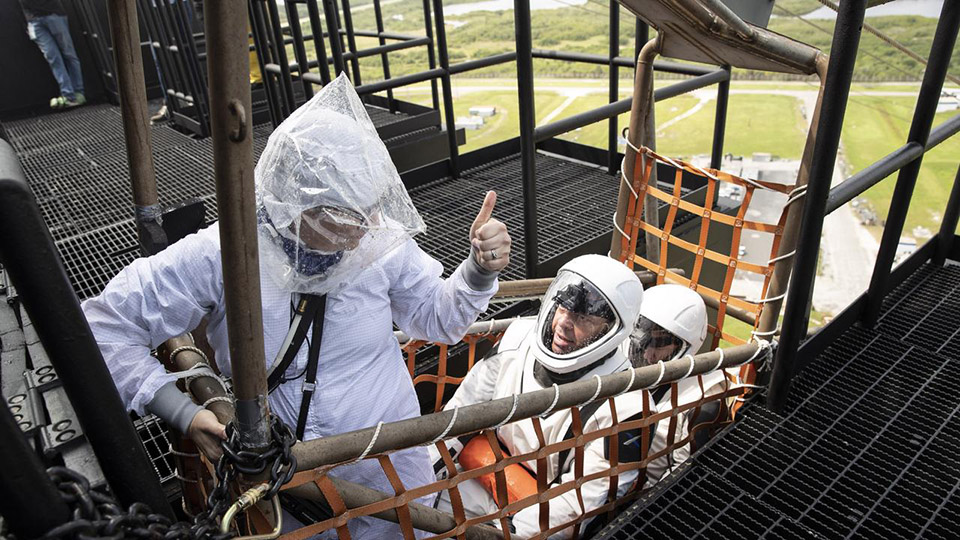 The second rehearsal simulated an emergency (i.e. time-sensitive) egress with active escape alarms and fire suppression systems that required the astronauts and pad crew to escape the launch tower using slide-wire mounted – essentially a serious zipline – basket transport system. This method has been around for decades and during the SpaceX LC-39A renovations some much-needed upgrades were implemented, including a new braking system to control basket descent speed and modifications to allow easier exit from the baskets.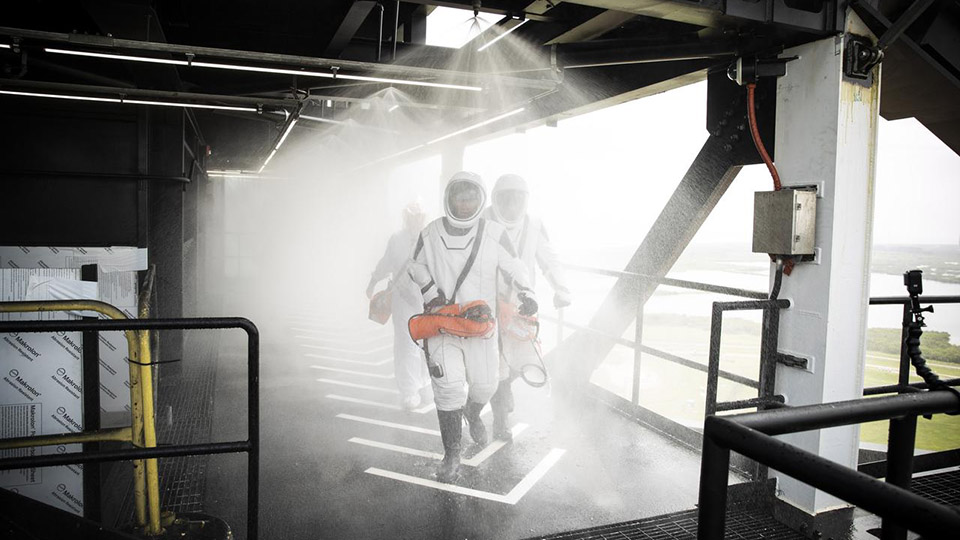 In the blog post, Behnken expressed excitement about the completion of the verification tests, as they bring him and his colleagues one step closer to launching to orbit aboard SpaceX's Crew Dragon spacecraft. "It's exciting to have this verification test behind us on our way to the SpaceX Demo-2 mission. Each time today when we headed down the crew access arm, I couldn't help but think about what it will be like to strap into Dragon on launch day."
Behnken's words reflect the anticipation and excitement that is shared by all as we await the historic and triumphant return of human spaceflight from US soil when SpaceX's Crew Dragon capsule carries astronauts to the International Space Station for the first time. SpaceX CEO, Elon Musk, recently stated that the Crew Dragon capsule (C204) and trunk that will support DM-2 and (hopefully) push SpaceX into a new era of human spaceflight is set to arrive in Florida as early as November 2019. The Falcon 9 booster (B1058) has already completed static fire testing in Texas and is likely already in Florida or set to arrive imminently.

If all goes as planned during Crew Dragon's upcoming in-flight abort (IFA) test and NASA is able to efficiently complete its myriad of reviews and paperwork, SpaceX should be ready to launch its first astronauts into orbit early next year.
Check out Teslarati's newsletters for prompt updates, on-the-ground perspectives, and unique glimpses of SpaceX's rocket launch and recovery processes.