On September 9th, the first signs of SpaceX planning for Starship Mk1's South Texas launch debut appeared in the form of FCC applications, requesting permission to communicate with the rocket prototype during its first flight.

Simultaneously, word broke on September 5th – via a Business Insider report – that SpaceX is effectively set to receive FAA permission to upgrade its South Texas launch facilities for Starship. All things considered, it appears that most – if not all – the stars have begun to align for SpaceX's inaugural Starship launch, said by CEO Elon Musk to be scheduled for no earlier than October 2019.
The application confirms several details about Starship Mk1's debut, revealing that SpaceX will kick off the test campaign with a running jump from Starhopper's 150m (500 ft) flight-test hand-off. The company is targeting an altitude of ~20 km (12.5 mi) – more than two magnitudes higher than its predecessor's peak – and plans to land the spacecraft just a hundred or so feet from its launch site, on the same landing pad used by Starhopper.
SpaceX teams continue to work around the clock to ready Starship Mk1 for its ambitious flight debut. A new ring segment was stacked on top of the vehicle's tank section several days ago, while locals also spotted the delivery of one or two new legs/fins, built out of riveted steel. SpaceX's Boca Chica team continues to struggle to attach Starship's tip to the rest of its curved nose section, having recently separated the segments for the first time in months.

Preliminary welding of Starship Mk1's upper (and final) tank dome appears to be complete and technicians are working to integrate the spacecraft's internal hardware before it can be installed. Meanwhile, a range of new concrete pads have been set and are being outfitted with additional production hardware, likely paving the way for simultaneously Starship-Starship or Starship-Super Heavy builds in the near future.
Documents acquired and published on September 5th by Business Insider reporter Dave Mosher touched on the assembly facility's expansion and provided an excellent overview of SpaceX's planned upgrades to its Starship launch pad. Retasked from original plans (and approvals) for an additional Falcon 9/Falcon Heavy launch site, the documents confirmed that the FAA has reevaluated its 2014 Environmental Impact Statement (EIS) and is effectively ready to re-permit SpaceX's Boca Chica facilities in light of its new purpose.

About as classically SpaceX as it gets, the company has already dramatically altered plans and timelines since the FAA even began to reevaluate its launch pad EIS. Discussed as Phases 1-3, SpaceX – barely two months after the FAA's updated EIS statement – appears to have already completed Phases 1 and 2 (wet dress rehearsals, static fires, and small hops) and doesn't have public plans for "medium hops" of "30 cm…up to 3 km". The FAA statement – signed in May 2019 – says that the agency did not have the information necessary to permit Phase 3, involving "engine ignition and thrust to lift the Starship to 100 km, flip the Starship at high altitude, and conduct a reentry and landing."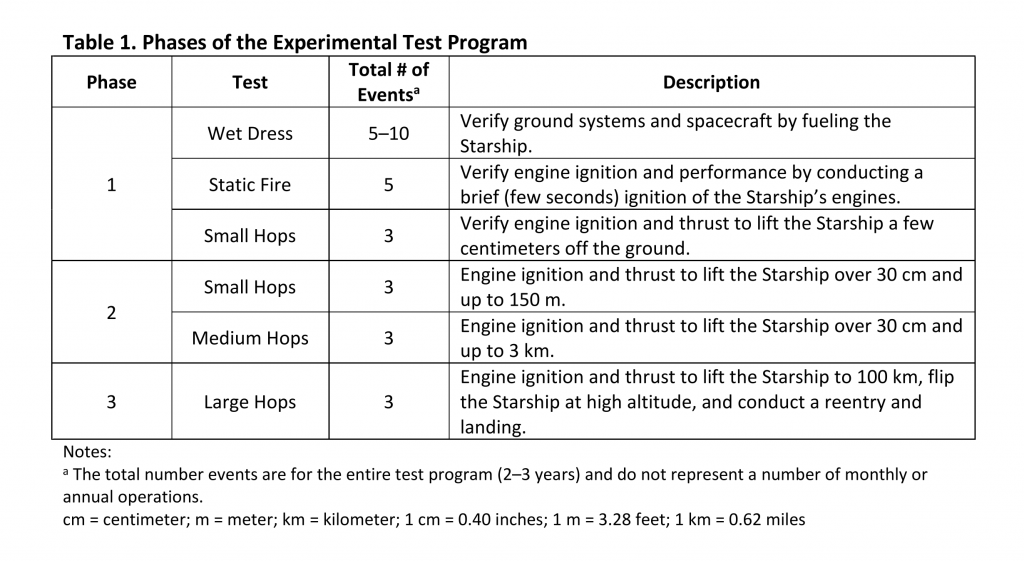 This article's feature photo shows SpaceX's late-2018/early-2019 imagining of launch site upgrades reportedly needed to support Phase 2 testing. Although extremely similar to what SpaceX has already built in South Texas, some significant changes are definitely present, and it looks like SpaceX has a busy 4-8 weeks of work ahead to complete necessary modifications, including expanded propellant storage, two large walls, and possible underground routing of critical infrastructure.

Ultimately, significant work remains for SpaceX to receive both FAA's EIS go-ahead and experimental launch permits for Starship Mk1's first flight. Based on the ~3 weeks it took the FAA to simply extend Starhopper's existing 25m hop permit to 200m (eventually cut to 150m), it could be quite the uphill battle to jump to a 20 km flight test. For the time being, SpaceX hopes to conduct Starship's 20-km flight debut as early as October 13th, in line with Musk's ambitious "October" target.
Check out Teslarati's newsletters for prompt updates, on-the-ground perspectives, and unique glimpses of SpaceX's rocket launch and recovery processes.