Tesla has rolled out an update to its customer referral program, doubling the number of free Supercharging miles that are awarded to electric car purchases that utilize a referral code. As per the update, both the new customer and the Tesla owner will receive 2,000 free Supercharging miles for every EV or solar panel purchase. 
The update was recently introduced to Tesla owners, and is currently visible on the Tesla mobile app. Tesla's announcement notes that vehicle orders must be delivered before the first of October to qualify for the updated referral program. Owners whose vehicles already have free Supercharging will get twice the entries for the company's Model Y and Roadster raffle.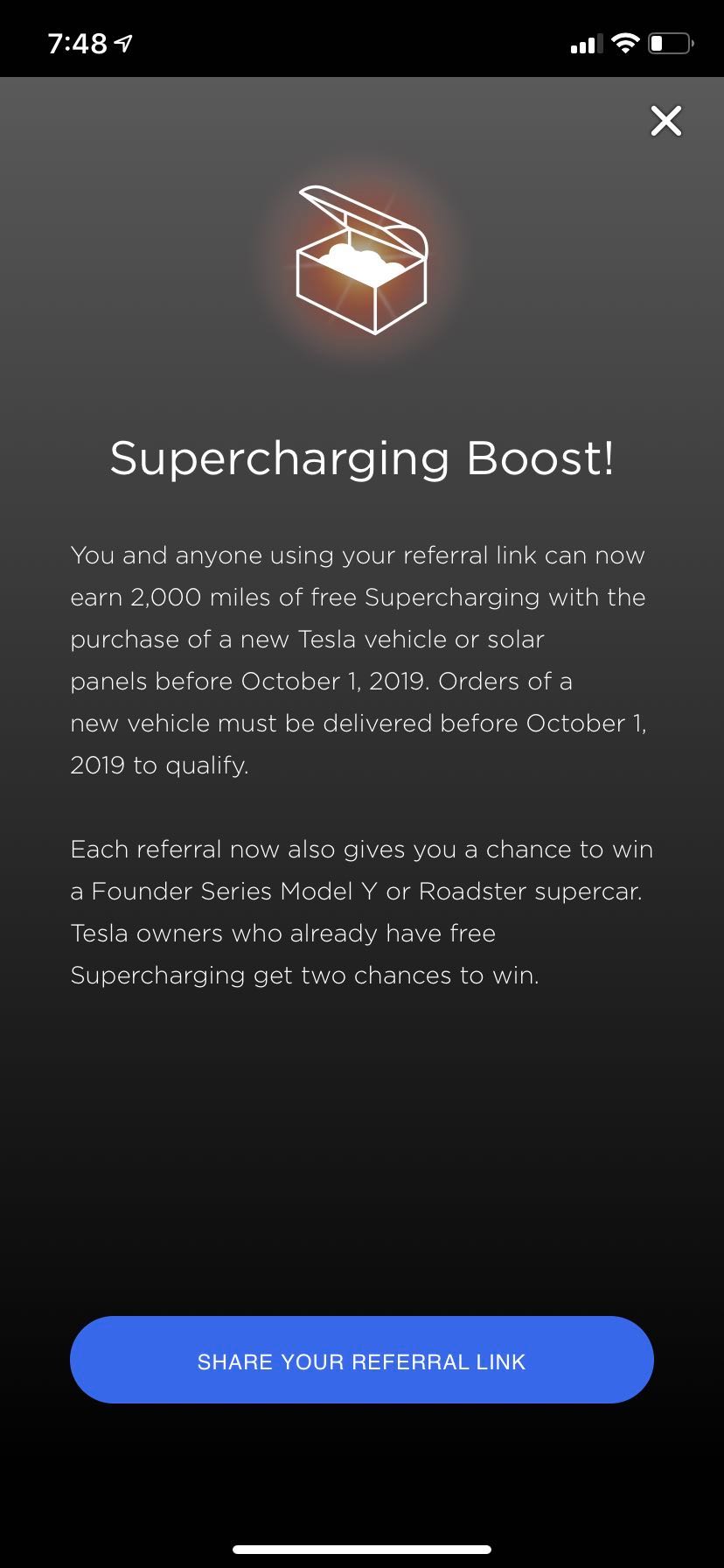 Following is the electric car maker's description of its customer referral program update.
Supercharging Boost!
You and anyone using your free referral link can now earn 2,000 miles of free Supercharging with the purchase of a new Tesla vehicle or solar panels before October 1, 2019. Orders of a new vehicle must be delivered before October 1, 2019, to qualify. 
Each referral now also gives you a chance to win a Founder Series Model Y or Roadster supercar. Tesla owners who already have free Supercharging get two chances to win. 
Tesla's current customer referral program was rolled out by the electric car maker as a more balanced version of its initial program, which was concluded after CEO Elon Musk admitted that it became too expensive to maintain, particularly after large numbers of owners qualified for the program's top prize, a next-generation Roadster. The Roadster and a Model Y are still included in the company's more balanced program, though the prizes will be drawn off quarterly and monthly instead. 
"Each referral also gives you a chance to win a Founder's Series Model Y monthly and a Founder's series Roadster supercar quarterly, both signed by Elon Musk and Franz von Holzhausen," Tesla stated in its announcement then.
The free Supercharger update for Tesla's customer referral program could prove to be one of the electric car maker's ways to boost its sales in the third quarter, which is entering its final weeks this month. Tesla rolled out a more robust upgrade to the program in the second quarter, raising its free Supercharging offer to 5,000 miles. Such a strategy likely helped the electric car maker achieve its Q2 2019 delivery numbers, which beat its previous all-time records. With its double free Supercharging miles offer until October 1, Tesla could give its electric car and solar sales an extra push this quarter as well.