Tesla's (NASDAQ:TSLA) 2022 annual shareholder meeting, also known as the 2022 Cyber Roundup, is just a few minutes away. There's quite a lot of excitement leading into the event, with attendees sharing photos of vehicles like the Cybertruck and the Tesla Semi on social media.
This year's annual meeting of stockholders comes after one of Tesla's most challenging second quarters to date. During Q2, Tesla delivered a total of 254,695 vehicles and produced 258,580, lower than the company's numbers in the first quarter. Despite this, Tesla revealed in its Q2 earnings report that it was able to maintain its profitability despite the second quarter's headwinds. 
Tesla's 2022 Cyber Roundup is expected to begin with stockholders voting on a number topics and concerns. Following this, a Q&A session with CEO Elon Musk and a number of other executives is expected.
The following are live updates from Tesla's 2022 Cyber Roundup. I will be updating this article in real-time, so please keep refreshing the page every minute or two to view the latest updates on this story.
18:29 CT – And that's a wrap everyone! Thanks so much once more for following us on today's live blog. We'll see you in the next Tesla live event!
18:28 CT – A final question is asked, specifically on how the masses can help achieve the company's vision. Elon notes that Tesla shareholders are doing great so far, as well as the company's customers. "If we work hard towards a sustainable future, we will achieve it," Elon said. 
18:25 CT – A question about Teslas potentially communicating with each other and Dojo being like an air traffic controller. Elon muses that this is actually not a bad idea, and it's one that he hasn't really thought about. 
18:22 CT – A question about Robotaxis and The Boring Company is asked. He notes that The Boring Company is doing well, actually. Musk noted that he is fond of high-speed trains. "Just want to be clear, I'm pro train. I take every opportunity to ride on trains," Musk said. 
"Boring Company is capable of much more transformation than it may seem," Elon added.
18:20 CT – Elon candidly admitted to shooting his foot a lot, but he should be able to push Twitter's engineers towards something more ambitious. Musk says that he has an idea way back in his X.com days, but Twitter would accelerate this. "I think its something that would be very useful to the world," Musk said.
18:18 CT – A question about Elon Musk's succession is asked. Elon notes that Tesla is gathering a lot of momentum, as well as a road map that will last a long time. Execution will be hard because many of them are not made by anyone else. Musk intends to stay with Tesla as long as he's useful, and he feels most useful in product design and manufacturing.
"Tesla will continue to do well even if I'm kidnapped by aliens, or went back to my home planet," Musk joked. 
18:16 CT – A question about Tesla's pilot city for Robotaxi program is asked. Musk noted that there will probably be no pilot city because Tesla is aiming for a general solution for autonomy. 
18:15 CT – A question about Tesla using thermal energy in its factories is asked. Musk noted that Tesla already does this in cars. The same concept should apply to factories. "It's probably worth doing in the future," he said. 
18:13 CT – Elon also noted that he is absolutely open to the idea if "space marines."
18:12 CT – Elon notes that retail investors understand Tesla better than analysts. Companies exist to make products and services. If the products and services are great, then the company is valuable. The CEO noted that people typically fret about short-term things. The supply shortage is one of them, as some are one-off items. 
18:09 CT – Suggestions about Autopilot improvements are proposed. Elon noted that the AP suggestions are good. 
18:08 CT – Elon gets a thank you from the shareholders. He thanks shareholders back for their support.
18:06 CT – First live question is about vehicle sharing. Elon notes that for the most part, cars just stay unused. If cars are autonomous, they can be used more. Oh, and a rental model for Optimus may be possible. If Tesla is successful, Musk noted that it could be the most valuable company today. 
18:04 CT – Live Q&A starts!
18:03 CT – A question about peak inflation and a recession as a challenge in 2023 is asked. Musk noted that prices are trending down. "We will have a recession, I think a relatively mild recession. I guess its a mild recession for, I dunno, like 18 months or something."
18:00 CT – As for the company's 4680 ramp, Elon noted that Tesla might enter high-volume production by the end of this year. This does not affect vehicle output, though. Tesla has enough battery supplies from its suppliers to build 1.5 million cars this year. 
Next year though, the 4680 battery cells will be crucial. 
17:59 CT – A question about the real estate strategy for Superchargers and Tesla restaurant locations across the US was asked. Elon noted that Tesla deploys Superchargers with the greatest need. He ponders an online poll to ask owners where Superchargers are needed. 
Elon notes that the upcoming diner in LA will be a cross between Blade Runner, Grease, and The Jetsons. It will be open to everyone, including non-Tesla owners. If it's successful, the project will be rolled out to other locations. 
17:56 CT – As for the geopolitical tensions between the US and China, Elon notes that he is hoping for peace and respect between the two countries. 
17:54 CT – Cybertruck specs and pricing will be different. It was released in 2019, and a lot has changed. It will be worth it, though. The next couple of months will see the first Cybertruck production equipment installed in Gigafactory Texas. 
17:52 CT – A question was asked about how many Gigafactories are needed for Tesla to reach 20 million cars. Elon notes that the company will probably need a dozen or so. 
17:51 CT – A slide has been posted with the words "The Next Decade." Elon ponders where Tesla will be in the next decade. Elon notes that 100 million cars will be pretty doable. "I'll be surprised if it's not over 100 million in 10 years," Musk said. 
He also teased many other products, some of which have been hinted at and some which are not. 
17:52 CT – Some questions submitted through Say are discussed. First up is acquisitions. Elon notes that Tesla doesn't really acquire companies that much. If Tesla sees an interesting company, it will acquire it. But it will be rare.
Share buyback is on the table. 
17:49 CT – Long-term, Elon notes that Optimus should be more valuable than Tesla's vehicles. It could effectively disrupt the economy.
"It could turn the economy on its head," Musk said. 
17:47 CT – Elon discusses Tesla's safety, and how the company improves its cars to be safer over time. He also mentioned that FSD Beta should pass 100 million miles soon. Oh, and FSD Beta will be there to whoever requests it this year. 
17:45 CT – Elon teases that "some cool things are happening on the Supercharger front." Tesla is also doubling its Supercharger count every year.
17:42 CT – The Tesla CEO discusses how the company's manufacturing has gotten better and more efficient over time. Musk also notes that Tesla and SpaceX are where the smartest engineers want to work at. Where the ace players go, that team will likely win. Elon adds that Tesla and SpaceX allows employees to work at both companies.
17:40 CT – Musk discusses some teasers for Master Plan Part 3. "Earth can, and will be saved," Musk said. He highlights the advantages of megacasts, which reduced the 171 pieces of metal castings into two. It makes the cars better too. "It's a testament to our materials thing. We're really rethinking how cars are made," Musk said. 
17:39 CT – Musk discusses some teasers for Master Plan Part 3. "Earth can, and will be saved," Musk said.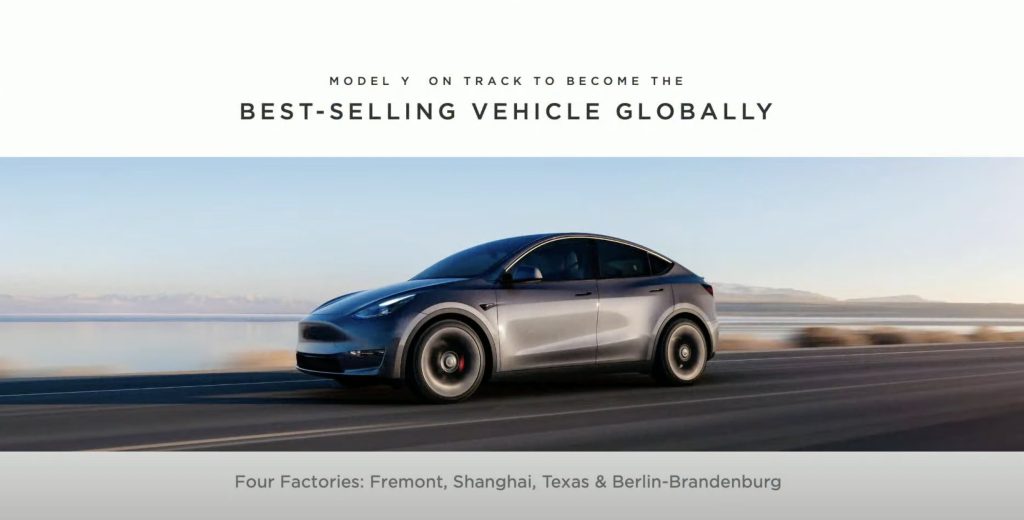 17:37 CT – Tesla is already recycling battery packs at over 50 packs/week at Giga Nevada. There are just not many packs to recycle because the vase majority of them are in use. He also discusses Master Plan Part 3, which is all about scale.
17:35 CT – Elon jokes that Tesla Shanghai is hard to beat, even if there is a friendly competition between the company's Gigafactories. Oh, and Tesla Energy has produced more energy than consumed by Tesla's EVs in their production and charging. 
17:34 CT – Elon jokes that Tesla Shanghai is hard to beat, even if there is a friendly competition between the company's Gigafactories. 
17:33 CT – Elon teases that another factory location *might* be announced later this year. The audience asks for a hint. Elon asks the audience where Tesla's next factory should be built. There's a lot of Canadas. Elon jokes that he's half-Canadian, so… Tesla is also poised to build 10 to 12 Gigafactories, each one producing 1.5-2 million cars or so. 
17:31 CT – Model Y could be the highest-selling vehicle by revenue this year, highest by volume next year. 
17:30 CT – Elon notes that while there are narratives about EVs competing against each other, electric cars are actually taking market share from gas cars, not other EVs. Tesla welcomes competition, the CEO said. He jokes that every time competitors advertise for EVs, Tesla gets more sales. 
"Almost every car company in the world has embraced electrification," Musk said.
17:28 CT – Musk reminisces how he was told that starting a car company is dumb, and starting an EV company is dumb squared. Tesla now has industry-leading margins. 
17:26 CT – The CEO did state that FSD Beta's purpose is really to keep the roads safer. Lives will be saved. Cars will be like elevators. Just autonomous by default. 
17:25 CT – Elon jokes that FSD Beta will achieve autonomy "the year for sure." It's an inside joke at this point. But it's undeniable that FSD Beta is improving at a very rapid rate. FSD Beta 10.13 is good, might count for "10.69," Elon joked, though the system would have to earn that. He pledges to "solve Chuck's turn," a reference to a tricky left-hand turn from a longtime FSD Beta tester. 
"I'm hopeful 10.13 might be next week," Musk said.
17:22 CT – Elon highlights that he loves California, to some boos from the audience. "C'mon!" Musk laughs. He notes that Tesla has great teams in California, Berlin, Shanghai, and Texas. And all over the world of course. He also shows Tesla's profitability over time. "I think it's gonna go up this year," Elon said. 
"I'm just very proud of the fact that we've been able to produce cash than we've been able to spend," Musk said.
17:19 CT – Tesla may hit the 1.5 million mark this year. Tesla also made its 3 millionth car this past week. Elon notes that 10 years ago, Tesla made 2500 original Roadsters and about a few hundred Model S. Ten years later, Tesla has made 3 million cars. Musk jokes that Tesla's vehicle ramp looks like a multilevel marketing scheme (lol).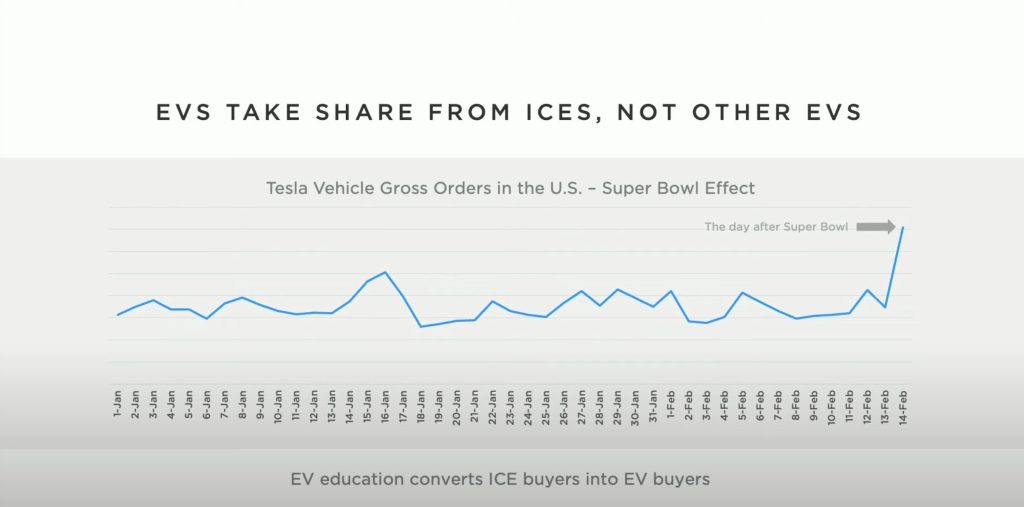 17:18 CT – Elon highlights that Tesla has accomplished a lot in the past year. "It's been an amazing year," he said, adding that it's an honor to work with such a talented team at Tesla. The CEO states that Tesla is looking to achieve a run-rate of 2 million vehicles per year by the end of 2022. 
He also said that the attendees are the "best crowd," to yet another standing ovation.
17:16 CT – Elon welcomes the attendees to the 2022 Cyber Roundup. He jokes that he feels very welcome. Shareholders joke that Musk should take off his shirt, a reference to paparazzi photos of him a few weeks ago. Elon laughs. 
17:15 CT – Elon Musk takes the stage to a standing ovation. He seems to be in high spirits.
17:14 CT – The polls have now closed. Tesla Board recommendations have been approved except for Items 2, 3, and 6. Meeting is now adjourned. Elon is coming.
17:12 CT – A shareholder proposal on Tesla's water risk is discussed. The shareholder states that Tesla's facilities are located in areas where water is at risk. The proposal is very similar to the talking points of Giga Berlin's critics, who also cite water risk as a reason for their opposition to the facility. Tesla has maintained that its facilities use as little water as possible. 
17:08 CT – A shareholder proposal on Tesla's freedom of association and collective bargaining policy is discussed. A report on additional reporting on child labor is also proposed. The shareholder requests Tesla to report on its plan to eliminate child labor by 2025. Martin gently reminds the shareholder that the three minutes have passed, to much applause.
17:03 CT – Another shareholder proposal is put forward on reported on lobbying. The shareholder cites Elon Musk's lack of support for the Biden administration's Build Back Better Act. Shareholders in attendance cheered when Martin called out the time limit. 
16:57 CT – Another shareholder proposal is put forward, this time on reporting employee arbitration for dissolving worker concerns today. The stockholder cites Tesla's racism issues alleged in the mainstream media, especially among Black workers. The shareholder alleges that "racism has no place in a business that's seeking to lead us into the future."
16:52 CT – First stockholder proposal is about allowing long-term shareholders to be able to nominate directors. The second proposal is about anti-harassment and discrimination efforts at Tesla. A third stockholder proposal is related to an annual board diversity report. The shareholder alleged that Tesla's board diversity is disproportionate to its employee base.
16:46 CT – Martin outlines the items of the agenda. He briefly describes the topics that will be voted on today. He also discusses some shareholder proposals that Tesla has advised its stockholders to vote against. Shareholders are allowed to discuss their proposals for several minutes.
16:43 CT – Martin's back and the voting begins. Here we go. 
16:41 CT – Denholm notes that Tesla's Board is proud to be part of the company. She hints at decisions that have been made for Tesla's goals, which happen to be incredibly bold. 
She also announces the creation of a new shareholder platform that will make it easier for stockholders to communicate with the company. More details on this in the future, the Chair said. 
She thanks Tesla employees. "You're the lifeblood of the company. You're phenomenal," she said.
16:39 CT – Denholm highlights that Tesla is focused on lowering costs. She notes that renewables are fast becoming the most economical energy solutions. She also noted that Tesla's goal is for all of its factories to be carbon neutral. 
Tesla also works to reduce its energy/water consumption, with newest factories using less water than traditional carmakers. "Sustainability is our main driver and motivation. It drives everything we do," the Tesla Chair said.
16:36 CT – Tesla Chair Robyn Denholm takes the stage. She jokes that the "short part of the agenda" is happening. She welcomes the audience, stating that she is delighted to see people face-to-face, and there's so many shareholders in attendance. 
She also welcomes the virtual attendees of the meeting. Heck yeah.
She notes that Tesla has become the company that it is because of the support of its shareholders. She notes that Tesla avoided 8.3 million tons of greenhouse gases last year. That's equivalent to 20 billion gas powered miles. And Tesla is just starting.
She cites Tesla's 20 million target for 2030. She also reiterates June's record-breaking production numbers. Denholm also gives credit to Tesla Energy, with the company's solar and energy storage business selling 4GWh in 2021.
16:32 CT – Martin mentions that this is the largest attendance for a Tesla annual meeting of stockholders. He thanks retail investors for being engaged, and for voting. This is an understatement. 
16:30 CT – And it's time! VP Investor Relations Martin Viecha gets welcomed with thunderous applause. Guy's a celebrity. 
16:29 CT – Looks like we're gonna have some Tesla Bot updates today? Ah, one can hope. 
16:28 CT – While undoubtedly cool, this preview shows one thing. Tesla moves FAST, and it's amazingly efficient at what it does. Sandy Munro is completely right. Tesla moves at the speed of thought. Tesla's a moving target that's ridiculously hard to catch. Take note, GM.
16:26 CT – I am weirdly curious if the TSLA shareholders representing PETA will be here today. 
16:24 CT – Just a few minutes away. Pictures from attendees of the 2022 Cyber Roundup show that the event hall is now packed with shareholders. The stage seems pretty big. Almost like it's enough space to show off something. 
But dang, Tesla's FPV drone shots never miss!
16:10 CT – Good afternoon to everyone, and welcome to another live blog! This year's annual meeting of stockholders has been rebranded as the 2022 Cyber Roundup, which is fitting for Tesla's new home in Texas. 
This is not the first time that Tesla held its annual shareholder meeting in Giga Texas though. The company held the meeting in Texas last year too, though it was virtual in nature due to the effects of the pandemic. This is no longer the case this year, so Tesla seems to be going all out with the Cyber Roundup.
March store and cool vehicle displays are only the tip of the iceberg. This is definitely going to be interesting. 
The live stream of the 2022 Cyber Roundup can be accessed below.
Don't hesitate to contact us with news tips. Just send a message to simon@teslarati.com to give us a heads up.