Tesla's lawsuit with American multinational retail giant Walmart has come to a close according to a joint statement made by the two companies. Walmart filed a complaint with the New York County Supreme Court in August 2019, alleging the electric car maker's solar panels were the cause of roof fires at "no fewer than" seven locations within the United States.
On November 4, Walmart requested a discontinuance in the case, voluntarily ending the lawsuit with Tesla. The following day, the companies jointly announced the case had been thrown out, and they would resume working toward a future involving sustainable energy together. "Walmart and Tesla are pleased to have resolved the issues raised by Walmart concerning the Tesla solar installations at Walmart stores. Safety is a top priority for each company and with the concerns being addressed, we both look forward to a safe re-energization of our sustainable energy systems," the statement said.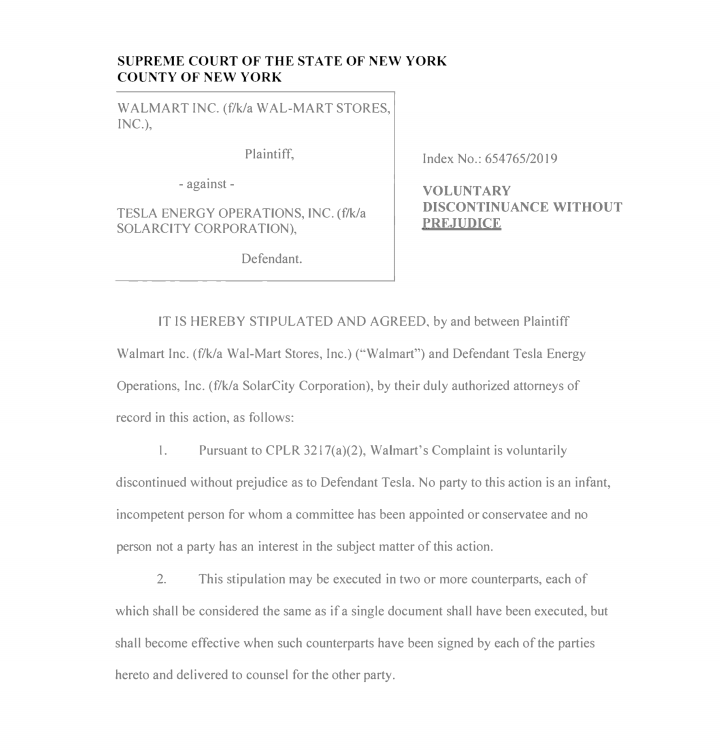 The exact details of the agreement between the two companies are unknown as it was settled out of court. However, the court approval and final dismissal of the case are expected to take place soon.
Shortly after the lawsuit was filed, Walmart and Tesla jointly announced they would be working together to resolve the issues with the solar panels. "Walmart and Tesla look forward to addressing all issues and re-energizing Tesla solar installations at Walmart stores, once all parties are certain that all concerns have been addressed," the two companies stated. Walmart filed the lawsuit claiming Tesla had committed "widespread, systematic negligence" by not following industry practices. They claim Tesla utilized untrained and unsupervised personnel to install the panels. Walmart believes this led to the fires and claims they incurred millions of dollars in losses and significant amounts of destroyed merchandise as a result.
Six years before Tesla's acquisition of the SolarCity in 2016, Walmart became a customer 2010 of the company by purchasing and installing solar systems on eight of its store's rooftops. According to the initial summons and complain report filed in August 2019, 248 of Walmart's retail locations utilize solar panels for clean, sustainable energy. The company halted the operation of all systems when the lawsuit was filed. However, these systems will resume operation soon as a part of the agreement between the two companies.
Tesla and Walmart being able to come to a conclusion in the lawsuit without a long and drawn-out legal process is advantageous to both companies. Not only does it save time and money, but it shows the two companies were able to fix their issues with each other in a civil manner by working together toward a resolution. Walmart has committed to a future involving sustainable energy and wants Tesla's solar panels to supply their company with clean energy.
You can read Walmart's Approach to Renewable Energy here.