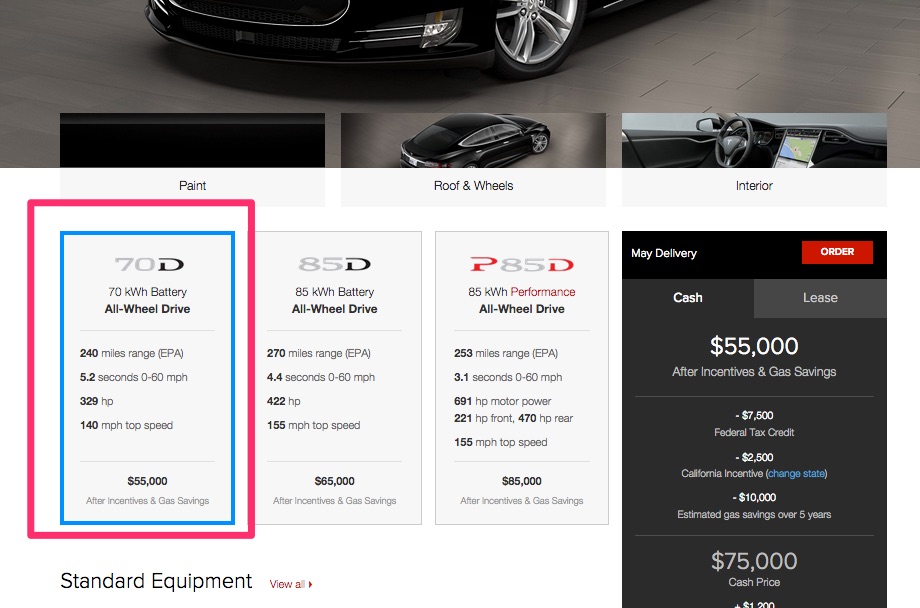 Tesla Motors will be offering a new entry to its only car line in production, a Model S 70D with all-wheel drive. The new 70kWh variant of the award-winning Model S is said to have a driving range of 240 miles which represents a significant boost over its 60kWh predecessor.
According to Reuters, the Model S 70D will carry a base price of $76,070 and will begin shipping to customers in late May.
In an interview Elon Musk says, "there's a slight price increase, but it's a huge value increase. Customers wanted something that had more range and they really wanted all-wheel drive." Although Tesla's official website indicates that the Model S 70D will be initially sold with 329 horsepower, Reuters reports that dual motors will be rated at a combine 514 horses. We speculate that this initial performance figure will be "updgraded" through Tesla's over-the-air firmware updates.
Recently, Musk mentioned that an electric car needs more than 200 rated miles, saying that was the minimum. On March 19th, Musk said,"200 miles is the minimum threshold for an electric car. We need 200+ miles in real-world, not 200 miles in 'AC-off, driving on a flat road."
Some speculated, including myself, that he was laying the groundwork for Model 3 marketing. Maybe he still is, but the Model S 70D definitely provides more "charge cushion" and gives the company another twist to its only production car line at this point.